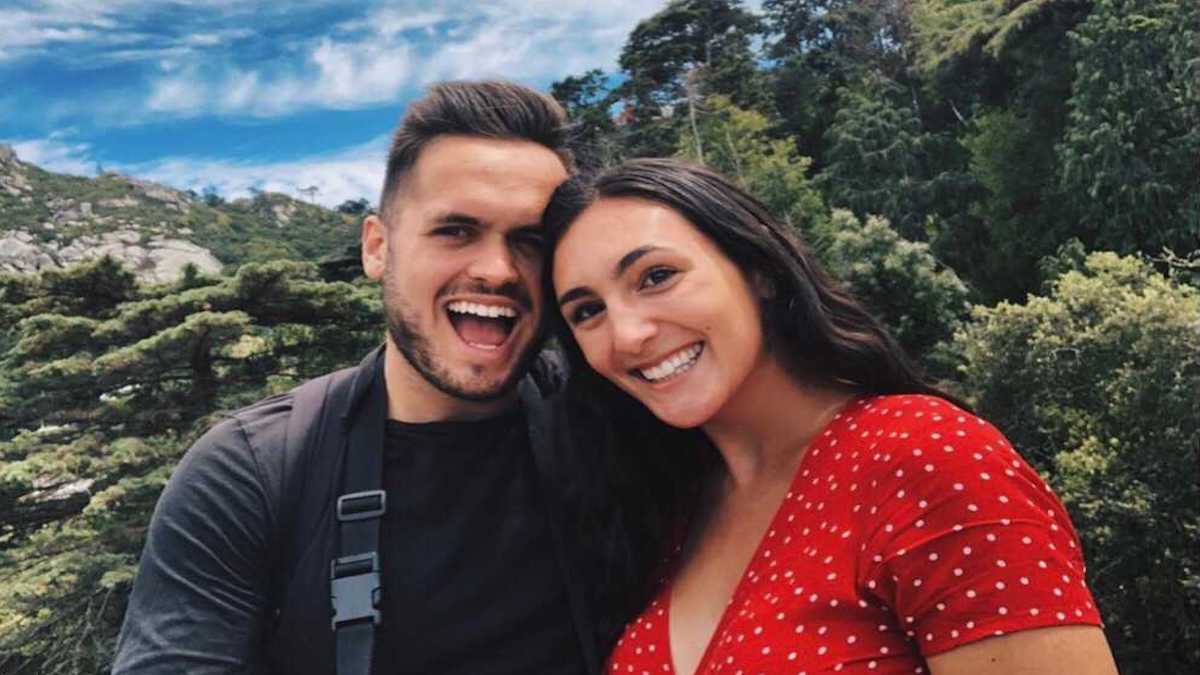 The global pandemic caused by COVID-19 has disrupted the lives of Canadians, causing many to adapt to a new way of life spent mostly at home. Couples are not immune. Whether they're living with their families or farther apart, many are experiencing the challenges of staying connected.
Miriam Baron, a marriage and family therapist, said some of her clients have struggled to sustain romantic relationships because they're not able to interact as they normally would.
"The good news is that you're spending a lot of time communicating and learning about each other and maybe sharing things that you might not have done before," she said. "But you also don't get to be your full person, and they don't get to be their full person either."
While some couples have struggled, others are leaning in and getting creative with how they spend time together. Ahead of Valentine's Day, here are some of their stories.
Emily and Kennedie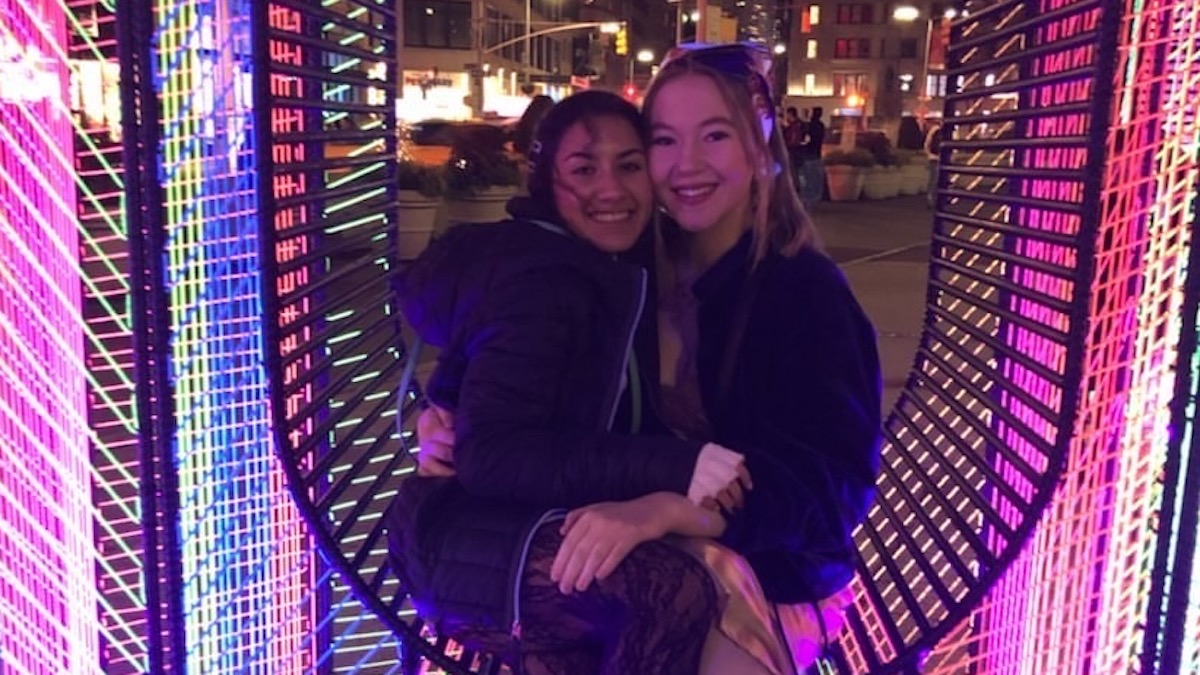 In February 2020, Emily Green was visiting her girlfriend Kennedie O'Byrne in New York City on Valentine's Day. They got a bottle of wine, made dinner and had a painting night, Green says. The next day they went to the Metropolitan Museum of Art.
"I had a wonderful Valentine's Day last year. Very different than this year," she said.
On this particular visit, Green recalls a "distinct memory" of O'Byrne's roommate coming into the room to announce a case of COVID-19 had been confirmed on nearby Long Island.
"It only took two weeks for it to get batshit crazy from there," said Green.
The couple originally met on tinder when Green was on a high school graduation trip in New York. They messaged from August 2019 onward until Green went back to New York for a concert in November. While there, the couple's relationship blossomed, says Green.
"I asked her to be my girlfriend on the first date, which is very lesbian thing to do," said Green, laughing. They now have been dating 'internationally' for about a year and three months.
It's kind of comforting to know… I feel like if we can make it two years without seeing each other more or less, we're pretty set in terms of having a stable relationship.

Emily Green on how the pandemic shaped her relationship with her girlfriend Kennedie O'Byrne
Green is candid about the struggles of dating someone across an international border during a pandemic.
"It's been horrible. Like, awful." She returned to Canada on March 1, 2020 and travel was shut down soon thereafter. "The government of Canada immediately extended travel exemptions to immediate family, parents, siblings, that kind of thing," she said. "But they didn't extend it to couples until October 2020. So, we were apart for almost 10 months."
FaceTimeing every day, sometimes for hours on end has been their way to stay connected, Green says.
"We also send each other letters and stuff," she said. Green says after the interview, she was going to UPS to send O'Byrne her Valentine's presents.
"We kind of fall into this weird thing where without talking about it, we accidentally buy each other the same thing or make each other the same thing a lot of the time," Green laughs. This year, Green used air-dry clay to make handmade ceramics.
Green says the two of them expect to be on the phone all night on Valentine's Day and send each other vouchers to get take-out for dinner.
"It's kind of comforting to know … I feel like if we can make it two years without seeing each other more or less, we're pretty set in terms of having a stable relationship."
Mackenzie and Nathan
About a year ago, on Feb. 7, 2020, Mackenzie Taylor and Nathan Letkeman got engaged. It was not an elaborate proposal, in fact Taylor was in the middle of doing laundry and making soup. Letkeman came over and proposed on the spot, in the kitchen, with soup bubbling on the stove.
"We're definitely a bit more low key," said Taylor.
The couple began planning for a summer wedding. Surely all this pandemic talk would be resolved by then, Taylor recalls thinking.
"We wanted to get married and then kind of start our life right away. We just assumed that it would be totally good to go by August. It was very naive of us," said Taylor.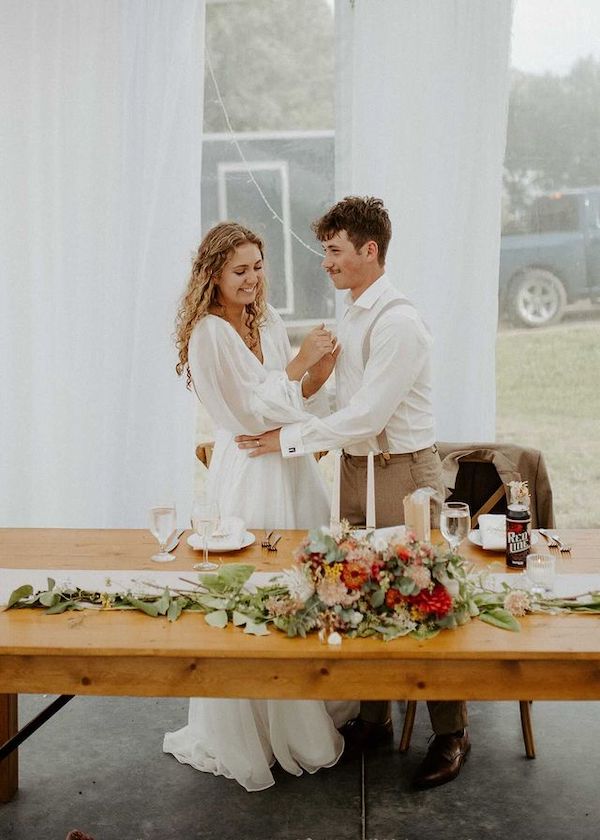 Taylor and Letkeman exchanged vows on Aug. 16, 2020. With 100 people in attendance, Taylor says that all of her expectations were met, given that she had planned the whole time with the pandemic — and all its uncertainties — in mind. For context, in Manitoba where the couple lives, there were 205 active cases in the province on their wedding day compared to 3,309 in the first week of February 2021.
The couple, who had not lived together before their nuptials, jumped into newlywed life in quarantine together.
"If I think about how we were before we got married, even though we felt we were so close, there's definitely a new level when you're living together and you've also gotten married and made a commitment to one another."
Taylor says the lockdowns have brought her and her husband closer.
"When you're together that much, the problems that you're bound to face come up sooner and so then you address them sooner," she says. "I think it can be a positive thing, because you're seeing more of one another, the good things, the bad things, and then you're able to kind of tackle your challenges head on."
Pizza is on the Valentine's Day menu for the couple this year. It's a tradition, Taylor says.
"It's just this little local place, it's our favourite. We usually go for Valentine's Day and sometimes anniversaries, so that's our little spot."
This is their first Valentine's Day being married and Taylor is still brainstorming ways to make it extra special and fun. The pandemic has made the couple's low key traditions more essential than ever. She may buy a film projector to have a movie night on their all-white walls, she says.
"I might make angel food cake," she said. "I've never made it before but sounds like Valentine's Day to me."
Kali and Adam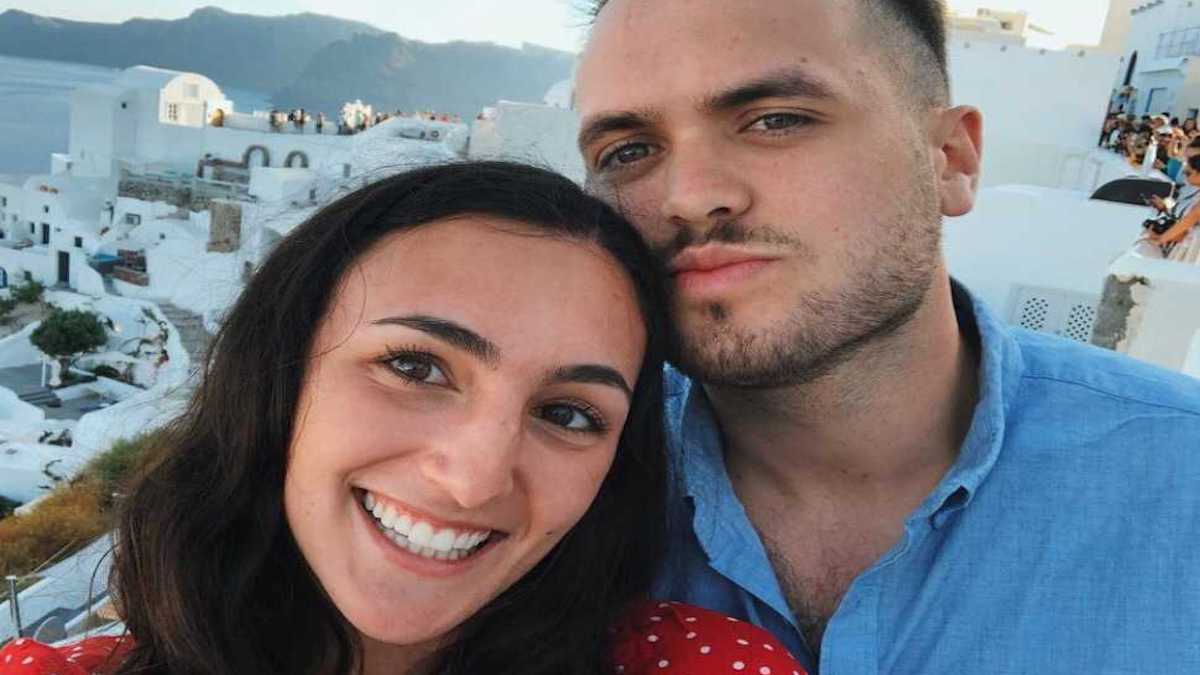 In the roughly three and a half years that Kali Faingold and Adam Fishkin have been dating, they've spent a lot of time apart.
Faingold, who graduated from the University of Winnipeg earlier this year, used to spend her summers working at a camp just outside of the city. She would usually get a day or two off once every couple weeks, which is when she'd spend time with Fishkin.
This experience of spending time away from each other during the summers really helped when COVID-19 hit Canada at the beginning of last year. Unlike some couples who had never spent time apart, Faingold and Fishkin felt comfortable with the distance.
Adam and I talked about this all the time—how we would never have taken a Sunday morning and gone for a walk. That was just so unheard of. We'd go to the movies or go to a restaurant, but we would never just take the time to do the most simple of things.

Kali Faingold on how the pandemic shaped her relationship with her boyfriend Adam Fishkin
In November 2020 though, Winnipeg went under a second lockdown. While the couple thought it would only last a few weeks, it lasted almost three months.
For Faingold and Fishkin who lived two minutes away and saw each other almost every day during the school year, the lockdown was the perfect opportunity to find unique ways to be together
"It was hard, but we tried to make the best of it," said Faingold.
The couple would often video call when they were at home, which was initially difficult for Faingold because she prefers spending time together in person. But then they began to have online date nights, which Faingold says ended up helping a lot.
"My favourite food is stir fry, so one time [Adam] made me stir fry and brought it in this really nice basket and put wine in it. We watched a movie over zoom and both ate the same food that he made," she says.
The couple also made it a point to spend their Sundays walking around the city, which Faingold says was strange at first because of the masks they had to wear and the six foot distance they had to maintain.
Now that the lockdown has been lifted, the couple still goes on these walks because it is their way of spending time together "in nature."
"Adam and I talked about this all the time — how we would never have taken a Sunday morning and gone for a walk. That was just so unheard of. We'd go to the movies or go to a restaurant, but we would never just take the time to do the most simple of things," said Faingold.
"Now we go for walks all the time. We walk his dog more often than we did before, so if anything, it gave us time to do those things."
While lockdown measures are no longer in place, much of the city of Winnipeg remains closed. This is why, for Valentine's Day, Faingold and Fishkin will spend the occasion recreating their online date nights—in person.
"We usually just go and buy food at the grocery store and then we cook it so it's kind of an activity. Then we'll cook it together and set up a nice table in my basement, and we'll try to make it nice as if it was a restaurant," said Faingold. "If we were still in full lockdown, I assume that we probably would do the same online. But I'm looking forward to it — we're going to just get food and cook it at home."
Maintaining connections
While much of the world is distanced right now, therapist Miriam Baron says the upheaval caused by the global pandemic has been an opportunity for everyone to learn. She's hopeful people have discovered the role love plays as an antidote to what we're going through collectively.
"We know from research that if your oxytocin is really up and you're really stressed, one of the things that's really helpful is a 30-second hug. We know that — we know instinctively how to soothe, and how to bring stress down. We know how to be there for people, we know how to connect, we know how to support," she said.
For Baron, the irony of COVID-19 is that we're no longer able to be there for each other, which is what will help us all deal with stress and anxiety caused by the pandemic in the first place.
"We're not allowed to mourn together, celebrate together, be together—all those things that we need so desperately as people because we need to feel interconnected and a part of something."
In the end, Baron says she hopes experiencing Valentine's Day during the pandemic teaches people not to take each other for granted.
"I think that Valentine's Day celebrates love, so I hope that we can figure out creative ways to remind each other how much we love each other and how much we don't take that for granted," she said.
"Because that's one of the big forces we have—our love and concern and connection to each other."
---
More Stories