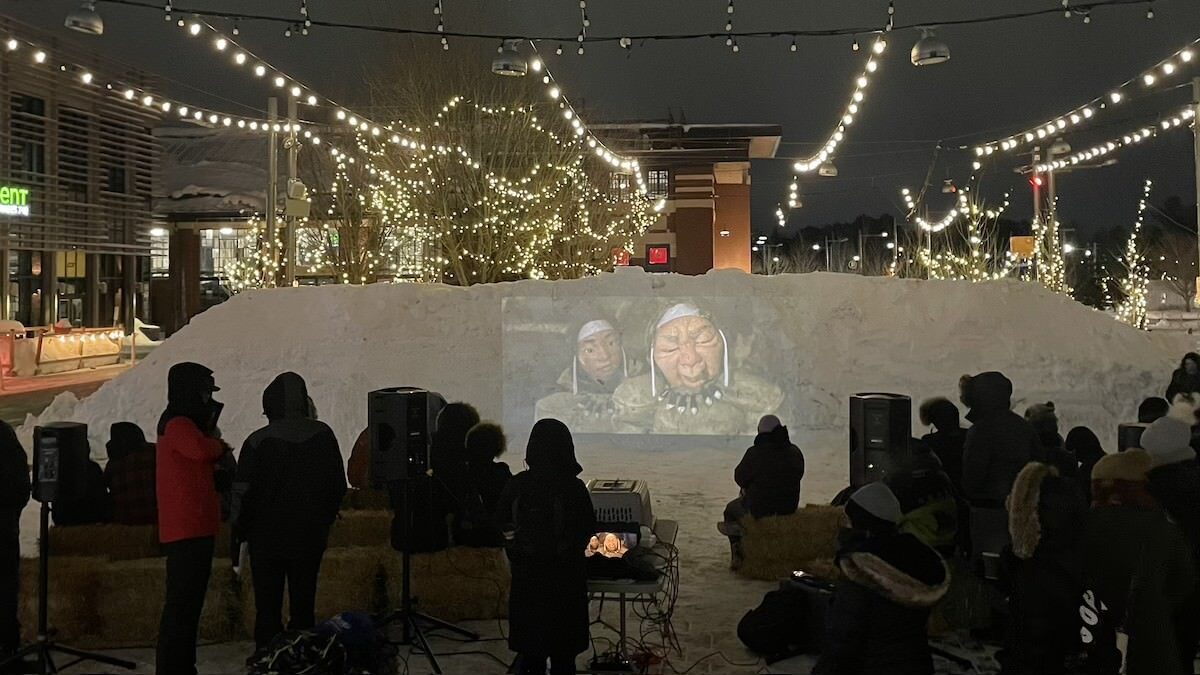 A shaman and her apprentice embark on a journey to the underworld in the short animated film Angakusajaujuq: The Shaman's Apprentice, providing a small but passionate crowd of moviegoers a brief escape from the bone-chilling polar vortex cold in Landsdowne Park.
The beautiful stop-motion film was one of five shorts presented by the Asinabka Film and Media Arts Festival during the opening weekend of Winterlude as part of the seventh Unikkaatuarniq: Snowscreen.
The award-winning short was projected onto a handmade snow screen as people held each other tightly underneath blankets in their seats on hay bales and huddled around a blazing fire pit to defrost their fingers and toes. Even around the pit, the snow crunched underfoot. The smell of burnt wood clung to every person's coat and hair.
Everyone was dressed warmly with layers underneath their coats, but the cold was penetrating. A clever few brought hand warmers, which they snuck into their mittens while others tightly gripped their complementary cups of hot chocolate.
Stories of the North
The second day of Unikkaatuarniq followed an extreme cold warning on Feb. 4, as a blast of cold Arctic air made it feel like -41 C. The lingering chill caused some minor delays because the computer was too cold to start.
However, Asinabka co-founder Howard Adler was delighted to find that so many people braved the frosty temperatures to experience the curated selection of Indigenous films from the circumpolar North in their outdoor theatre. Especially because, after three years online because of the pandemic, the event was returning to in-person programming.
Adler said the idea to focus on showcasing films from the circumpolar North in their wintertime programming developed organically.
"We decided to focus on Indigenous films from the North. So, Inuit films from Canada, Sámi films from Norway and Sweden and Russia have Indigenous peoples from the circumpolar North as well. Also, Ottawa has one of the largest Inuit populations outside of the North, so there is a big community here, and I think [the festival], you know, is a way of celebrating the arts and the filmmakers from the North," Adler said.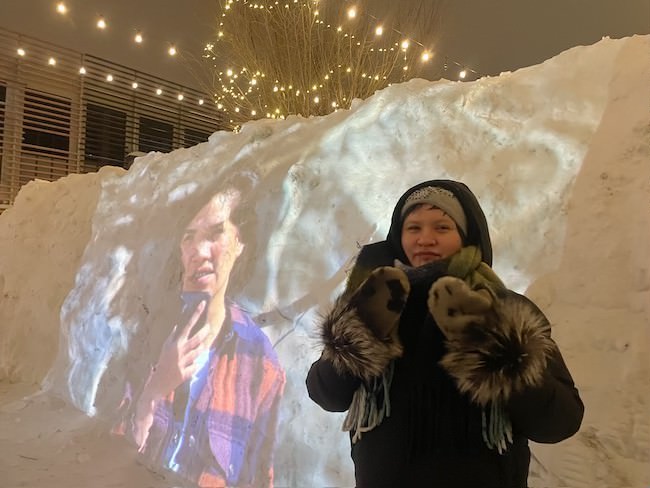 The word Unikkaatuarniq is an Inuktitut word that means "storytelling," a vital practice in the sharing of Indigenous oral knowledge. Inuk visual artist Akinasi Partridge said she was excited to view these films because having access to Inuit events gives her the opportunity to explore her cultural heritage.
This is especially important to Partridge because she did not grow up and live in the North.
"I feel like Arctic peoples are underrepresented […] I've met people who have never heard of the term 'Inuit,' or when you meet people down South, they are surprised that people can be from such a cold and so-called remote place," Partridge said.
"Yeah, Arctic peoples have a different perspective on life and living. Living in really harsh environments, there is a lot of obstacles, especially with the effects of colonization there's been a loss of culture or identity. So, I feel like these films are a good way to reconnect and explore identity and the ways that our ancestors lived."
Partridge took refuge from the Arctic-like cold around the fire pit, though. She shared that her hands were perfectly warm in her sealskin and fox fur pualuk, traditional Inuit sealskin mittens. She happily showed off the spotted mittens, which were covered with sealskin, lined with warm cotton material and trimmed with fox fur around her wrists.
A community of film lovers
The film which most intrigued Partridge was Nalujuk Night by Inuk filmmaker Jennie Williams, which brought into frame an exhilarating Labrador Inuit tradition. The short film documents the annual event in Nunatsiavut during which otherworldly beings known as Nalujuit walk through town, rewarding good children and chasing bad children.
Ingrid Folkins also loved this short, which she said introduced her to a new tradition. Folkins is from Sweden, so she said she appreciated the inclusion of work from the Sámi community of northern Scandinavia, including Háldi by Ann Holmgren, which focuses on the power of female relations in Sámi tradition.
Asinabka also partnered with Beandigan Café for a day of indoor screenings, which included Breathe Me Back To Life (Boso mu ruovttoluotta) by Sámi filmmaker Sunna Nousuniemi.
As Folkins stood around the fire pit with a friend, she remarked on the number of young people in the audience.
"There are mostly just young people here tonight. I don't know where are the older people. I mean, we're a bit older. Are they home in front of the fire? Probably, yeah, but it's kind of nice to see young people out here tonight," Folkins said. "I think [the festival] attracts … people who are interested in sharing and listening."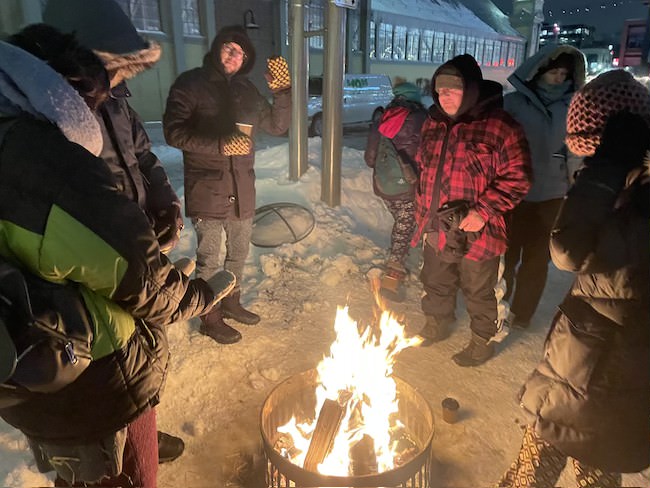 The snow screen
Adler was glad that everyone seemed to find something to love in the diverse selection of films and enjoy the snow screen that Asinabka built with the support of volunteers like Rey Fox.
Fox has volunteered with the festival since its beginning 11 years ago and helped build the screen for Unikkaatuarniq, which took around four hours after city snow trucks piled the snow for them.
"I think it's unique because we built it ourselves, like the volunteers, and we didn't hire people to do it professionally, so we kind of just slaved in this cold weather to make it kind of flat," Fox said.
As Unikkaatuarniq returns to Ottawa alongside Winterlude festivities, Adler hopes the festival continues to grow.
"It's our seventh year doing this outdoor snow screen event, and it's a lot of fun," Adler said. "I would love to see it get bigger with more funding and be able to have a professionally constructed snow screen that's flatter, so the image quality is more clear and to get more staff to help make this event a success."
---
More Stories