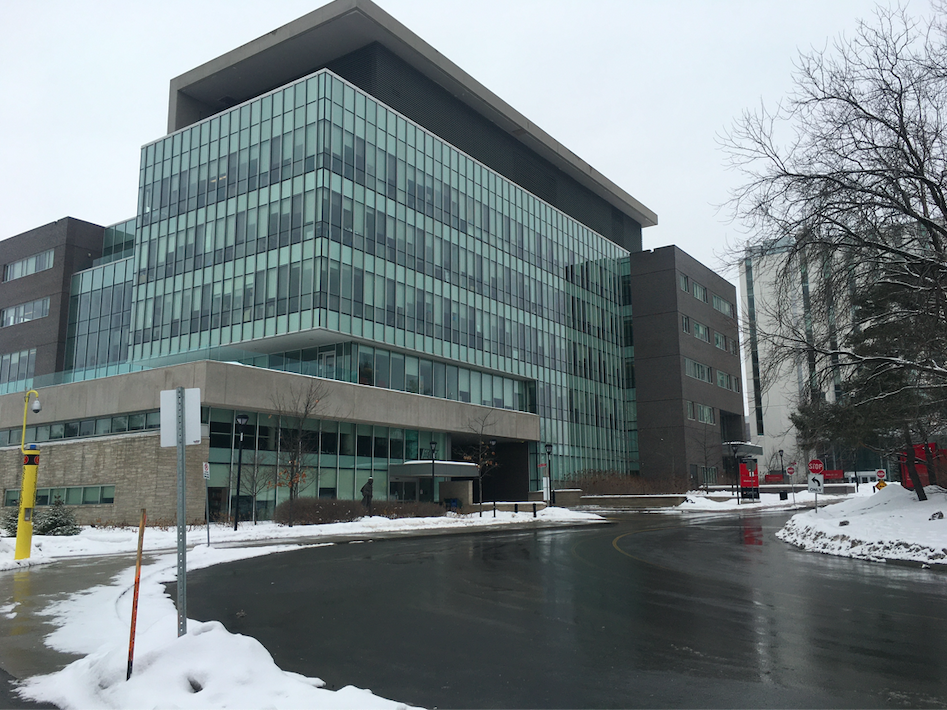 Nearly 18 months after Canada's best-known journalism school faced an uprising among students and alumni and committed itself overcoming systemic racism and other forms of discrimination, the journalism faculty at Carleton University has recently released its first 2020-2021 annual report on equity and inclusion.
"An important aspect of our action plan is a commitment to release an annual report of our progress – where we achieved positive change, what we still need to do," stated the annual report. "This report concludes by looking at the way forward, with a focus on new commitments for the year ahead. We are ever mindful of the fact that the task of shifting the perspective that Carleton's journalism program has been rooted in for decades will take time. We are committed to grounding the overall philosophy of our school in EDI principles. We will fundamentally change the system that has existed."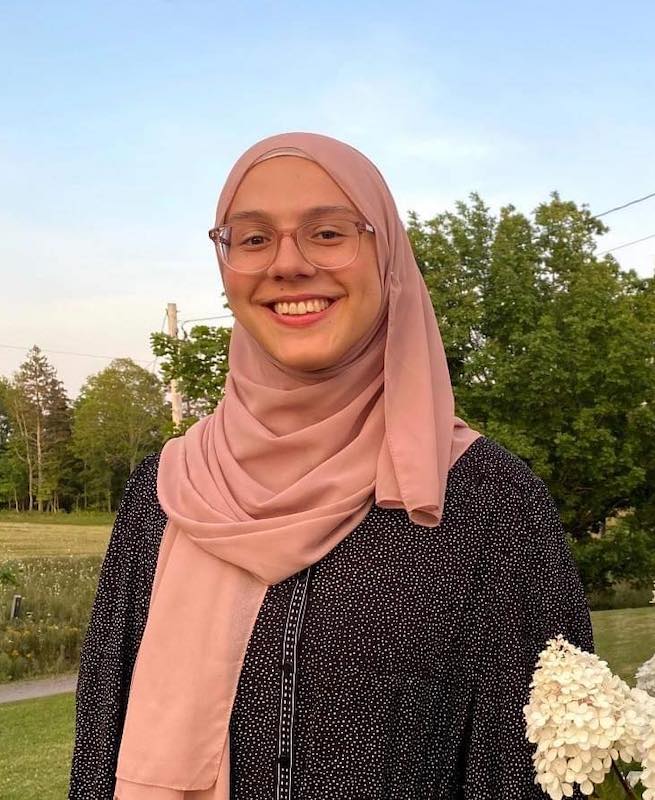 The report was among the promises made by Carleton's journalism department after 21 students and alumni issued a nine-page call to action in June 2020 outlining a pattern of microagressions and discrimination that marginalized students have experienced at the school. Along with the call to action, a petition was signed by nearly 5,000 individuals.
Pushing for institutional change at Carleton University's school of journalism addressed Canada's oldest and most prestigious journalism program directly. The document pointed out many ongoing issues surrounding the courses taught, the professors teaching them and even problematic behaviour among some students.
The call to action stated that the School of Journalism created an environment in which BIPOC students felt that they did not belong, they could not raise pertinent issues and felt unsupported in the school environment. This resulted in BIPOC students constantly feeling uncomfortable, fearful, exhausted and tokenized, the advocates said.
The document also included 21 stories through which students shared some of their personal experiences facing racism and discrimination. Some students stated:
"The N-word was said in my classroom by a white student. The professor did nothing."
"A professor shouted a religious slur at me in an attempt to make a joke. A classmate told me he had already delivered the same joke on a separate time earlier that day."
"In the school's conflict journalism course, the exploiting of dead Black/brown bodies was rampant and was created to the white gaze."
"In radio class, I presented a piece on Black History Month. After it was presented in class, a white TA said she was offended by the piece because it referenced white people and said it was 'reverse racism'."
Safiyah Marhnouj, fourth-year journalism student and undergraduate advisor for the Association for Equity and Inclusion in Journalism, discussed her experience in first year.
"I noticed that I was one of the only visibly Muslim women in my journalism classes … and all of my first-year professors were white," she said. "I didn't really feel very represented in terms of faculty and not very supported either."
Marhnouj said comments from her peers and professors often made her uncomfortable.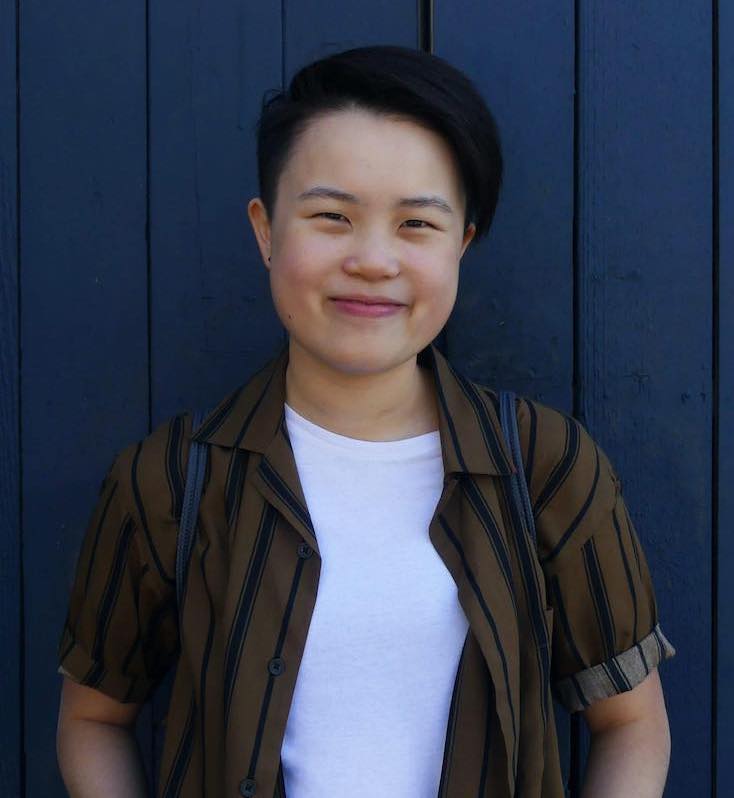 "I never really had the courage to say something or speak out. I felt very isolated. … I didn't feel like it was a space for me to talk about these concerns," she said. "I just think that a lot of the time, it's easy to just sort of not say anything and bite your tongue. And that can be a really lonely and isolating time in journalism."
In her second year at Carleton University, a professor reached out to Marhnouj regarding a group for students that deal with issues of diversity and inclusion.
"I started showing up to some meetings, and I kind of found a space. I realized that I wasn't the only student who was feeling that way," she stated.
Upon attending meetings with faculty members where students shared their experiences, Marhnouj said a lot of the professors were shocked and surprised.
"A lot of them didn't know that this happened (and) didn't even realize that was an issue," she said. "I felt like there's a really huge disconnect between what was happening, how students were feeling and how professors were feeling, because it wasn't necessarily deliberate acts of racism or deliberate discrimination. It was just a lot of ignorance."
Marhnouj described how students were at an impasse and didn't know how to solve the issues and concerns they were facing.
"Our professors aren't necessarily seeing this because a lot of them aren't marginalized, or aren't people of colour," she said.
However, after the call to action was released, she said the School of Journalism and Communication took it quite seriously. 
"It's a really good example of how there's so much power that comes when you speak up together as a group, and when you have so many people supporting you," said Marhnouj.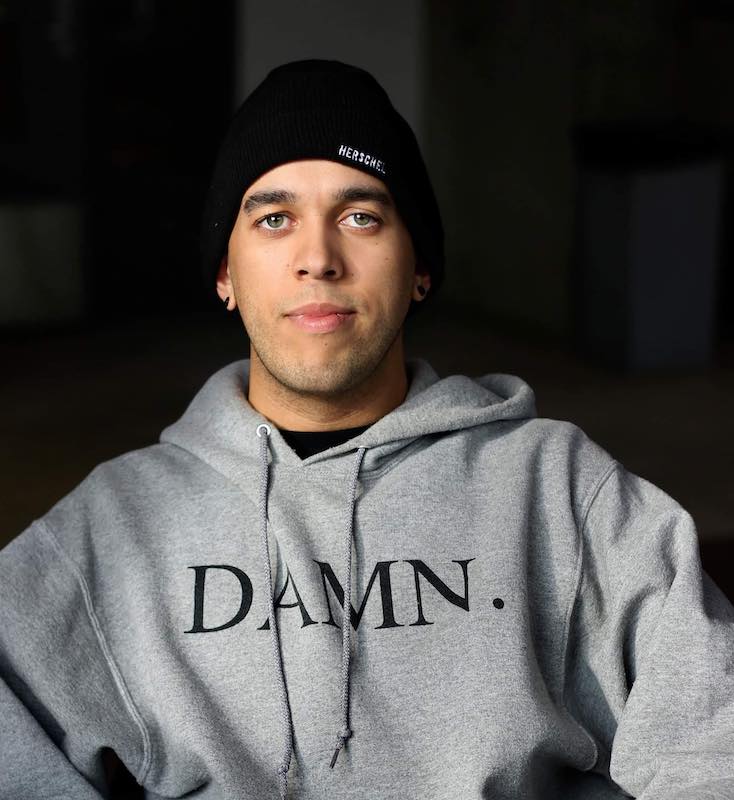 Tobin Ng is a fourth-year student who took part in the call to action. They said that when covering topics regarding transgender and Indigenous communities, there was no proper support from instructors.
"I couldn't access the support that I needed from my instructors because they didn't necessarily have the lived experience," Ng stated. "When all news is filtered through this very white cis male lens, it just prevents us from telling stories that are true and accurate."
One of the calls to action that they are particularly passionate about is the mandatory course covering reporting on Indigenous issues. In the document, students urged that Carleton's reporting class on coverage of Indigenous issues must become a mandatory part of the curriculum for the undergraduate and graduate journalism programs.
"It's just about doing good journalism and how can you be a good journalist if you can't report for these communities and if you can serve communities who are part of your audience," said Ng.
Ng highlighted the time and effort the alumni put into creating the document and petition to make sure future generations have a better experience in the journalism program at Carleton University.
"I think that (it's) such a profound act of care and for me, I felt like that was really powerful," they stated.
After the call to action garnered widespread public attention, Devon Platana, a Master of Journalism alumnus, shared a series of tweets describing his experience in the graduate journalism program at Carleton.
"One of the first things I noticed when I started the masters of journalism program was that it was very white, from the top of the program to the bottom of the program," he said. "There was only one other Black person in my year and then she left."
Often, Platana said, he felt doubt when pitching his story ideas to instructors.
"Are they going to understand the stories that I'm pitching? If I want to write something about the Black community or Black identity or what it's like growing up being mixed and all this stuff? I didn't feel confident pitching some of those ideas," he said.
By sharing his experience, Platana said he hopes he can help other students to speak up.
"If I can help one person feel like they're not alone in this or encourage them to share their experience, I felt it was worth sharing," he stated.
Zoya Davis, a fourth-year Journalism and Women and Gender Studies student at Carleton, described her experiences in the undergraduate program.
"I've been here for four years. I have to take journalism classes every semester. I've never been presented with the opportunity to have a person of colour teach me anything," she said. "I think that inclusivity has to stop being those extra classes — the cool ones that people don't always get a chance to take."
She added: "If we understand that our world is shaped by experiences, why aren't we understanding that multiple experiences are happening? Multiple teachers of different backgrounds and diversities should be teaching these courses because we're always evolving and changing. So then why wouldn't the staff look like the evolving, changing world that we're currently in?"
When discussing the diversity of the staff, Davis stated that as a journalism student, it's important to understanding how the world and perception shapes individual experiences.
Following the June 2020 call to action, the leaders of the journalism faculty — Susan Harada and Allan Thompson, respectively the outgoing and incoming head of the journalism program — responded in an open letter stating that they aimed to address racism and intolerance based on ethnicity, religion, gender, sexual orientation and ability.
One of the changes promised in the letter was to hire new faculty members to better reflect the diversity of Canada's population. In 2021, well-known CBC broadcasters Adrian Harewood and Nana aba Duncan — both of whom are Black — joined the journalism school's full-time faculty.
Harewood, a television anchor with CBC Ottawa, is teaching a course titled Journalism, Race and Diversity that is available to graduate and fourth-year students. Harewood is also set to teach a fourth-year course called Journalism Now and Next — which explores a wide range of challenges facing the profession and industry — in the upcoming Winter term beginning in January.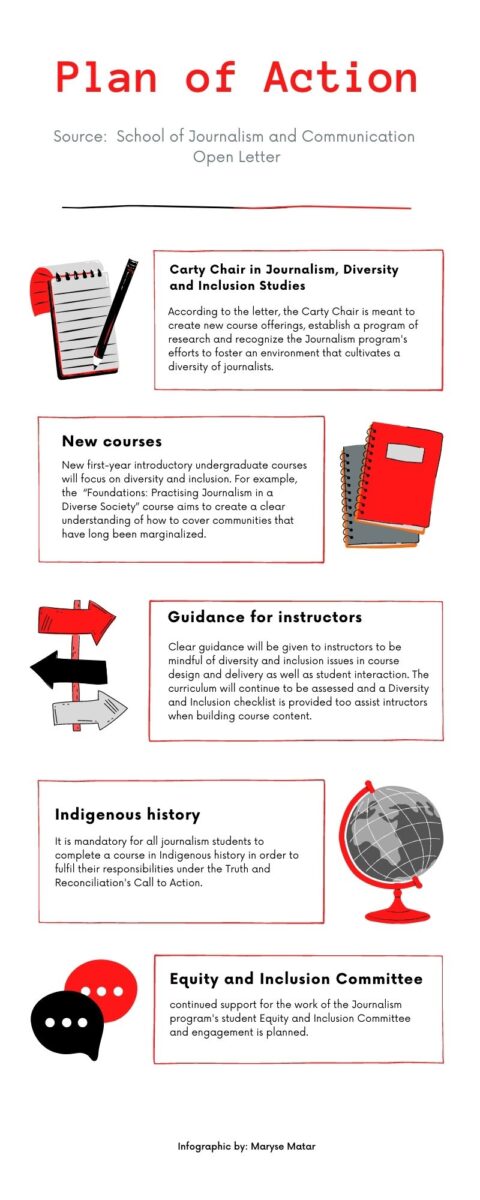 Duncan, a veteran CBC Radio host and founder of the influential Media Girlfriends podcast, joined the faculty as Carleton's new Carty Chair in Journalism, Diversity and Inclusion Studies and as an associate professor.
Duncan is responsible for a number of tasks, such as reviewing the second-year Fundamentals of Reporting course that provides a foundation for undergraduate students' learning in the program.
"They asked me to be part of that team and to help revamp it so that we can include principles of inclusion and belonging throughout," she said. "I think what is going to make us really successful is if we consider ideas of belonging and inclusion and diversity, throughout everything that we do. We should not be thinking of it as a separate course, or a separate thing."
Duncan is also set to teach a new third-year course beginning in January called Journalism and Belonging.
"In that course, I won't just be talking about differences. It's more about how could we change journalism if we consider these differences as equal to each other?" she said. "The idea is to take a look at discrimination in journalism, and how it affects how we do journalism, how it affects us as journalists, how it affects journalists who are not part of dominant groups in society and thinking about how we can be the ones to produce journalism that doesn't participate in discrimination."
As Carty Chair, Duncan was asked to give a seminar to the faculty on how to be more inclusive and consider diversity in teaching.
"You have to want to change and I think there are a lot of faculty that want to change. That's the sense that I get," she said. "I would not be here if I thought that I was joining a group of people who did not want to change."
She discussed how the faculty is currently in a space of wanting to do better and wanting to learn more.
"It is a big step to be able to acknowledge your place in systemic racism and other forms of discrimination. While some people might not think that that's a big step, I think what is a big step for me is a sense of humility," she said.
When discussing the efforts and implementations, Duncan broke down the notion of cultural humility.
"It's this idea that you're never done. It's not that you have to understand other people's cultures and the way that they live, it's rather that you have to understand that you'll never be done knowing and that you have to continue having this space of curiosity and wanting to learn," she said.
Despite the new modifications in the program, Duncan stated that the changes are not enough.
"This is an institution. So many institutions are based in white supremacy. So in one year, could any institution have done enough? No," she said. "I don't think the faculty thinks it's enough either. I mean, that we will always have to do more."
Recently, BIPOC students were given the opportunity to apply for the Class of '88 journalism bursary for Indigenous, Black and other racialized students. An $800 bursary is awarded to an undergraduate student who identifies as Black, Indigenous or a person of colour and is in financial need.
"There should be money thrown at this problem because there hasn't been money thrown at this problem before," said Duncan. "I think sometimes it's gonna look crass to some people. I think sometimes it will really seem like a bandaid — and it is."
"However, I'm very glad that some students will be able to participate in that award and that some students will benefit from that money. The issue is that all students should be treated well. Until we get there, I think we should do whatever we can."
Duncan emphasized that she also finds the progress to be slow, but that realistically, students will not witness the changes immediately.
"We're talking about institutional change. Institutional change! It's not gonna happen overnight. But we do need people to keep their foot on the gas. And that's why I'm here," she said.
---
More Stories