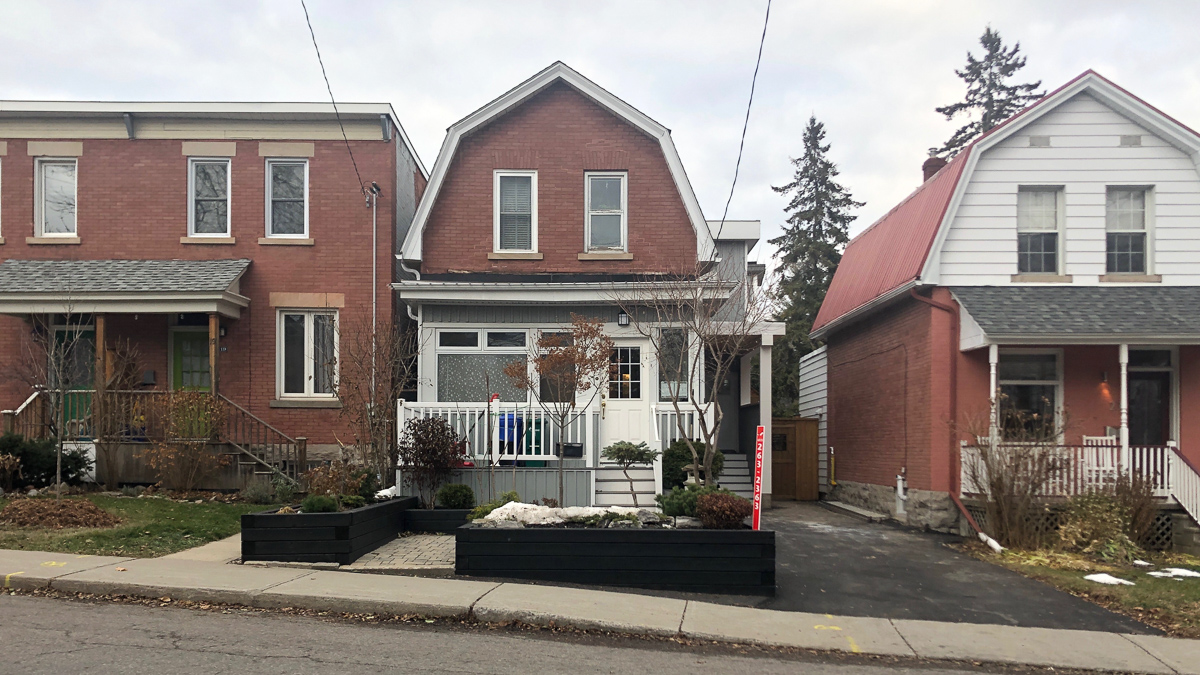 With new regulations for short-term rentals coming to Ottawa, the advocacy group Fairbnb.ca is predicting more than 1,000 homes could return to the long-term rental market, potentially helping to alleviate the city's very tight vacancy rate.
For example, the city has a vacancy rate of only 1.4 per cent for one-bedroom units, according to a report from the Canada Housing and Mortgage Corporation.
Meanwhile, as of Nov. 17, more than 3,200 listings of Ottawa houses, apartments or rooms were listed on the popular homestay site, Airbnb. Many of these listings will no longer be allowed, if, and when, the new regulations come into force. This could take many months to happen, as bylaws need to be written and approved.
New regulations
On Nov. 15, anxious hotel managers and Airbnb hosts, concerned constituents and city councillors filed into City Hall for what would be a marathon, 10-hour meeting of the Community and Protective Services Committee. The committee was planning regulations for short-term rentals in Ottawa, and on Nov. 28, council approved the regulations.
New rules would ban on short-term rentals (anything less than 28 consecutive days) that are not a host's primary residence. Hosts would also have to apply for a permit from the city. The ban and other changes concerns short term renters and the people who supply such accommodation.
The Nov. 15 meeting attracted several stakeholders who wanted their perspective heard ahead of the vote. Despite their attendance, some city councillors didn't seem like they had come to listen, said Scott Clement. 
Clement, from breathebnb, a short-term rental management business, said that from the first speaker, councillors were not paying attention. "Half of the city councillors were socializing with other people drinking coffee, eating, not listening to anything anyone was having to say," he said. "They had already made up their mind."
But others in attendance were concerned about the impacts on neighbourhoods from short-term rentals.
"There are well over 1,200 units in the Byward Market and Lowertown," said Steve Ball, president of the Ottawa Gatineau Hotel Association. "The density of short-term rentals was just off the charts, and that's impacting people's ability to live in a community environment."
The Byward Market is in the city's Rideau-Vanier ward, where the most Airbnb rental properties are listed in Ottawa. For example in February 2019, there were 560 units available. (Note: This data provides a snapshot of listings in one month, so it should not be interpreted as indicating the total number of rentals ever offered.)
"The bigger issue for me as a resident of Ottawa, somebody who's lived here my whole life, is the impact Airbnb is having on communities," Ball said. "Research shows that the Byward Market has the highest concentration of commercial Airbnb units on a relative basis based on per capita size of each city in Canada."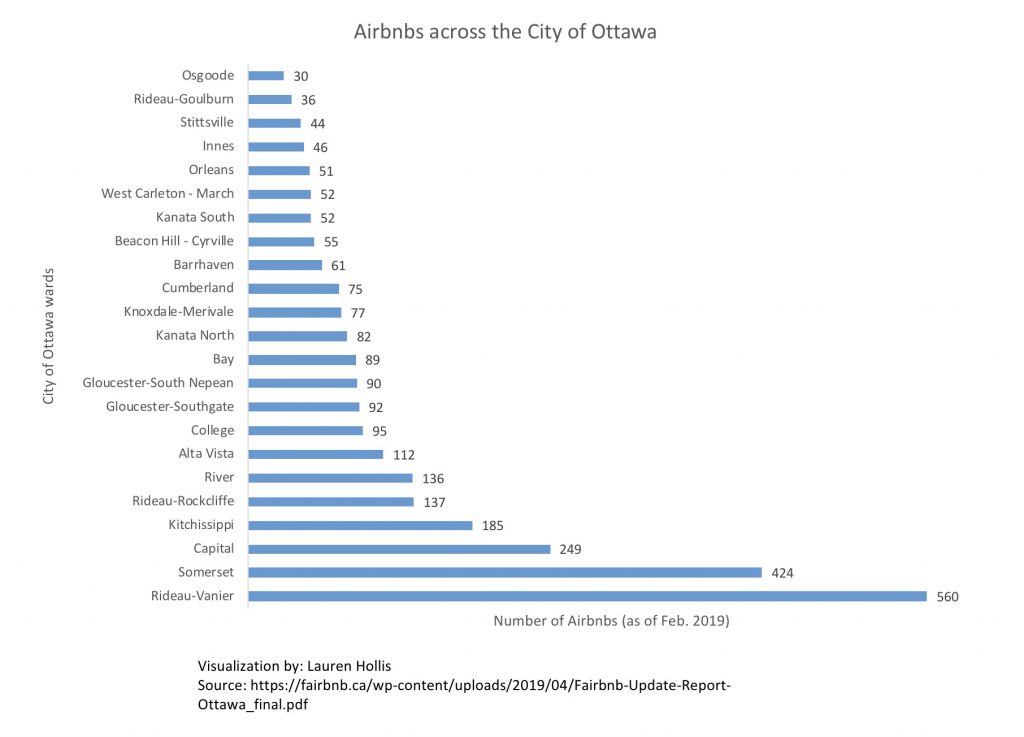 The second-most units are in Somerset ward, which doesn't come as a surprise to the ward's councillor, Catherine McKenney.
"It's where people usually come to visit," McKenney said, referring to the hot spots, such as Little Italy's restaurants, Elgin Street's pubs and the historic Gladstone Theatre. "It makes sense," they said, that so many listings have opened up in the neighbourhood.
However, they said, Somerset also needs to be home to a wide diversity of people, "including people who are low-income."
The ward's residents are concerned about the loss of housing stock and the disruption short-term rentals are causing, McKenney said. "You've got people coming into private buildings, they now know your entry code to get into your building," McKenney said. "You don't know who they are, and there's a lot of disruption. You get people knocking on different doors in the middle of the night, late at night, looking for their place. It's like a hotel without staff." 
"Ghost hotel" is what many in the housing industry call homes purchased for commercial renting that have no full-time residents. They are often the source of complaints from residents about missed garbage pickups, uncollected mail and doors left ajar. 
To mitigate these problems, there has been a growth in the number of Airbnb cleaners and short-term rental property managers in the city. Workers in this industry fear they may be regulated out of their jobs. However, they're not necessarily opposed to some new regulations.
"I agree that we should all have to get each property licensed, be a part of a registration, and have to follow rules and regulations, from noise complaints and garbage complaints," said breathebnb's Clement.  
"I'm not opposed to regulation by any means," said Lisa Miall, who manages almost 50 Airbnb properties in Ottawa. "In fact, I welcome it because there are bad hosts out there who are disrupting certain neighbourhoods in Ottawa."
For people like Clement and Miall, the impending regulations could have major repercussions on their businesses.
"The majority of our staff rely on this industry now as a way to make ends meet. We have single mothers and mothers who have children with disabilities — and they can't work conventional work hours," said Clement.
He said the city may think they're only going to hurt wealthy investors but to him, that isn't the case. He suggests that it is everyday people who will be wiped out.
Miall is one of those people. She said she has six staff that help her manage more than 50 units.
"I won't have a job and all my clients will have to find something else to do with their investment properties," she said.
Vancouver, Toronto and Montreal have all put regulations in place. Vancouver's regulations, implemented in May 2018, require that the short-term rental property is the primary residence of the renter as well as being licensed by the city and paying appropriate fees.
Since Vancouver began regulating short-term rentals in May 2018, the city has seen a number of changes including how many properties are listed. Visualization by Adenieke Lewis-Gibbs
The City of Vancouver has seen more than 2,100 short-term rental licences issued since then. The city has also had more than 2,000 previous listing not return online and 600 illegal rental units delisted.
In Toronto, similar regulations were approved in November by the Local Planning Appeal Tribunal, after being proposed two years ago. Like Ottawa's new regulations, they also only allow short-term rental of primary residences.
Montreal's regulations are provincially mandated, and while they allow for rental of cottages and secondary residences, the process for approving these units is more strict. All cities require Airbnb hosts to obtain licences.
---
More Stories