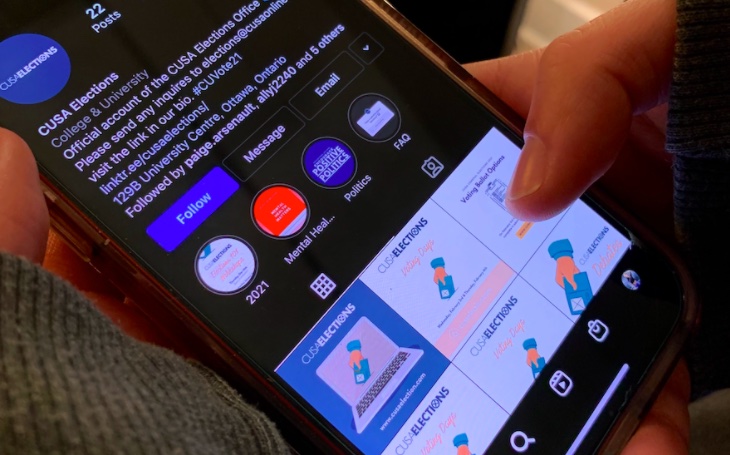 Because COVID-19 restrictions have kept nearly all students away from the Carleton University campus, the annual election contest for student leaders was fought largely on social media.
The virtual campaign to fill the top positions of the Carleton University Students' Association took place in the weeks leading up to Feb. 3-4 online voting. When the results were announced Feb. 5, Matt Gagné of the Ravens United slate had amassed nearly 60 per cent of all votes cast to defeat incumbent CUSA president Kathleen Weary, representing the Students First slate.
All but about 1,200 students in residence have been kept off campus since March 2020, with the university offering online schooling for all undergraduate programs. Because of these circumstances, the 2021 CUSA elections were held virtually, with social media playing a bigger role than ever before.
"This was the first completely virtual and paperless CUSA election and we had to follow quite strict guidelines set out by the electoral office," said Weary.
"We focused on sharing our platforms through social media and reaching out to students."
Candidates campaigned on social media, staying active with constant posts and connecting with students with direct messages on Facebook, Instagram, TikTok and Twitter. Virtual interactions such as likes, shares and comments were all the more important, as were live-streamed engagements and discussions with their respective followers.
"We weren't able to make that personal connection in the tunnels and with our volunteers. We had to get creative," said Gagné. "Really what we decided to do was just make engaging content."
One of the main issues raised was the mental health of students and candidates. Spending their days scrolling through social media, the campaigning process put an emphasis on the relationship between social media use and mental health.
"It's just so much at once, bombarding your brain, that if you were like me and you were on your phone for 14 hours a day, that gets to be a lot," said Gagné.
CUSA election officers promoted "positive politics" before the campaign officially began, hoping to minimize negative content.
"The Electoral Officers urge Candidates and Students across Carleton University's community to act respectfully and responsibly, so as to minimize bullying, slandering, harassment, and negative comments," CUSA's chief electoral officer Alexa Camick said in an official; statement.
Despite the election officer's attempt to foster a safe and positive environment, the anonymous nature of aspects of a virtual election made it difficult to control discussions. For example, during the weekend of Jan. 30 to Feb. 1, candidates were asked to temporarily silence their campaigning to ensure the safety and mental health of everyone involved in the election following some negative online exchanges.
"Those of us who are involved in this election are physically and mentally exhausted having to be glued to our phones waiting for the next negative comment to come upon our feeds," read a statement sent out on Instagram from CUSA councillors Emily Sowa and Jordan Vecchio, who were re-elected as Faculty of Public Affairs representatives.
"This is bigger than CUSA; it is an epidemic of negativity and hatred that needs to be handled."
Voter turnout down
The online election did see reduced voter turnout. Only 7,095 ballots were cast compared with 8,810 in last year's election. Out of the 28,716 students who were eligible to vote,  only 24.7 per cent cast ballots — the lowest turnout in the past five elections, according to CUSA.
"I think students appreciate having a break from being approached in the tunnels. But that's one part of campaigning, actually developing this personal connection with the person you're trying to get their support from," said Kareem Al-Wazir, an independent candidate who finished fourth in the race to be CUSA's vice-president of finance.
"That's the first step" to campaigning, said Al-Wazir.
Another factor in the lack of voter turnout could be the negativity on display throughout the election campaign.
"People haven't been respecting the boundaries," said Al-Wazir, and that took a toll on certain people — and I think we can do better."
---
More Stories