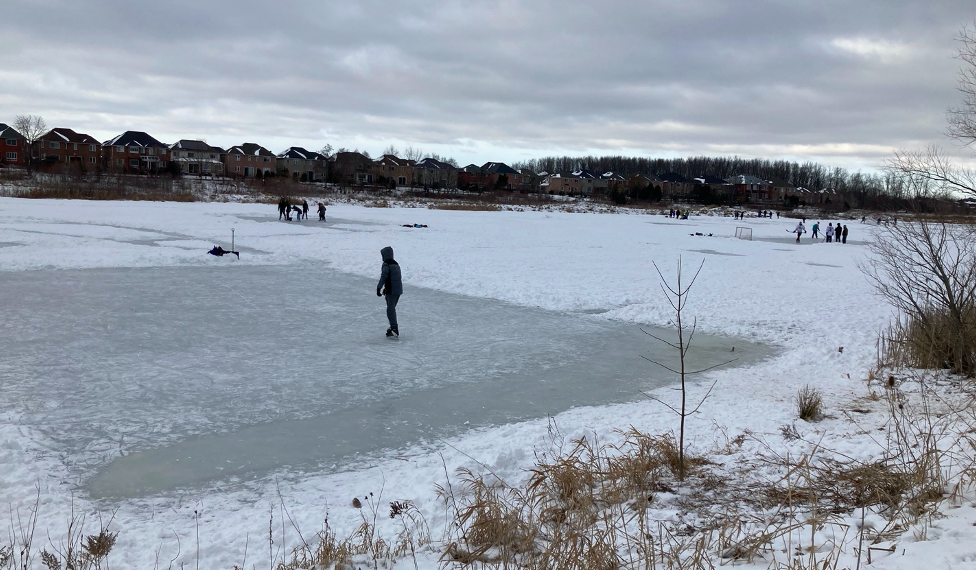 A frozen stormwater pond in Mississauga — a popular winter playground for young skaters and hockey players — has come under the scrutiny of city officials tasked with ensuring safe ice conditions and community compliance with COVID-19 protocols.
The situation symbolizes the kind of pandemic challenge that is happening across Canada this winter. Public health restrictions, aimed preventing the spread of the coronavirus, are clashing with the public's need and desire for low-risk exercise and relaxation outdoors.
The Osprey Marsh pond became a go-to place for outdoor exercise when a January cold snap created a solid ice surface. But bylaw officers have been seen ordering skaters off the ice.
Mississauga Ward 10 Coun. Sue McFadden, has warned on her website that stormwater ponds such as Osprey Marsh are never safe for winter activities.
"Ice on stormwater ponds is always unstable due to currents in the water and changing water levels, even if it looks solid from the surface," McFadden stated. "What may seem thick in some parts can quickly change."
Ward 9 Coun. Pat Saito told Capital Current: "As part of the COVID restrictions, enforcement staff have been visiting all parks and speaking with groups that may not be adhering to the regulations of numbers or proximity to each other."
Educating not ticketing
Saito added: "We are not ticketing if possible — but rather educating. This has worked,  but if a group refuses to leave then they will be ticketed."
Saito said enforcement has always covered ponds and lakes in winter to ensure people are not skating when the ice is not safe.
"Our goal is to make sure everyone stays safe," said Saito. "So whether it is for COVID-related activities or safety from ponds and lakes, our staff will be out there."
Across Ontario, issues surrounding outdoor recreational gatherings have been a cause for concern because of large crowds at skating rinks and tobogganing hills.
On Jan. 6, Ottawa Public Health limited gatherings to a maximum of 25 people at sledding hills, skating rinks, skiing trailheads and all other outdoor recreation amenities.
When the Rideau Canal Skateway opened in late January, the National Capital Commission kept food services and changing stations closed and reminded skaters that they had to wear masks and maintain two-metres distance from others.
The NCC and Ottawa Public Health also warned against people driving to the canal, insisting that only those are within walking distance of the skateway should be using the ice surface.
Residents from other parts of the city were encouraged to use municipal outdoor rinks, trails and other recreational areas closer to home.
Under the provincial Health Protection and Promotion Act, people are required to wear masks and maintain a physical distance of at least two metres from anyone outside their household when using amenities like Mississauga's outdoor community rinks.
Exemptions apply to temporarily removing a mask for food or drink consumption, for emergency or medical purposes, with children under two, or for anyone with a medical condition or in need of assistance.
There are three outdoor skating rinks in Mississauga with various capacities. To skate, people must book their 45-minute time slot up to a week in advance.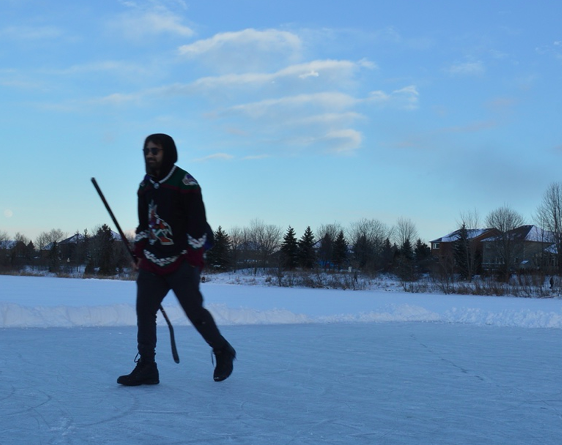 •
My brother and I were recently tying up our skates at the Osprey Marsh pond when a woman approached us asking how thick the ice was.
"My kids are going stir crazy without being able to tie up their laces." She said people are renting out personal outdoor rinks for $100 an hour but all the bookings are full — similar to many of the city-run rinks around the province.
While many, including my brother and I, have turned to skating natural ponds and lakes, we risk getting kicked off by bylaw officers.
On a recent trip to the pond, we heard: "Can all hockey players get off the ice, please." It was an enforcement officer speaking through a megaphone on the pathway behind the Osprey Marsh pond.
Skaters are frustrated because in their experience, the bylaw has never been enforced before.
"I've lived here my entire life, skating on the pond since I was four," said my brother, Shayan, 24. "We were told to try to be active and when we try to be active, a bylaw that hasn't been enforced in my entire existence is preventing me from being active."
On Jan. 21, Ontario issued a stay-at-home order that was recently lifted in many parts of the province but is still in place in Mississauga. However, one of the exemptions to the order is for exercise.
"We're in a lockdown, I'm stuck at home the least I'm allowed to do is exercise and it seems like they're discouraging that, which is frustrating," said my other brother, Junaid Ahmed.
"I do my due diligence beforehand to make sure the ice is not thin so that we can skate on it — and ensure I am only skating with people in my household," said Shayan.
"I have generational knowledge from my dad who grew up playing pond hockey," added Junaid. "I can access whether or not the ice is safe. It doesn't take a genius to figure that out."