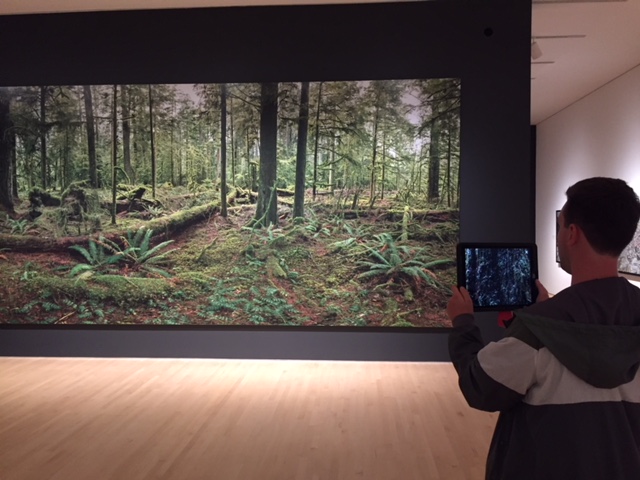 By Colm O'Sullivan
The National Gallery of Canada is hosting a new exhibit that showcases the impact of human activity on the Earth.
The exhibition is called Anthropocene and it makes its powerful point with photographs, videos, murals and interactive and immersive exhibits and augmented realities (AR) to put viewers into the picture of a planet being reshaped daily by humanity. The Anthropocene is a proposed nome for an epoch in which humanity is the largest force affecting the planet's geology and ecosystems.
The exhibit was created by three Canadian artists: photographer Edward Burtynsky and filmmakers Jennifer Baichwal and Nicholas de Pencier. A second version of the show is now on at the Art Gallery of Ontario in Toronto. As well the trio have released a film called Anthropocene, which will be in theatres this month. It was screened to acclaim at the Toronto International Film Festival last month.
"We thought by visually, emotionally, and intellectually bring theses images to people it would be more powerful than just reading it from a document from scientists," said Burtynsky.
This exhibit is innovative in its use of an app that can be accessed from a smart phone or an iPad that takes the viewer right to the image. Patrons can see not just the photographs, but the areas around the photographs, before and after the photographs, and even a life size version of Sudan – the world's last Northern White Rhino. Sudan has since passed away.
"I've always been interested in using technology as a way to extend storytelling, and a good way to bring ideas forward," says Burtynsky.
Andrea Kunard, an associate curator, is paying close attention to the potential of technology for museums.
"This exhibition was an opportunity to use certain types of technologies that are new to the National Gallery of Canada and to art exhibitions in general. AR is a special type of display, as are films embedded in murals. These were created by the artists and comprise an aspect of the exhibition. It would be hard to see this kind of display repeated in other exhibitions unless the artist wishes to pursue this type of technology," says Kunard.
"From a museum point of view, I am very interested in how the visitor experience can be affected by cell phones or smartphone devices. This technology is a way we have come to experience the world and by extension, it could become a way for visitors to experience art," she says.
Kunard said that the public is coming to the exhibition in droves. The numbers for the first weekend were 50 per cent higher than for a typical show at the Gallery.
Joanne Fortin, of Gatineau, was one of those visitors.
"It feels real because it's moving, you feel like you're seeing it in person, more so than a picture, I like it more, like movies.
---
More Stories