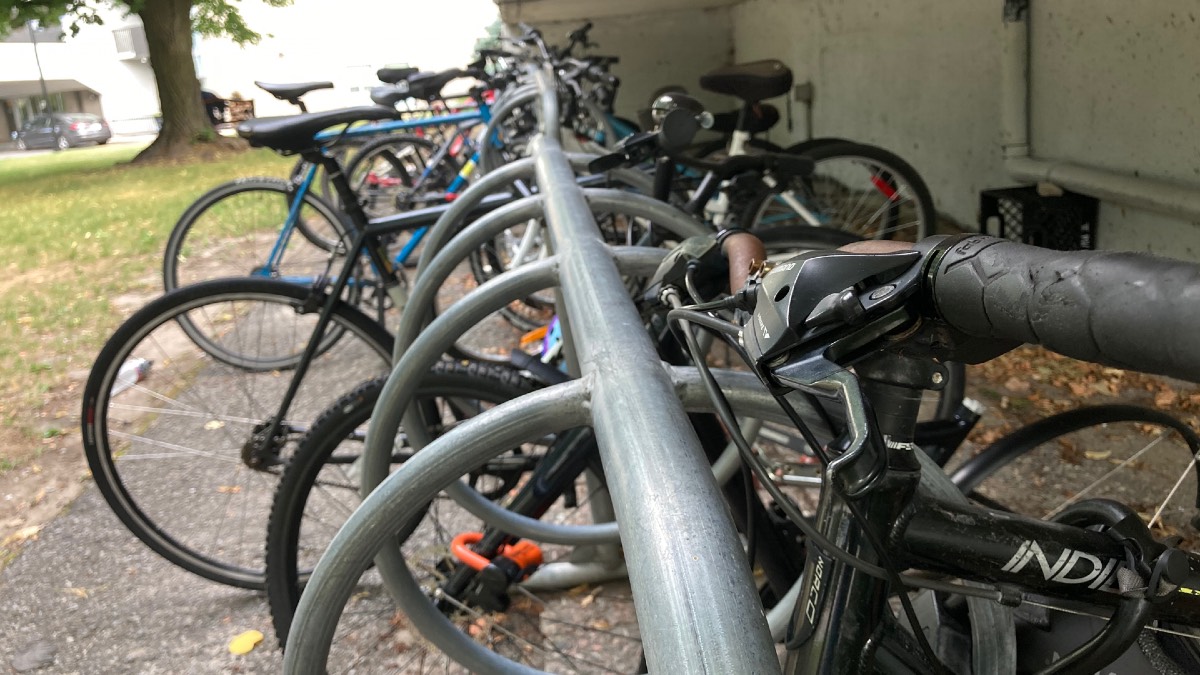 With more people cycling during the pandemic for exercise and to avoid crowded public transit, bike theft has also spiked.
According to a recent press release, the Ottawa Police unit that tracks break-and-enter crimes has seen a recent increase in bicycle thefts from sheds, garages and the storage areas of residential buildings.
Most thefts are happening downtown, according to Sgt. Arthur Wong, head of the crime prevention unit.
Wong said statistics hadn't been compiled to see if the rise in thefts aligned with an increase in the number of cyclists during the pandemic. But at the very least, it's an interesting coincidence.
Ottawa police had received 83 reports of bike thefts as of the beginning of May, compared to 42 over the same period last year.
Evan Moore had his bike stolen in early July, despite locking it up in what he thought was a secure location.
Under-reporting an issue
"It was locked up right beside the apartment parking lot in plain view," he said in an email. "And the next time I went to go for a bike ride … it wasn't there. They must have taken the bike lock as well."
Moore said he emailed the building owners asking for camera footage, but hasn't heard back from them. He didn't contact the police because he didn't think there was anything they could do. Moore added he probably won't buy a new bike until he finds a new place to live.
Last year, the city began a partnership with 529 Garage, an app service that allows users to register their bike using its serial number and by uploading photos, allowing stolen bikes to be tracked down more easily.
The 529 Garage program is in cities across North America, with more than 4,000 registered in Ottawa, according to Wong. The program helps curtail under-reporting, which is a common problem when it comes to stolen bicycles, he said.
#529Garage, introduced in May 2019, is a one-year pilot project. To date, over 3,600 bikes have been registered; 39 bikes have been reported stolen and 17 have been recovered and returned to the owner. For more information and to register, please visit https://t.co/FIaczSTMsS pic.twitter.com/oBiLU54r7h

— Ottawa Police (@OttawaPolice) October 16, 2019
"Prior to that, we never had any formalized process," said Sgt. Wong. "If your bike was stolen, you would report it to the police, and one of the questions that is asked is what's the bike serial number and most people would not have that information – so people wouldn't report it after a while."
In the five years before the city police partnered with 529 Garage, about 1,000 bikes were reported stolen each year, but this only represents a quarter of total thefts, according to Wong.
In 2020, 23 bikes registered with 529 Garage have been stolen and nine have been successfully returned to their owners.
Tracking system
Wong said the program has been well received by the cycling community, and Ottawa Police have partnered with Bike Ottawa and Safer Roads Ottawa to promote the tracking system.
"I was blown away by how much the community was excited about this. We hosted registration events and they would line up from start to finish," he said. "We had to close down and the lineup was still there. It was embraced by the cycling community."
Planned registration events have been suspended because of COVID-19, but Wong said police hope to hold an event sometime in August.
In its July 8 press release alerting the community to the surge in thefts, the Ottawa Police offered bicycle owners a checklist of "ways to help keep your bike secure." The following tips were included in the warning:
If you reside in a residential apartment or condominium building, utilize locked storage areas or cages and keep your bicycle locked while inside. If you are able, store your bicycle in your unit. Be mindful of strangers following you through secure garage and lobby doors.
Invest in a good quality lock. Speak to your local bicycle dealer for advice on the lock that best suits your needs and quality of your bicycle.
Lock up your frame, not just your wheel.
Record your bicycle make, model and serial number and keep it in a safe place along with a photograph of your bike.
Register your bicycle on bike registry apps such as project529.com/ottawapoliceservice so you are able to alert fellow Ottawa-area cyclists if your bicycle is stolen or lost.
Keep sheds, garages and fence gates closed and locked. If you are out in your yard, remember to shut and lock your garage door when you go inside. If you have a garage door remote in your vehicle, ensure it is kept out of sight and keep your vehicle locked to prevent access to your garage.
Report suspicious persons to police. Remember it only takes seconds for a thief to steal your bicycle.
---
More Stories