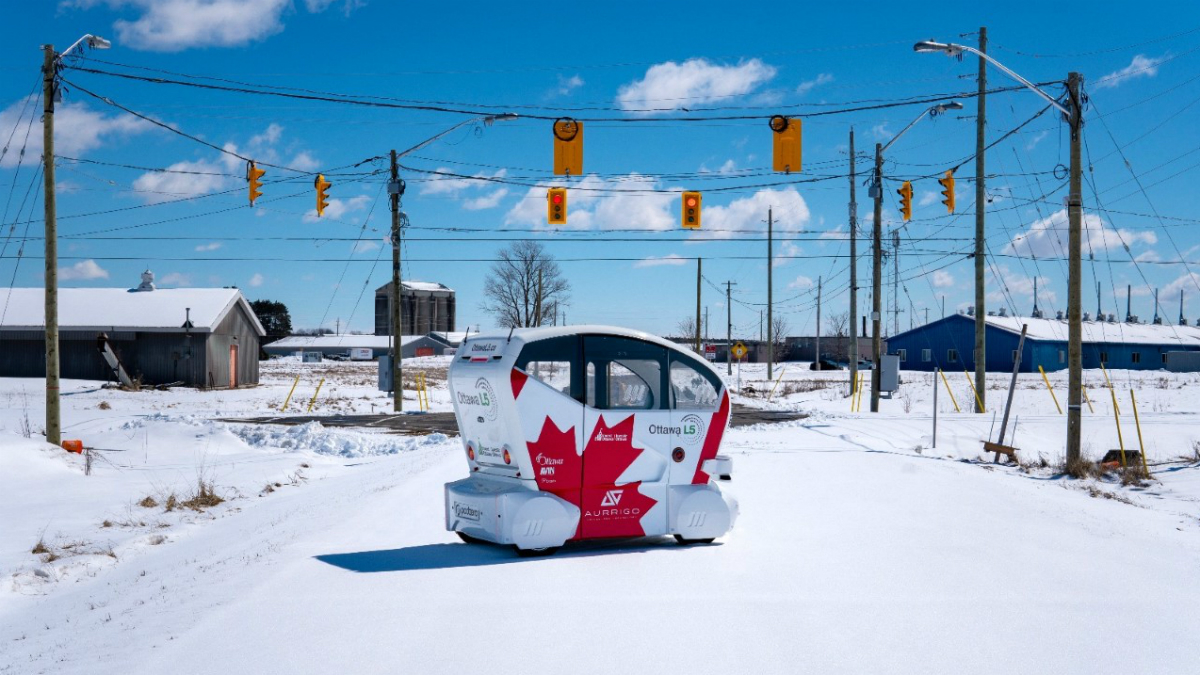 The Ottawa-based Canadian arm of U.K. technology firm Aurrigo plans to demonstrate its autonomous four-person shuttle at the Ottawa International Airport later this year, Capital Current has learned.
Aurrigo, which set up shop in Ottawa just more than a year ago, claims the driverless shuttle will change the way people travel.
The vehicle's practical speed is between eight and 11 kilometres per hour, and it would be used on a "first- and last-mile transportation" basis, according to Chris Keefe, Aurrigo's vice-president of autonomous programs.
"The easiest way to explain first- and last-mile transportation is that once you're at the airport parking lot, our pod will bring you to the terminal," said Keefe. "We're aiming to showcase the four-person vehicle at the airport this year if their schedule permits."
Airport officials are "excited at the possibility of collaboration" with Aurrigo, according to Krista Kealey, vice-president of communications and public affairs with the Ottawa International Airport Authority.
"We're excited to work with Aurrigo on a trial. It won't involve bringing members of the public to their terminal quite yet," said Kealey. "We think working with them will involve a lot of learning, especially operating in the snow and different weather conditions."
Aurrigo aims to "fill a gap in transportation," according to Keefe. A range of potential users — from people with physical disabilities who need to travel beyond the limits of current transit stations, to post-secondary students who need to cross campus — will eventually use these pods, said Keefe.
"We see a really wide range of people who can benefit from these," said Keefe. "For example, when someone can't drive because they're undergoing some sort medical treatment, we created a technology that can be implemented to help them."
Giving additional independence to users is one of the many advantages of the shuttle Aurrigo is developing , said Kelly Daize, director of the connected and autonomous vehicle program at Invest Ottawa.
Invest Ottawa is the city's leading economic development agency, providing expertise and tools to help businesses prosper.
"Driverless vehicles will transform the lives of people that are visually impaired or with mobility issues, giving them renewed freedom and independence," said Daize.
Fewer collisions resulting in a reduced burden on the healthcare system and a cleaner future — as many autonomous vehicles have moved away from fossil fuels — are other projected impacts of autonomous vehicles, according to Daize.
But widespread education about autonomous vehicles will need to happen before they show up on public roads, said Keefe.
Keefe says many people, including lawmakers, "often have misconceptions about how safe autonomous vehicles are," said Keefe. "It's a bit of a tricky situation when people don't support it because they don't understand it."
"The province recognizes the importance of new vehicle technology, especially if it expands mobility options for Ontarians – but safety is our top priority," said Bob Nichols, senior media liaison officer for the Ontario Ministry of Transportation, via email.
"Ensuring that new vehicle types can integrate safely with pedestrians and other vehicles is a key consideration before any new vehicle type will be allowed on roads," added Nichols.
The provincial ministry created a pilot program for eligible companies to use autonomous vehicles under rigid conditions, according to Nichols.
"We have had various forms of autonomous vehicles on the roads for awhile, primarily of lower levels," explained Keefe. "Features from adaptive cruise control to other vehicles keeping you within your lane are all autonomous features."
While legislation may keep fully autonomous vehicles off the roads for the time being, Aurrigo aims to showcase its vehicles in the near future, off of public roads. "Ottawa has become a great home for us," said Keefe.
"There is huge support for tech and autonomous vehicles in this city."
Aurrigo plans to have a 12-person electric shuttle ready for the summer of 2020, according to Keefe. "We really aren't as far as a lot of people might think from seeing autonomous vehicles popping up in different places."