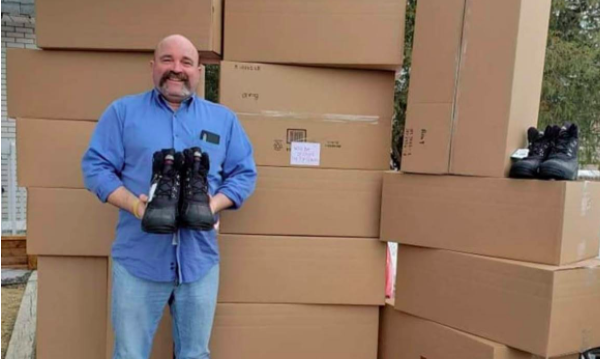 As charities and non-profits in Ottawa grapple with an increased need for their services during the pandemic, Boom! Savings! — described by its founder as a "charitable shopping group" — has carried on its mission to shop for discount items to help meet some of those needs.
Started by Ottawa bargain hunter Gavin Thompson, Boom! Savings! is a Facebook group of people who look for heavily discounted items as a means to maximize their purchasing power to help charitable organizations in Ottawa.
"So, if you want to buy someone a pair of winter boots so they don't have cold feet during the winter, you can spend $100, or you can give us $100 and we can buy $400 worth of winter boots for the same amount of money," explained Thompson, who does most of the shopping and drop-offs of purchased goods. "We're willing to put in the effort to go and find the deals and make the connections with the managers."
The group was forced to shut down at the beginning of the pandemic, Thompson says, but it didn't slow the philanthropic shoppers down for long.
"I slowly returned to doing it when people would tip me off about a deal at a certain store, and then I'd just schedule to do my groceries for the week at that store and grab the deal while doing my groceries," said Thompson.
Hear more about how the pandemic impacted Thompson's philanthropic work:
At the same time, the pandemic has also presented more bargains for Boom! Savings!
"It certainly seems like there's more on the shelves that stores are trying to get rid of," said Thompson.
Thompson said that the group has been able to take advantage of closing sales as stores go out of business from the financial strain of pandemic restrictions.
The continued stream of donated goods from Boom! Savings! has been welcomed by poverty relief and social support charities as the pandemic has increased the need for many of their services.
Savanna Schiavo, fundraising co-ordinator for the Youth Services Bureau of Ottawa, said YSB has seen an increased need for cleaning supplies, as well as a continued need for essentials because many of the young people they support have experienced financial hardship during the pandemic.
"Having these supports from Gavin and the donors from Boom! Savings! means youth living in our long-term housing buildings can redirect their very limited dollars to other areas of their lives so that they don't have to worry about things like toiletries and food," said Schiavo.
From a donor's perspective, the process of contributing hasn't been affected by COVID-19 restrictions, according to Boom! Savings! group member Ian Dalton.
"The pandemic hasn't changed anything from my perspective," said Dalton. "I've always donated by sending money electronically, and I always stay informed through social media."
Cara Simpson, another Boom! Savings! group member, said she has tried to donate when she can, despite increased financial uncertainty.
"I can't be guaranteed on my income. I haven't been able to donate as much as I normally would," said Simpson. "One thing that I do is I'm a points collector."
The continued success of Boom! Savings! over the past year is largely thanks to the work of Thompson, according to donors.
"If you read back through the posts, it's actually amazing what he does. He squeezes a dime until it cries a dollar," said Dalton.
"He donates where he sees the need, which is the wonderful part," said Simpson.
Schiavo added that Thompson's efforts have maximized the charitable reach of the Boom! Savings! group.
"He has helped meet the needs of programs in enormous ways, and individual youth and families' needs in enormous ways," said Schiavo. "You can tell he is extremely dedicated to his community and really enjoys doing this."
Boom! Savings! started when a group of Thompson's friends challenged him to use his bargain hunting skills to stretch their winnings from a football pool as far as he could for charity. After gaining news coverage in 2016, the Facebook group was created and it has grown from there, according to Thompson.
"It's really the power of this group," said Thompson, "that makes this initiative what it is."
---
More Stories