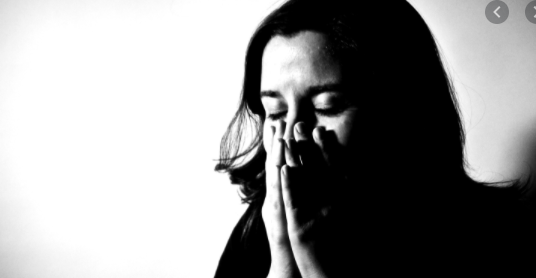 A new initiative hopes to provide support for the increasing numbers of students confronting stress, anxiety and depression at Canada's colleges and universities.
The Post-Secondary Fund was announced ahead of Bell Let's Talk's annual national outreach campaign in January. It is offering 100 $25,000 "kickoff grants" in 2021 to help universities and colleges implement the National Standard of Canada for Mental Health.
"It really started several years ago, when we floated the idea about the benefit of a framework to support universities and colleges in their effort to create mentally healthy campuses that support students' success," said Mary Deacon, chair of Bell Let's Talk.
Through discussions with universities and colleges over the years, Bell Let's Talk developed a sense of the urgent need for help improving student mental health.
"We asked the Mental Health Commission of Canada to really project-manage the initiative," said Deacon, "which resulted in the creation of this national standard for the mental health and well-being of the post-secondary students."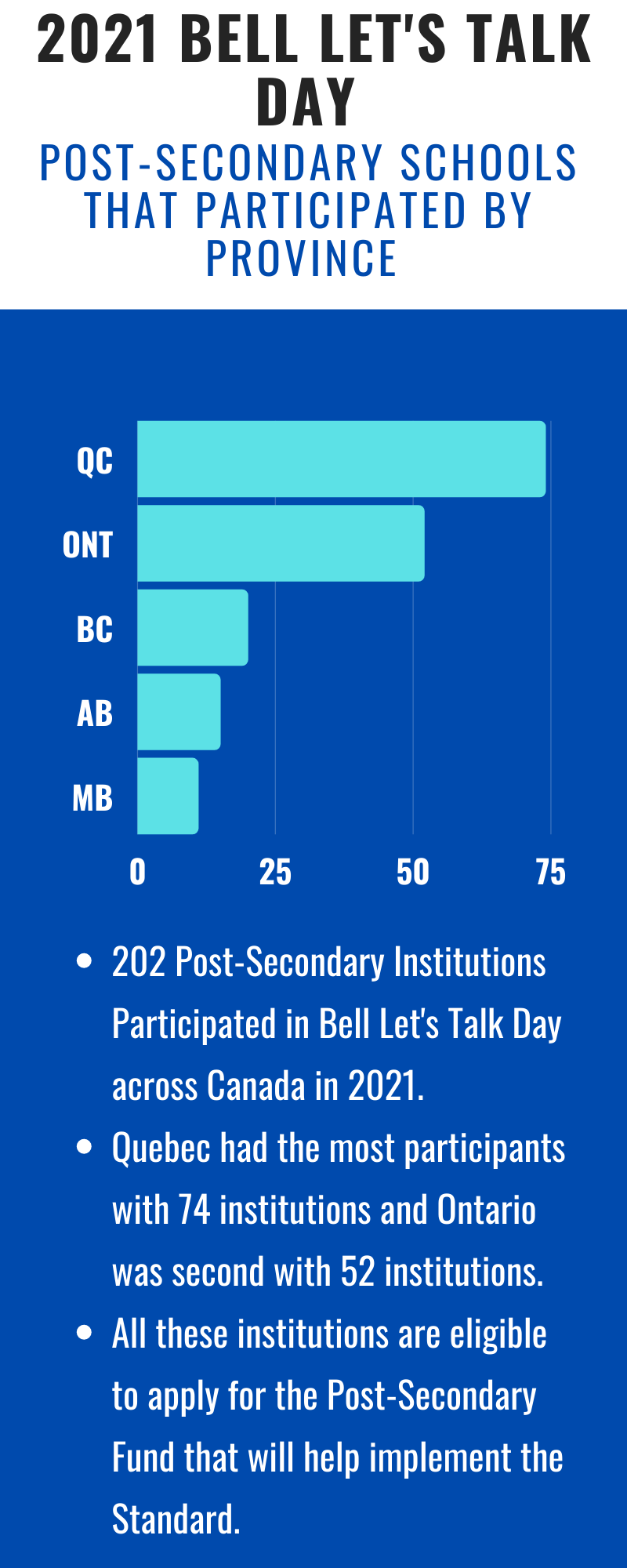 The standard is a set of guidelines established to help post-secondary institutions support student mental health through policies, programs and practices.
It was championed by the MHCC — the national agency overseeing the country's efforts to promote better mental health among Canadians — in collaboration with the Canadian Standards Association and funded by Bell Let's Talk, The Rossy Foundation, The RBC Foundation and Health Canada.
Mental health problems
"We like to position the standard as first of its kind in the world. It truly is in many ways," said Sandra Koppert, director of mental health advancement at MHCC.
More than 7,500 stakeholders were consulted in the process of creating the National Standard.
"…The stakeholders that we were able to engage from across Canada included students, administrators, service providers and people who have lived and have living experience of mental illness," said Koppert.
According to the MHCC, three of four mental health problems have started by age 24, when many students are pursuing or have just finished their post-secondary education, making college and university students a particularly vulnerable community in terms of mental health.
"While the standard was developed to support institutions regardless of resources and capacity, through our ongoing stakeholder engagement we did hear that some institutions have expressed at least perceived barriers in the use of the standard at this time, including capacity and resource limitations," said Koppert. "It is our hope that Bell's initiative will support institutions to take next steps in a timely and meaningful way with the standard."
Koppert said the MHCC applauds Bell Let's Talk for establishing the new fund.
"Even before the pandemic, we knew and heard about the struggles that young people and students were having from the National College Health Assessment from 2019," said Deacon, explaining why Bell turned its focus squarely to the challenge of supporting student mental health in colleges and universities.
The 2019 assessment found that 16.4 per cent of post-secondary students have considered suicide and 51.6 per cent "felt so depressed that it was difficult to function" within the last year.
"Both the standard and the fund are concrete actions to help support the universities and colleges in their efforts to support their students," said Deacon.
Society benefits
Deacon said she believes society benefits if young people are able to get well, finish their post-secondary education and contribute to their communities.
"I think it is a good tool for universities and colleges across the country to be able to assess where they stand in terms of services and policies that support mental health and be able to move forward with some of their projects that they want to implement," said Jennifer Hamilton, executive director of the Canadian Association of College and University Student Services.
Hamilton sat on the executive advisory committee for the development of the standard.
More than 200 post-secondary institutions participated in Bell Let's Talk Day this year, which was held on Jan. 28.
"The engagement of the universities, colleges and students was extraordinary," said Deacon.
---
More Stories