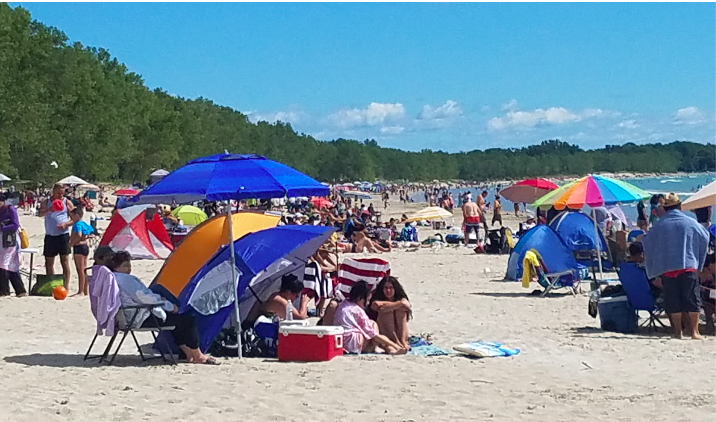 A tourism management plan developed after Prince Edward County experienced a sharp increase in the number of Lake Ontario beachgoers last summer has drawn criticism from Picton-area residents who want more done to control the impact of visitors.
After the huge influx of summer tourists to the county — especially at Sandbanks Provincial Park near Picton – county councillors asked staff to develop a plan to tackle the problems before the 2021 tourism peak.
The $590,000 draft tourism management plan has now been sent back to staff for further review after public reaction that the document was "not resident friendly. … A lot of the councillors thought we should put more emphasis on resident-friendly more than tourist-friendly" said Coun. Phil Prinzen.
County resident Jordan McCormack launched a petition in July to Prince Edward County Mayor Steven Ferguson and Ontario Premier Doug Ford pleading with them to limit tourism in the area, located on Lake Ontario about two hours east of Toronto. The petition now has more than 6,650 signatures.
"I was scrolling through Facebook and I saw lots of statuses from people around here who are just fed up and annoyed of having their summers ruined," said McCormack. "I kind of looked around and said what is going on? There is a pandemic happening right now and tourism is at an all-time high."
McCormack said the goal of the petition was to get Ferguson's attention concerning the frustration that local residents are feeling. "Beaches being shut down due to overcapacity, and the littering is something we haven't dealt with in the past," said McCormack.
"I've heard stories from local business owners saying that their businesses are being disrespected, people leaving litter outside of their business," said McCormack. "That was really the reason I started the petition in the first place, to give people a voice."
Pressure from McCormack and other residents has forced county councillors to incorporate more of the public's concerns in a revised tourism management plan.
Last July, a statement was released on the tourism office's official Facebook page, titled Visit the County, that highlighted growing problems at the time.
"Provincial and municipal beaches are crowded and they're closing within hours of opening … Thousands of day-use beach visitors are turned away each weekend, creating gridlock on County roads," the post said.
A busy summer looms
And it looks like the parks in Prince Edward County and elsewhere in Ontario will be really busy again this summer.
There has been a massive surge in bookings at Ontario provincial parks in the first two months of the year, as Ontarians plan for another summer under the pandemic.
Ontario Parks says they've seen demand nearly double over this time last year, with almost 60,000 bookings in the last few weeks, compared to 30,000 this time last year.
The popularity of the sites in Prince Edward County during the pandemic has many residents scrambling for a coveted spot.
The new Tourism Management Plan acknowledges the traffic and crowding issues. It says "a reservation system will help manage visitor volumes, improve the flow of traffic around the beach and ensure that there is a place at the beach for residents."
"When I came back to PEC, I was shocked to see the traffic on Picton Main Street," said McCormack, recalling the summer tourism rush. "It took me 15 minutes to get down one road. It's just crazy."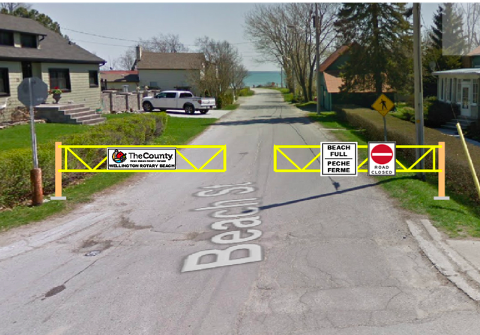 The plan acknowledges the importance of tourism for the local economy, stating that "tourism accounts for 1,700 jobs in Prince Edward County."
In an attempt to continue attracting tourists to PEC while also respecting local residents' wishes, the county's Destination Development and Communications units say they will focus on audiences in the Greater Toronto, Ottawa and Montreal areas to "encourage reservations and exploration beyond the beach."
This campaign was created in hopes of easing the volume of tourists at the Sandbanks beaches and steering visitors to other destinations that PEC has to offer, as the report explained.
A new 'Visitor Pledge' will also be highlighted to "set the tone for visiting Prince Edward County with a mindset of respect for a rural destination," the plan noted.
There will be new measures put in place by PEC to ensure visitors are better directed, including traffic signage and new garbage receptacles at main tourist areas in attempt to decrease littering at local parks and beaches.
---
More Stories