One year into the pandemic, isolated Canadians are experiencing COVID-19 fatigue. But for low-income families with seriously ill children, the isolation was already part of day-to-day life — and the crisis has only made their challenges greater.
The Jennifer Ashleigh Children's Charity works with hospitals across Ontario to support these families through respite and therapy care. As well the Uxbridge-based JACC also provides families with crisis funds for grocery bills, transportation costs and rent.
Advisory board chair Colleen Taylor said many of the families the charity supports are accustomed to social isolation. "In many ways, they were already prepared to live in a world with COVID," she added.
Nonetheless, Taylor said the families did experience additional challenges and some noticed a decline in the health of their children following the first provincial lockdown, which disrupted the economy and day-to-day routines across Ontario in the spring of 2020.
"Every parent wants to be with their child when they're sick," Taylor said. "We're helping families who, even on a good day, their financial resources are stretched."
"Most of us, regardless of our jobs, are not that far away from potentially being one of the families we help. Most people in the province work paycheque-to-paycheque, but that money can quickly disappear when you have a sick child . . . The kind of family that we help is you and I."
Additionally, COVID-19 has affected how the charity raises money. Mackenzie Todd, fundraising co-ordinator, is a humanities student at the University of Toronto. She became involved with JACC through a summer student placement. That's when she fell in love with what the charity stands for. 
"Their story sold itself to me," she said.
Todd said the charity counts on in-person events to raise the bulk of its annual budget, and in 2019, the organization's annual gala raised more than $300,000. "When you have 350 people in a room, there's a lot of power there, and the charity really has everyone's attention," Todd said.
In 2020, JACC volunteers were anxious about their first ever virtual silent auction. However, in September, the charity's Be The Reason livestream was a major success. "We could expose ourselves to people who normally wouldn't attend the gala because of its location, or because it's cost prohibitive," Todd said.
"We were pleasantly surprised," Taylor added.
Todd said her JACC experience has been a reminder that our lives can change in the flip of a switch. "These are real stories and real families, really, really close to us. The only difference between me and you and them is a little bit of luck."
Since the pandemic began, JACC has seen an increase in need for emergency funds. According to Allison Currie, development officer, "COVID-19 has been hard on all non-profits across the world."
However, one thing hasn't changed for JACC: the generosity of its donors.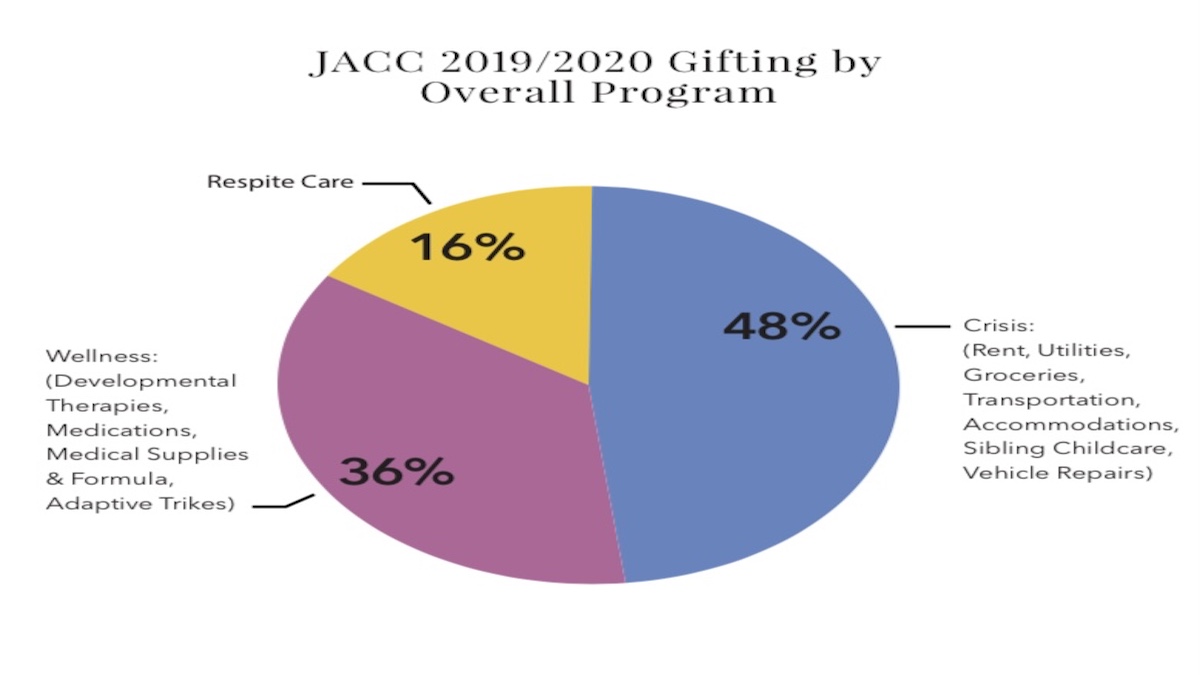 "Working here you really see the direct impact," said Currie, highlighting the immediate benefit families get from JACC's financial supporters. "I see an application in front of me from a family who has been hit exceptionally hard and it puts things in perspective. … There truly is somebody worse off, and [that] is why we're here," Currie said. 
She added: "Now more than ever, seeing people come together to help a family in need is just incredible."
Norm Clements founded JACC after his granddaughter, Jennifer Ashleigh, passed away from a degenerative muscular disease when she was six months old. Since its creation in 1990, the charity has helped more than 15,000 families with seriously ill children across Ontario.
---
More Stories