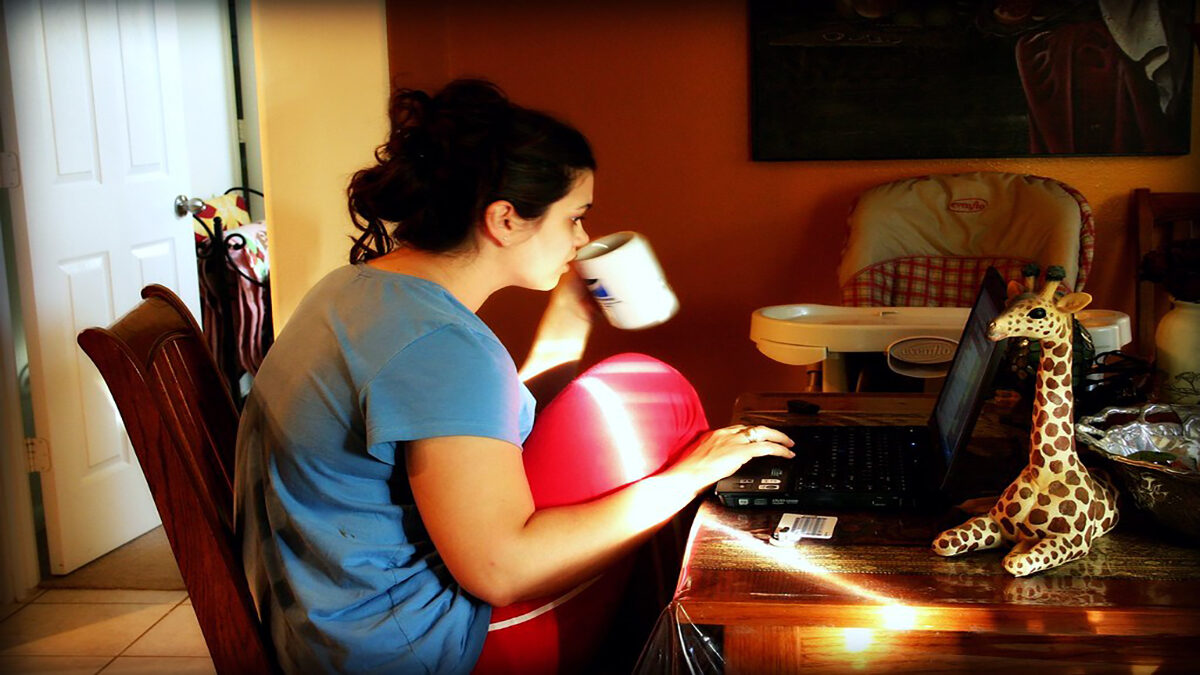 Since March 2020, one thing has changed in 35-year-old Risal Khan's life. He does not have to wake up early in the morning, get ready for work and spend 40 minutes commuting to work in downtown Toronto.
The compliance manager at an international non-profit organization has been working from home since the pandemic began, and says, "If I could work from home all the time, that's fine."
He's not alone in his preference for working from home.
An online survey conducted by the Angus Reid Institute, between July 9 and 13, revealed that 29 per cent of participants who are working from home "would like to continue to do so in perpetuity".
The institute surveyed 2,040 adult Canadians who are members of the Angus Reid Forum. Of the total participants, 545 are working from home.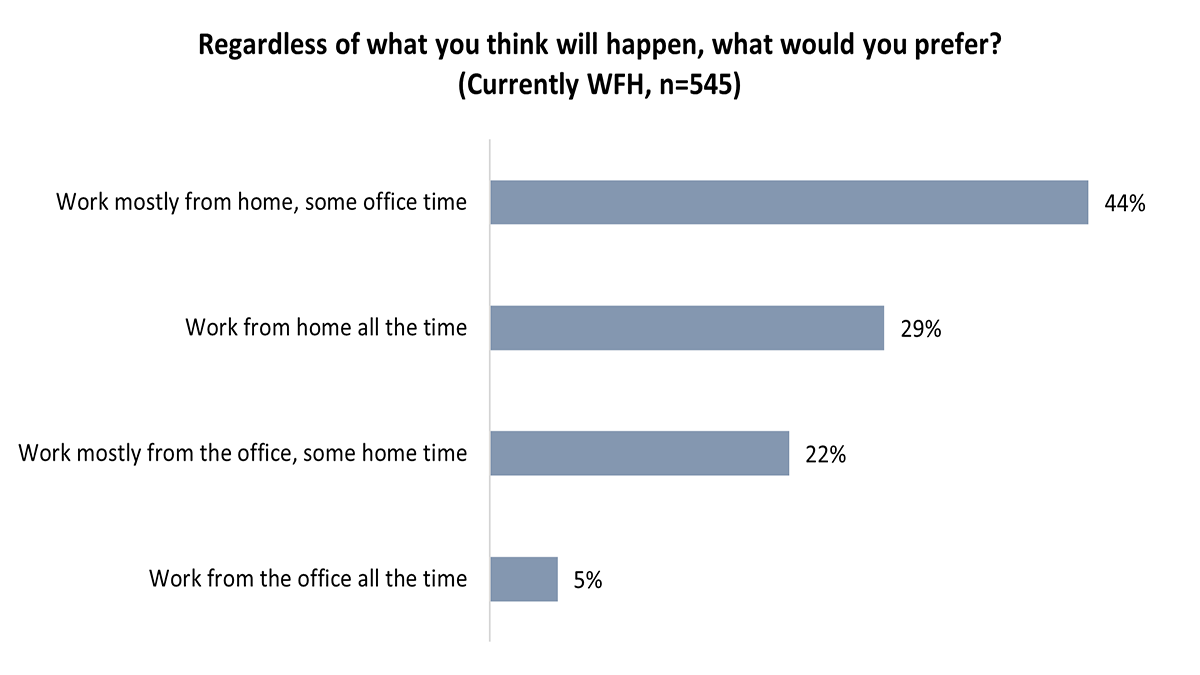 Two-thirds of respondents said they would prefer a mix of telecommuting and office work while only five per cent said they would prefer working from the office all the time.
About one in five of the 545 home workers respondents said they would quit their job if their employer demands they return to office full-time.
Dave Korzinski, research director of the Angus Reid Institute, says he thinks most of the people who would quit rather than having to go back to office full-time have made different living arrangements.
"I think a lot of people have moved further away from urban centres during the pandemic and are in suburban areas or smaller towns that surround urban areas. And they don't want to go back to urban centres quite yet," he says.
This applies to Khan, who bought a house in the outskirts of Toronto during the pandemic. Although his commute won't increase drastically, he says he would rather not face the stress of using public transportation as he did before the pandemic.
Preference towards flexibility
Khan likes the flexibility of working at home, rather than nine to five in the office.
But for some, this flexibility produced a different result. For instance, C. Smith, who requested Capital Current not use her first name for privacy reasons, found she was working longer hours at home.
Although the 51-year-old bank portfolio advisor does not blame her workplace, rather she blames the pandemic restrictions as there was nowhere to escape for a vacation or social gathering.
"Because your computer is just there in front of you all the time," Smith says, "it's just easy to slip into working, because every day is the same.
"No days differentiated themselves from the other. Weekends weren't really weekends anymore."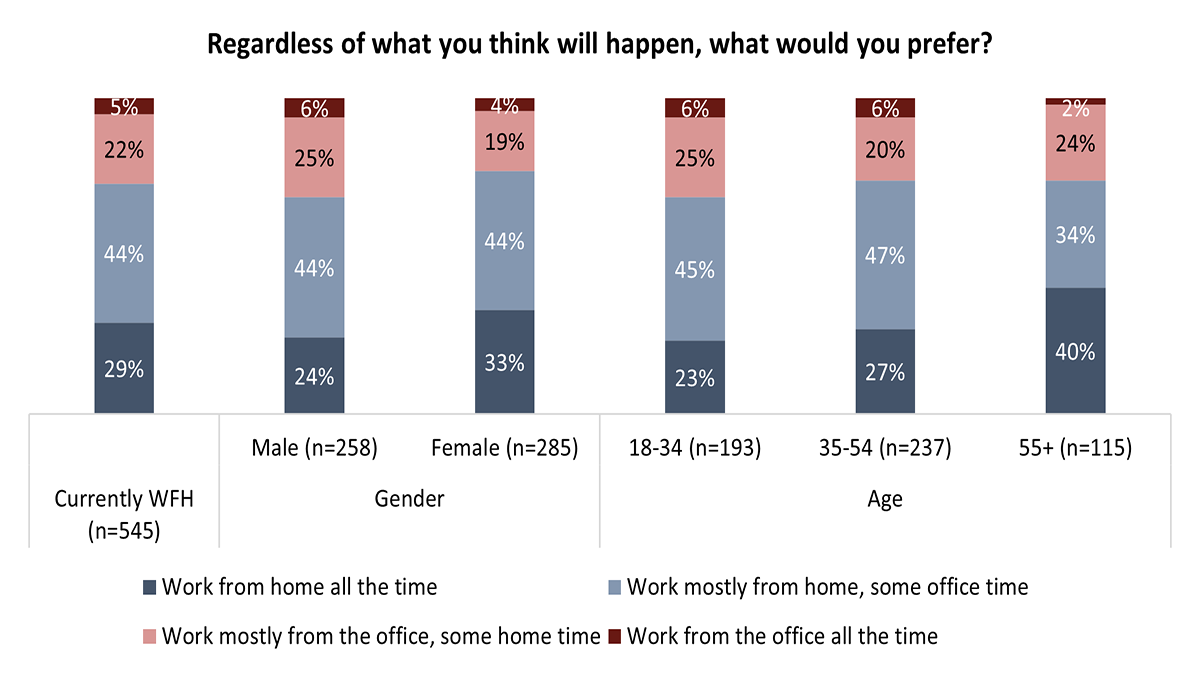 Yet, Smith says she would prefer a hybrid work situation where some days she works from home and some at the office.
She says there needs to be a good reason, such as a meeting or event, for her to go her workplace in downtown Toronto, 58 kilometres east from her home in the Halton region.
"If it's just me, getting on a GO train to go downtown so that I could work at a desk, and there's no real purpose … other than me just going into work, then I work from home. That makes more sense."
The survey found that people above 55 would prefer working from home and more women than men inclined towards this option.
However, people who said they will likely quit if no flexible options are offered by their employers are mostly in the 18-34 age bracket. Also, more men than women said they will quit immediately.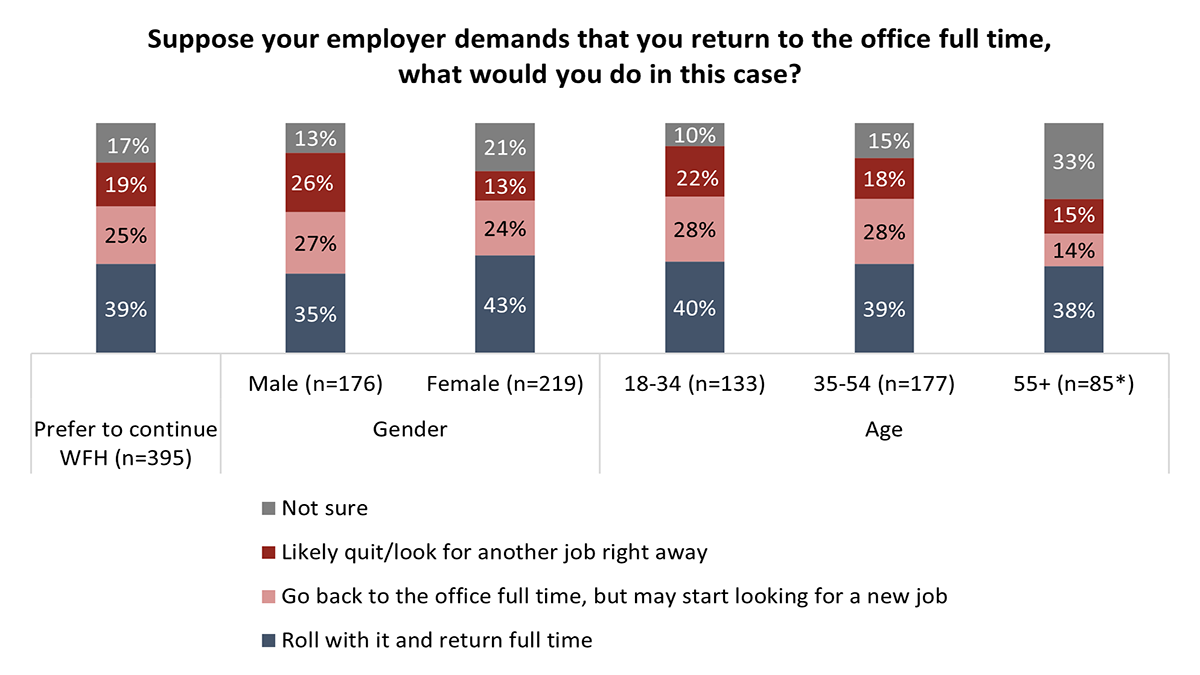 Productivity, mental state and social life
The survey alsoasked participants about their productivity, mental state and social life while working from home during the pandemic.
More than two-thirds of the respondents who worked from home during the pandemic described their work productivity as "great" or "good".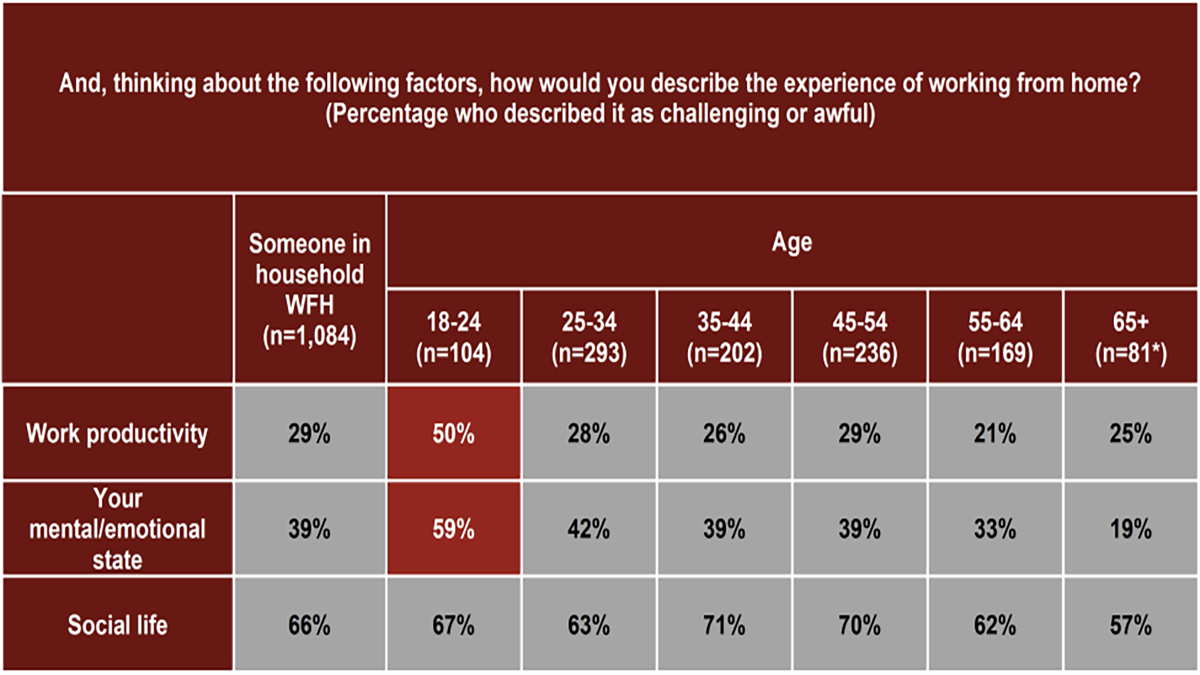 However, half of the respondents aged 18-24 described their work productivity at home as "awful." Also, 59 per cent of this age group used the same term for their mental state and two-thirds described their social life as "awful."
Korzinski says this correlates with the fact that 31 per cent of the 18-24 year-olds would prefer to work primarily at the office while only 26 per cent of those 35 and up expressed such a preference.
"If you're an 18 to 24-year-old, the likelihood that you're in a senior position at your job is quite a bit lower than if you're in those upper age groups," Korzinski says. "Those groups are a little bit more comfortable with the dynamic and more comfortable with the level of responsibility that comes with it," he says. "Whereas for young people, they're just getting started in their careers."
"A lot of them are in entry level positions, and it might just be a bit of a grind for them to not have that interaction and to have the reward that comes from seeing the people that you're working with and expanding your role in companies or working your way up the ladder."
Yet, the preference for a hybrid arrangement for going to work or working from home is preferred across all age groups, notes Korzinski.
"Employees have had a tough time and they're looking to take control of the situation a little bit as they get back into some semblance of normal," he adds.
The margin of error for the overall sample is +- 2.5 percentage points and about four percentage points for the sample of those who are working from home.
---
More Stories