COVID-19 restrictions have caused surges in cannabis sales and changed consumer habits across Ontario, including in Ottawa, Statistics Canada says and at least one health expert is advising people to be mindful of increasing their use of pot.
Data from Statistics Canada show that retailers in Ontario sold the most cannabis of any province in the first year following legalization on Oct. 17, 2018. That amounted to $217 million in sales.
This year, the province reached a record of $186 million in sales in one month alone: from April to May.
When provincial restrictions and physical distancing measures were imposed to contain COVID-19, "stocking-up" behaviour became noticeable among cannabis consumers.
Even with cannabis stores open – including 25 in Ottawa – since the spring lockdown sales still remain high: From June to August, for instance, they reached $115.5 million. In September, the last month for which data are available, sales reached $77.9 million.
Many local cannabis stores and dispensaries have integrated a permanent e-commerce system into their businesses. Ottawa remains in the "orange zone" of provincial pandemic controls (which means various limits on indoor dining, cinemas, casinos, performing art venues, sports and recreational facilities. Other areas of the province, especially Toronto and Peel Region, are under stricter controls, including retail closures).
Jeff Mitchell, store manager of Stash & Co., helped open the business on Bank Street in February 2020. He said in an email that his store sees around 600 to 800 transactions per day at present.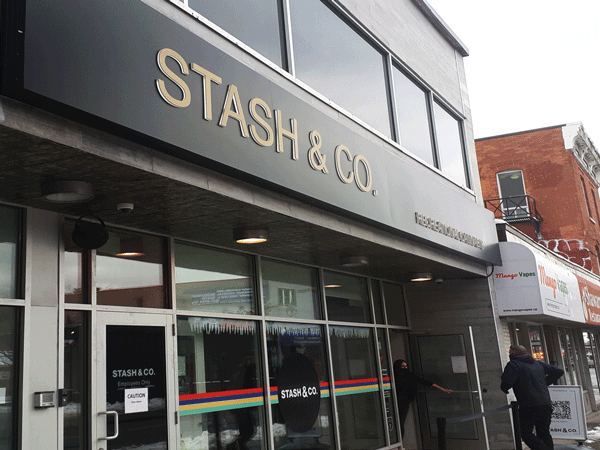 However, when lockdown restrictions threatened, the number of customers – ranging in age from 19 to 90 – and the size of their average orders suddenly increased.
"Many were worried that they would not be able to purchase legally for an extended period of time and were buying in bulk – similar to what grocery retailers saw at the same time," he said.
Following guidelines provided by Ottawa Public Health (OPH), Mitchell said Stash & Co. redesigned its sales floor layout to create safe, social distancing for its customers.
"We added plexiglass screens at our checkouts and front door. We enforced mask and hand sanitation policies and added floor stickers outlining social distancing," he said.
With these COVID-19 restrictions in place for the time being, Mitchell has seen an increase and decrease in his sales.
"As things loosened up, the business grew. As things tightened up, our stores were obviously less busy," he said. "Our customers are like [those at] any other retail outlet. They have the same fears and concerns about shopping in person when COVID cases are rising all over the province."
Mitchell said Stash & Co. decided to add an online shopping system to its business when the dispensary was shut down for three days in the spring, as it was originally deemed "non-essential" by the province.
"It was the only way we could legally operate. Our online store is now an essential part of our business and a significant cause of our growth," he said. "At the end of the day, the need for recreational cannabis is growing and we are here to serve those people."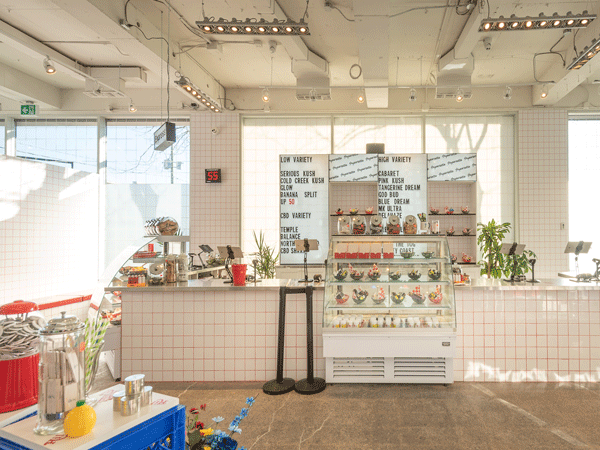 Mimi Lam, CEO and co-founder of Superette, opened the cannabis dispensary in April 2019 in the heart of Wellington West.
Like Stash & Co., Lam said she made the decision to incorporate an online shopping system, because of the impact of COVID-19 restrictions on the business.
For instance, Lam said the dispensary quickly launched safety measures and protocols for its team members and customers. This included hand sanitizing stations, limiting capacity, physical distancing in and out of the store, health checks for its members and constant cleaning of surfaces.
"This was not just a safe option for customers, but also a natural extension of our retail experience," she said. "From a sales perspective, it has resulted in a fluid mix between online and in-store, which is always great to see as it empowers customers to shop the way they want to. In addition, it has had a positive effect on our brand in areas like SEO."
Cannabis habits change
Katarina Arizanovic, a local entrepreneur, said in a direct message (DM) through Instagram that her consumption of cannabis has increased during the ongoing pandemic.
She said having to stay home to prevent the spread of COVID-19 and boredom are two major factors to the change in her cannabis habits.
"I still smoke cannabis 80 per cent of the time with people and maybe 20 per cent of the time on my own, but [smoking cannabis on my own] used to be zero per cent, so it definitely went up."
The Ontario Cannabis Store (OCS) has tips about consuming cannabis responsibly during COVID-19. [Graphic © Jen Siushansian/Capital Current]
Cannabis use and mental health during COVID-19
Kim Hellemans, a professor and chair of the neuroscience department at Carleton University, said in a phone interview that people need to be careful when they turn to substances such as cannabis to cope during the pandemic.
"For cannabis, a lot of people can use it recreationally without a lot of ill effects," she said. "But there is definitely a sub-section of the population that uses cannabis as a coping strategy to kind of get rid of those feelings of loneliness, anxiety or depression."
Hellemans said using cannabis as a coping mechanism increases the risk of developing cannabis-use disorder. Its side effects can also worsen existing symptoms of mental health, such as anxiety.
For anyone struggling with their mental health during COVID-19, Hellemans said exercise is a good way to mitigate mild-moderate symptoms because it boosts endorphins.
"It's because we know [exercise and socialization] are really crucial at the best of times and now that we are in a global pandemic, we have to kind of turn to what we can do – what's in our control," she said.
"For instance, we can't control what the case count will be in Ottawa," Hellemans said. "But we can control what we do like eating well, getting exercise […] and try our best to maintain social connections at a time when it is really hard to do so."
---
More Stories