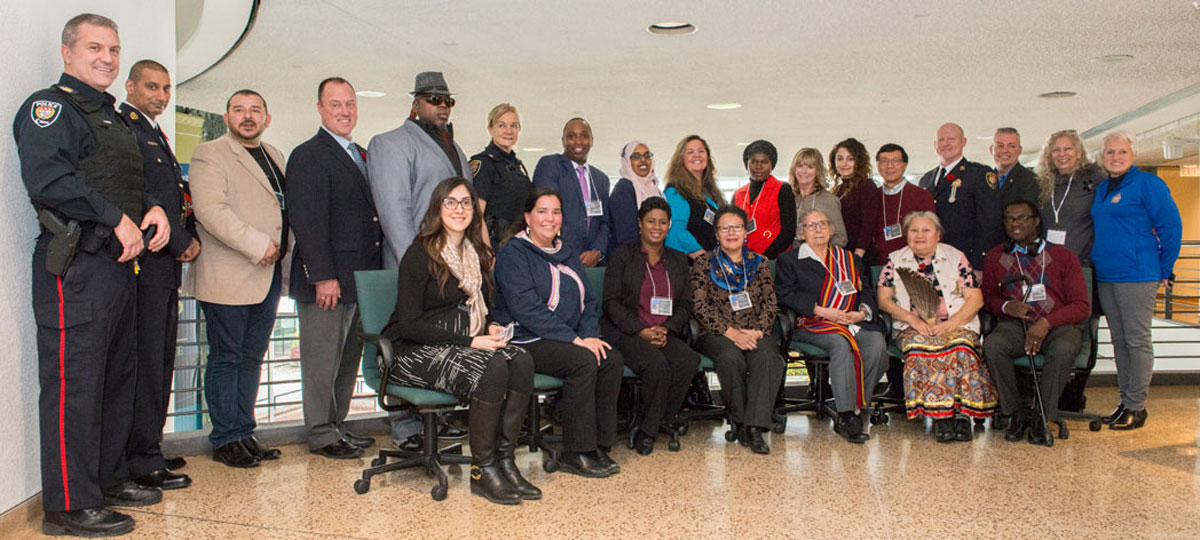 After the Oct. 20 acquittal of Ottawa Police Const. Daniel Montsion on charges related to the July 2016 death of Abdirahman Abdi, members of the Ottawa Police Community Equity Council braced themselves for a difficult conversation — something they have had to do several times since.
Abdi, a 37-year-old Black Somali man, died while in Ottawa police custody. He had been reported assaulting other customers at a Hintonburg coffee shop, which led to the fatal encounter with police at the building where he lived nearby.
A CCTV camera captured Montsion, wearing reinforced gloves, punching Abdi. The arresting officer, Const. Dave Weir, is shown swinging a baton and kicking Abdi in the midsection.
After his death, family members said Abdi suffered from mental health issues, leading to calls for increased funding for mental health training and other services outside of the OPS — a local push for change that has become enmeshed in the wider defund-the-police movement arising out of the May 2020 death of George Floyd at the hands of Minneapolis Police officers and the wave of anti-black racism protests that followed across North America.
Anti-racism activists leading the "defund" movement in Canada argue that significantly cutting the budgets of police forces rife with systemic racism — and diverting funds to various community and social services — would save the lives of Black and Indigenous people and others disproportionately targeted by police.
After the Montsion verdict, two members of the community equity council resigned.
The members, César Ndéma-Moussa and Ketcia Peters, said they disagreed with the CEC's position on whether council members should attend a rally after the verdict held by the Justice for Abdirahman Coalition, which had formed after Abdi's death in 2016.
Some Black anti-racism advocates in Ottawa say they were not surprised at the resignations, and that the CEC cannot fix the deep fracture in trust many Black Canadians feel towards police in Canada.
On Dec. 9, the Ottawa City Council approved the city's 2021 police budget, which proposed a $13.2 million increase in overall funding.
Coun. Diane Deans, who chairs the police board, told council that the process of creating the service's budget was was difficult.
"I want council to understand that this has not been an easy process. … Trust in policing has eroded, especially for members of our BIPOC community. As a result, we have a population of citizens that are hurt. To restore their faith, a great deal of work needs to be done."
The budget includes the hiring of 30 new positions. Deans said some of these could include mental health or social workers. The service will have to take a hiring plan to the board for approval.
The budget increase came after an October proposal to decrease the OPS budget — in keeping with the principles of the defund movement — failed to pass. Ottawa Mayor Jim Watson was among those who voted against the motion.
Several days earlier, at about 3:30 a.m. on Nov. 21, Ottawa police arrested and charged anti-racism demonstrators who had been blocking the downtown Laurier Avenue and Nicholas Street intersection. Among those charged were members of the Justice for Abdirahman Coalition. All charges have now been stayed by the Crown.
Some members of the CEC find themselves caught between hoping for positive change and their belief in the council's work, and criticism that the CEC is a public relations tool of the police, a body that superficially discusses issues of racism but doesn't have the power or determination to bring about deep reform.
Difficult conversations
The CEC was formed in 2018 after a predecessor committee was disbanded.
The CEC's mandate is to "collaborate with the Ottawa Police Service to work more effectively with Indigenous, racialized and faith-based communities in Ottawa."
Upon the resignations of two members of the CEC, Robin Browne, a Black anti-racism activist and co-founder of the 613/819 Black Hub, said he was not surprised.
"(Groups such as the CEC) are really a way of just maintaining the status quo, making sure the community doesn't get too angry," Browne said.
Browne said the CEC could be productive if members are willing to seriously consider what community members say they need.
"There are people calling to abolish the police," he said. "I suspect they don't want to talk about defunding themselves."
Sahada Alolo, co-chair of the CEC and a community engagement manager with the Multifaith Housing Initiative, said she understands where critics are coming from.
"Some community members are not sure why we are even at the same table with the police — because of their fear of the police, their distrust of the police," said Alolo, who is also a leading figure in the Ottawa Muslim Women's Organization.
She said she knows some members of her community believe the CEC is a way for the OPS to use community members as tokens just to "feel like they're doing something."
Alolo said the members of the council regularly have difficult conversations, including about the deaths of Abdi and Floyd, and defunding the police.
"That conversation never left the table," Alolo said of Abdi's death. "We are not shy to hold them (police) accountable."
Alolo said one of the reasons she joined the CEC is that she has three sons, and the fact that young Black and Middle Eastern male drivers are stopped by Ottawa police at disproportionately high rates.
Alolo said she did not enter the role naively. "It took hundreds and hundreds of years to build this racist structure that we have in Canada. It's not going to take a day to dismantle it."
She said she expected to improve the relationship by building trust, and for police members of the council to be receptive. "That expectation has been met," she said.
Defunding the police
Alolo said part of the OPS budget increase is proposed to go towards anti-racism training and a new mental health response strategy, which the CEC has advocated for.
"We still want the police to do certain things, and we want them to do them effectively," she said.
Browne said he was "not impressed" by city council's failure to pass a motion proposing that $4.3 million of the OPS draft budget — about 1.5 per cent of the total — be diverted to Ottawa Public Health to support COVID-19 measures.
Browne was among the voices heard from about 150 public delegations that addressed the 2021 police budget.
At a Nov. 9 delegation, Browne said most presenters told the board that the OPS should freeze its budget at 2020 levels and spend the proposed $13.2 million increase on social programs.
One presenter told the board that increasing the OPS budget would be like a badly performing employee asking an employer for a raise, Browne said.
"He said to them, 'If I approved that, I'd be fired,'" Browne recalled. "(So) they're definitely listening … The question is, what are they going to do better?"
On Nov. 25, the OPS board approved the $13.2 million increase despite overwhelming public feedback against the additional funding.
2021 Budget Breakdown
by Alyssa Harris
In a Q-and-A Zoom session with Capital Current reporters on Nov. 17, Mayor Watson said the policing budget should be increased because Ottawa "is a growing city."
"Is there a need to reform who goes to each police call? Yes," Watson said. "I am just very reluctant to send an unarmed mental health worker into a potentially dangerous situation."
Watson said he supports the hiring of police officers from racialized communities, and if the budget was cut, those new recruits will be first to lose their jobs.
"I think it's a little presumptuous of a white, male member of council to tell the Black chief of police how to run his show," said Watson, referring to Ottawa Police Chief Peter Sloly.
Deputy Chief Steve Bell is a member of the CEC and has been a member of the OPS for 21 years.
He said while he supports putting funds into "root cause issues" such as housing and poverty, moving funds from policing to mental health initiatives will not immediately trigger change.
"We need to actually look at how we fund those systems," said Bell, "so hopefully down the road in in three, five years, be able to divest from investment in policing, because we've solved some of the root cause issues that are driving policing."
Browne said people commonly misunderstand what systemic racism means. "They have this all-or-nothing idea," he said. "You're either a racist or you're not. You're either a Klansman or you're not.
"It's not about what you are. It's about what you do," he said.
"I think every institution in Canada has systemic racism," Bell said, adding that he has lived an "exceptionally privileged life."
Solving a racist system
Alolo — who also attended a Q-and-A Zoom session with Capital Current reporters on Nov. 17 — said change is necessary because Ottawa Police have not delivered on their stated mandate to serve and protect.
"You guys suck," she said. "You're not good when it comes to dealing with (community members)."
Alolo added: "I'm not a social worker, but I can tell you that I can defuse a mental health situation better than a police officer can."
She said she believes the police are trained to approach interactions with people in mental health crises fearing for their own lives and safety.
"We don't want to see police kill community members," said Alolo, "and we don't want police members to be killed by community members."
---
More Stories