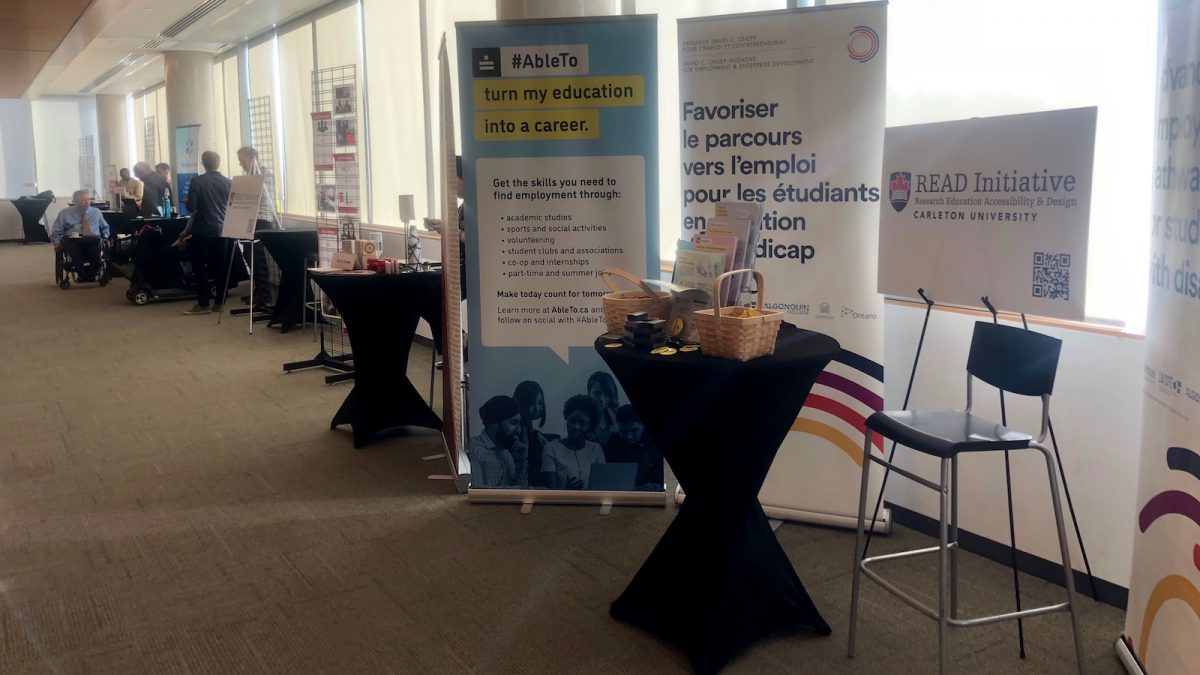 A new national network to improve employment prospects and other aspects of life for Canadians with disabilities was launched at Carleton University on Dec. 2, on the eve of the International Day of Disabled Persons.
The Canadian Accessibility Network, announced in June but officially founded at the Carleton event, aims to enhance accessibility across the country through research, design and innovation, innovation and training, policy, employment and community engagement.
Accessibility advocates say there are many stigmas and myths that present challenges for those living with disabilities. Among them is an employment gap that exists between those with and without disabilities. The problem is experienced even among people who have post-secondary degrees.
There are about 10,000 students at La Cité collégiale, Algonquin College, the University of Ottawa and Carleton University with disabilities.
According to the David C. Onley Initiative for Employment and Enterprise Development, which includes all four local postsecondary institutions, many employers overlook job applicants with disabilities because of misconceptions they have regarding workers' presumed limitations and other disadvantages.
These include beliefs that they'll require expensive accommodations, higher compensation rates, more time off and that they're less productive, educated and skilled. According to the DCOI, these myths don't hold up to its research. For example, 65 per cent of employees with disabilities don't need any accommodation.
The DCOI works to bring awareness to the road blocks preventing students and graduates with disabilities from finding meaningful employment. It's a collaborative effort between educational institutions, employers and agencies.
Julie Caldwell, an assistant director with the DCOI, says its research shows that students with disabilities are graduating with the same success as their peers but have less success at finding meaningful employment. She believes the most important step to changing this is more communication with employers.
"A lot of them (employers) are afraid to simply just have a conversation for fear of saying something wrong and then being sued or having legal action taken against them," she said.
There is provincial legislation that was enacted to combat problems for Ontarians with disabilities, including the employment gap. It's called the Accessibility for Ontarians with Disabilities Act, and it proposes to make facilities and services within the province accessible for people with disabilities of all kinds by 2025. But many say more needs to be done in other public spheres.
Boris Vukovic is the director of Carleton University's Research, Education, Accessibility and Design initiative, which works to create more accessibility and inclusivity for people with disabilities. The initiative, also known as READ, will serve as the Canadian Accessibility Network's operational hub, and Vukovic was a leader in the CAN launch on Dec. 2. He says collaboration is key to increasing accessibility.
"Accessibility is a true social issue that needs input from very different stakeholders," he said. "We've seen success in doing that here at Carleton through the READ Initiative … In bringing people from different disciplines together across portfolios as well, and we thought maybe this is the way to go about accessibility nationally."
Rebecca Andre, a Carleton student minoring in disability studies, is also an assistant event co-ordinator with the DCOI. She has a medical disability and has experienced a lack of accessibility with a previous employer.
"I didn't have the support and I didn't have the accommodations and because of that I just progressively got more ill," she said. "And it led to me just not being able to work at all and I just completely left the workforce. And unfortunately, I think that's something that a lot of people … with disabilities deal with."
Vukovic says a big challenge in the future will be providing assistance to people with non-visible disabilities – including mental health issues and learning disabilities – because accessibility issues have traditionally been framed with physical disabilities.
"I see that as a challenge, but also this great opportunity in the future to actually develop that knowledge base," he said.
---
More Stories