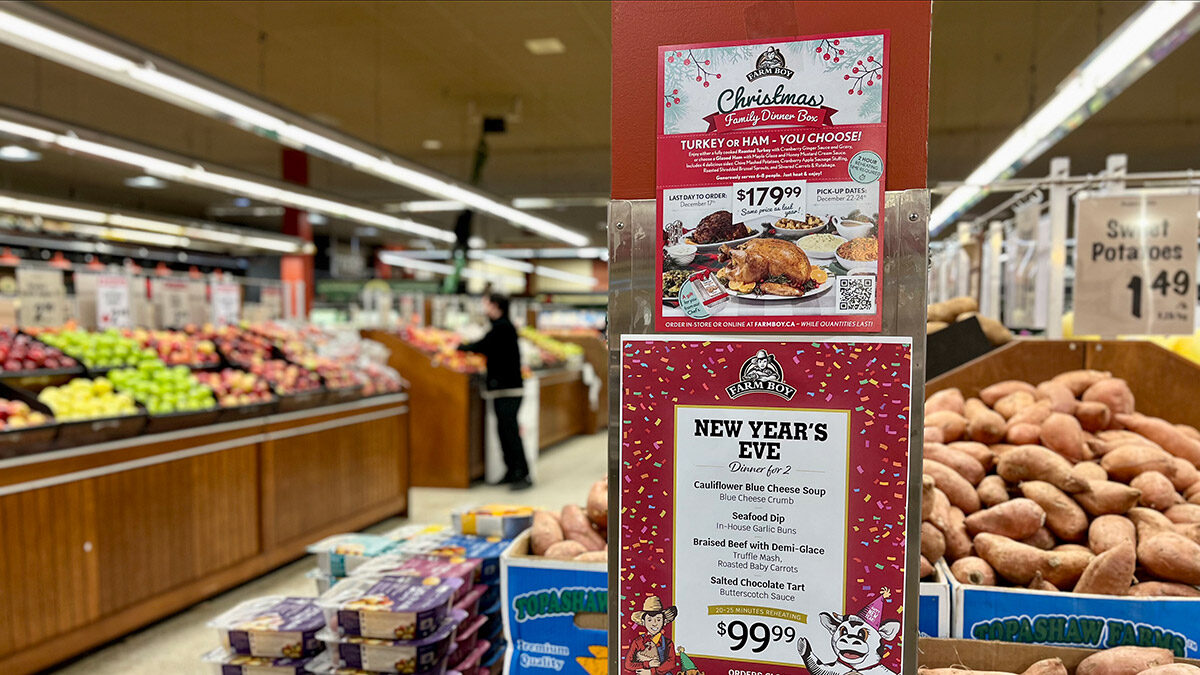 Whether you eat at home or dine out, Christmas meals will cost you more this year, as Ottawa restaurants and stores have increased prices to compensate for inflation.
Turkey, the traditional holiday bird, has seen a 16 per cent price increase compared with this time last year. The price of butter's up by more than 20 per cent and eggs have increased by more than 10 per cent in one year. And s of October, margarine, pasta products and butter saw the greatest year-over-year increases in price, according to Statistics Canada.
Canada's Food Price Report 2023 predicts Canadians will continue to spend more on food in 2023. An average family of four will spend up to $16,288.41 a year on food, an increase of up to $1,065.60 more than what was observed in 2022.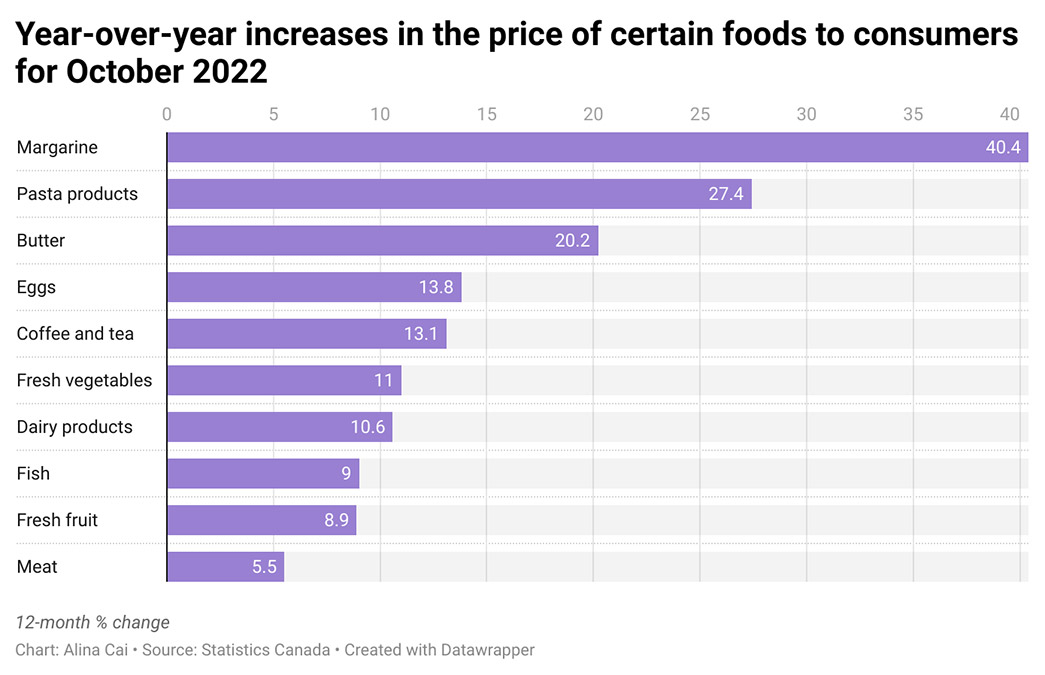 One factor behind these price increases is change in supply and demand, including supply chain disruptions caused by COVID-19, according to Andreas Boecker, Associate Professor and chair of the Department of Food, Agricultural and Resource Economics at the University of Guelph. 
Russia's invasion of Ukraine also makes food more expensive, he said.
"The invasion of Ukraine by Russia led to huge increases for energy and that impacts food in various ways. First of all, transportation gets more expensive, then products that have a lot of processing … bread, pasta sauce … to some extent too. They require heat and processing. And that adds to the cost of the product," said Boecker.
The Red Apron, an Ottawa gourmet food shop offering takeout Christmas dinners, has raised its prices this year, but has kept the increase to less than five per cent. 
"Our increase in selling price is just not much compared to what other businesses are increasing. We've been in business for 16 years, so we're not changing our prices like a yo-yo every week," said Jennifer Heagle, manager of the Red Apron.
The shop has already sold out its pre-ordered turkey dinner for two; the price of its packaged dinners has risen from $40 last year to $42 this year.
For restaurants with dine-in options, the costs are higher.
The Green Door Restaurant and Bakery, a vegetarian restaurant selling an organic, seasonal buffet in Ottawa has increased its buffet price by more than 10 per cent, from $24 or $26 to $30, in the past few years, said Ross Farmer, the restaurant's manager.
"For example, romaine [lettuce], right now, this is a supply and demand issue. [It] is super, super expensive; generally it's going for $30 a case, $40 a case," said Farmer.
Some restaurants have stopped offering lettuce because price and availability.
Farmer said the restaurant will not offer heat-at-home meals this Christmas as in previous years during COVID-19. It will only sell its dine-in buffet and bakery goods to save costs. 
"(Heat-at-home) is a fair bit of extra work for all parties involved: the cashiers, it's more packaging, it's more pricing, it's more managing the orders, it's more traffic through the restaurant as well," he said.
Boecker said that, aside from rising costs, staff shortages are also a problem for many restaurants.
"They often would have to pay extra to get reliable staff. Then they have to deal with the higher energy costs. And if they also have to pay more for rental, then that will affect them too.
"And at the same time, they know if we have fewer staff, we cannot utilize our restaurant space — the kitchen as well as the sit-down space — as often or as much as we would like to in order to lower the average or the cost of producing our meals and serving them," said Boecker.
Many families dining at home will also face challenges with higher costs this Christmas.
"We will invite other families and our friends for sure. But with the situations this year, we can't buy everything we want," said Narjiws Ben, a public servant.
Ben said she will cook Christmas dinner with the food she traditionally uses, but she may not have enough for gifts to every friend and relative.
Boecker predicts food prices may level off soon; one indication is that Loblaws recently announced it would not increase the price for its No Name products.
"As the biggest retail company within Canada, they probably wouldn't have promised that if they weren't sure of that," said Boecker.
Still, Canada's Food Price Report 2023 predicts the overall food price will continue to rise five to seven per cent in 2023, with the most significant increases in vegetables, dairy and meat.
---
More Stories