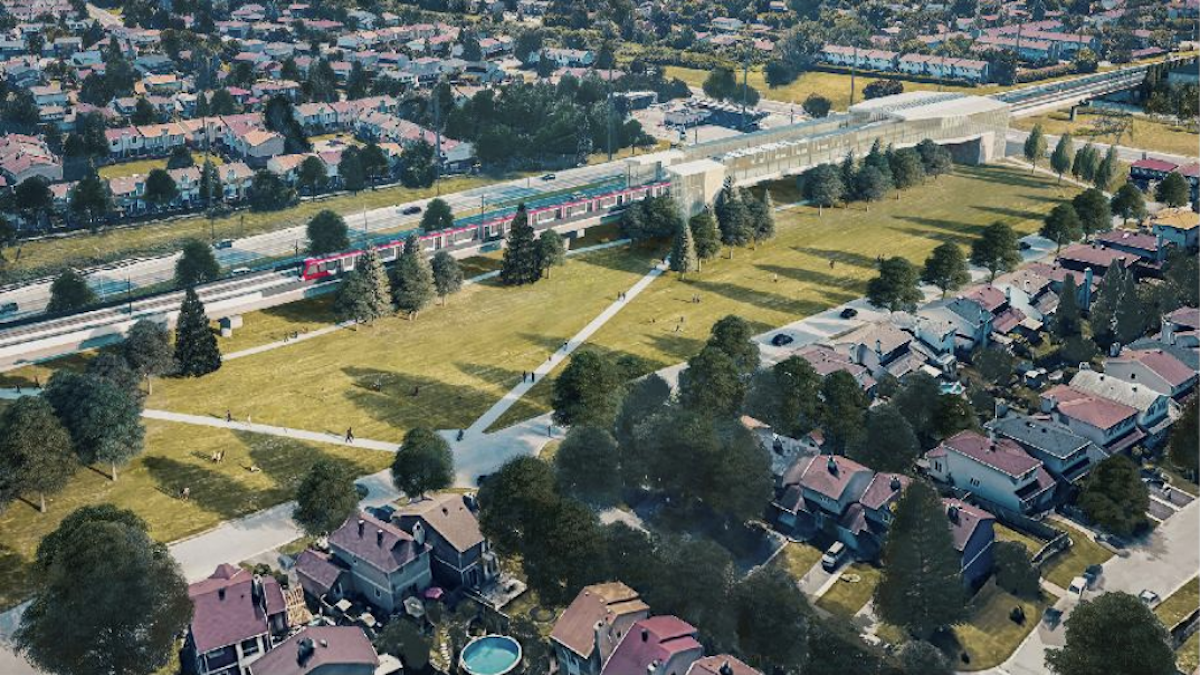 Residents of Ottawa's Manor Village community were dealt a blow on Wednesday after city council voted against a motion that would have protected their homes by providing an alternative to the current plan for Stage 3 of light rail.
As it stands, the plan is set to expropriate property containing 120 affordable house units in anticipation of the LRT expansion into Barrhaven. Part of that is land just south of the proposed Knoxdale station.
The community is located near Woodroffe Avenue and West Hunt Club Road in the Nepean area.
Members of Ottawa ACORN, an advocacy group for low- and moderate-income people, protested the proposal outside City Hall before the vote on Wednesday
"I'm terrified," said Alison Trowbridge, a leader from the ACORN Manor Village Tenant Union who resides in the community with her seven-year-old son.
"I had plans of at least having some surety and some safety for my son's future and my future, and really didn't think that this was what I was going to be planning or attempting to plan. And now that I'm put in that position, there's no plan. There's no possibility of a plan. We have nowhere to go. I mean, it's terrifying. It's heartbreaking."
Somerset Coun. Catherine McKenney had proposed a motion to protect the units. Her action fit with the city's declaration of a housing and homelessness emergency in January.
Housing emergency
"I personally think they need to give their heads a shake and reflect on what they've done. I mean, they did make that declaration (of an emergency). And, what have you done? You've promised tenants of 120 units, anywhere from three to 500 people that, that they're going to be added to that list of that crisis," Trowbridge said.
Several rallies this week by ACORN members and Manor Village tenants, including an appearance at Mayor Jim Watson's home on Tuesday morning, couldn't change council's mind.
"I'd urge members of council to vote against this," Watson said ahead of the vote. "Staff have already conducted their analysis and the motion goes directly against staff recommendation that was approved by the transportation committee."
Council voted 18-4 in favour of the LRT line to Barrhaven, with councillors Riley Brockington, Rawlson King, Catherine McKenney and Shawn Menard in opposition. Council did vote for a review of a city-owned property nearby for its potential for affordable housing.
The approved corridor would run from Algonquin College to Barrhaven town centre, first on an elevated guideway on the west side of Woodroffe Avenue as trains leave the college station. South of Hunt Club Road, the rail line will be built on 7.6 kilometres of the existing southwest Transitway. There would be seven stations, including three new ones and four converted from bus stations.
Construction on Stage 3 LRT isn't imminent; Stage 2 construction is under way and won't be finished until 2025. Trowbridge said the community isn't done fighting.
"We're definitely not over . . . fighting for our protection but also the protection of other tenants from here on out, and that's where we really want to push the importance of a rental replacement by-law in the City of Ottawa," Trowbridge said.
"We're not done. The city hasn't heard the last of us."
---
More Stories