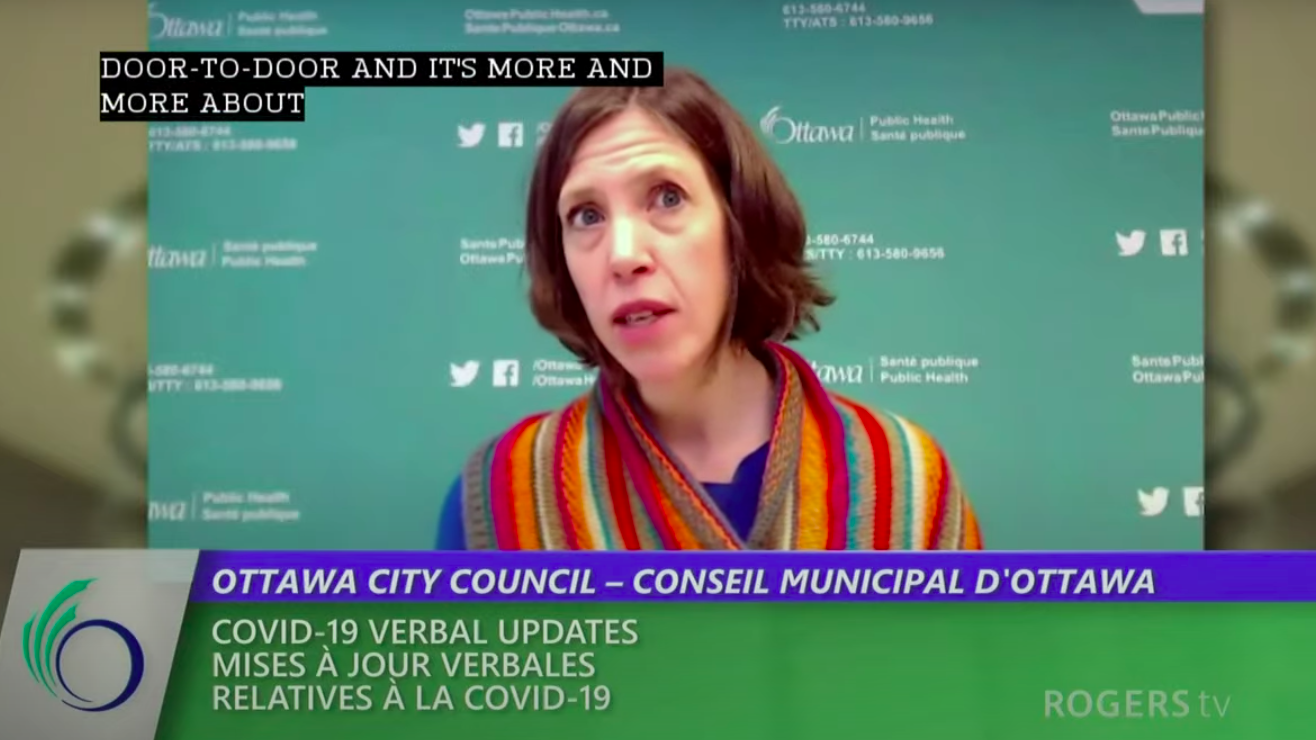 Ottawa has seen the stabilization and steady decline of COVID-19 cases, hospitalizations and outbreaks in recent weeks.
The city's Medical Officer of Health, Dr. Vera Etches, told Ottawa city council on Wednesday that based on the numbers over the last couple of weeks, Ottawa residents have taken the advice of public health officials to change their behaviour and brought once-rising case counts down dramatically. 
Despite the success in the city, Ottawa remains in the orange or restrict zone set out by the provincial COVID-19 response framework. By contrast, Toronto and Peel Region have just been placed in a lockdown because of rising case numbers.
On Wednesday, Ottawa Public Health reported 23 new confirmed cases of COVID-19. The city has now seen 8,254 cases since the first wave of infections began. The death toll rose by four to 372. Twenty-two people are in hospital. One is in intensive care. There are 287 active cases and there have been 7,595 recoveries. OPH is also reporting COVID-19 outbreaks at 19 institutions in Ottawa, including long-term care homes, retirement homes and hospitals, and eight in schools and child-care centres. There are two other outbreaks. On Nov. 1, OPH reported 132 cases.
"We want to continue the practices that we are doing right now that are causing us to see the COVID levels in our community drop," Etches told councillors.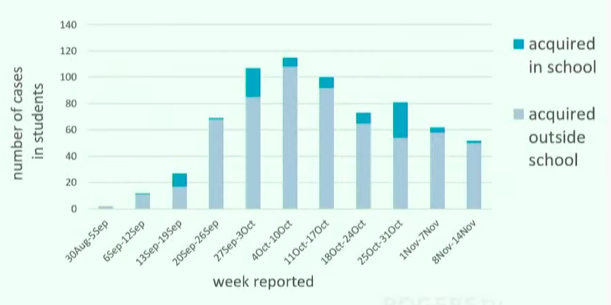 She noted that the decline in cases in the wider community is mirrored in the the decrease in cases acquired within schools across the city. There is a strong link between levels of infection in schools and and in the community. As there is progress in the community, there are fewer people testing positive in the school age population. 
Most infections among students appear to be acquired from the community, she added, underscoring the need for contacts within the community to get tested to prevent outbreaks.
While cases are declining in Ottawa, Etches said she believes residents have to remain vigilant by continuing to practise the safety measures outlined by Ottawa Public Health, such as mask-wearing and physical distancing. 
"A rapid rise in COVID-19 infection rates is always possible, therefore we cannot get complacent or assume all is good," agreed Mayor Jim Watson. 
With the holiday season approaching, Etches said residents should plan to celebrate the holidays differently this year. The key to limiting the spread of the virus would see residents keeping to their households over the holidays, not exceeding the recommended gathering limit of 10-15 people and finding creative ways to celebrate traditions this year. 
Avoiding the three Cs — a crowded environment, close contact, and a confined space — will also be necessary to continue to limit the spread of the virus according to Dr. Etches. 
"We can make it through to a day when we do not need to be so cautious in our daily lives, but this is not here yet and not going to arrive before we get through the winter," said Dr. Etches. 
Vaccine task force enacted
In light of the encouraging news of vaccine development, Watson said he has directed Anthony Di Monte, general manager of emergency and protective services, to establish a COVID-19 vaccine distribution task force with Ottawa Public Health and other officials. 
The rollout of any vaccine will be complex, making an early start on planning important. The task force will develop a comprehensive plan and strategies to co-ordinate the distribution of vaccines. This plan will include consideration of internal and external partners, vulnerable populations and the work of the city's human needs task force, council was told.
The task force will also monitor developments and refine its planning based on responses from senior levels of government, public health authorities, pharmaceutical companies, as well as internal and external stakeholders.
The task force has gathered representatives from key stakeholders to join the team, along with experts in areas such as logistics and purchasing. The next step is to meet with Ottawa Public Health to map out ideas on distribution. 
"We can start rolling up our sleeves and actioning what we need to do to start getting ready," said Di Monte.
---
More Stories