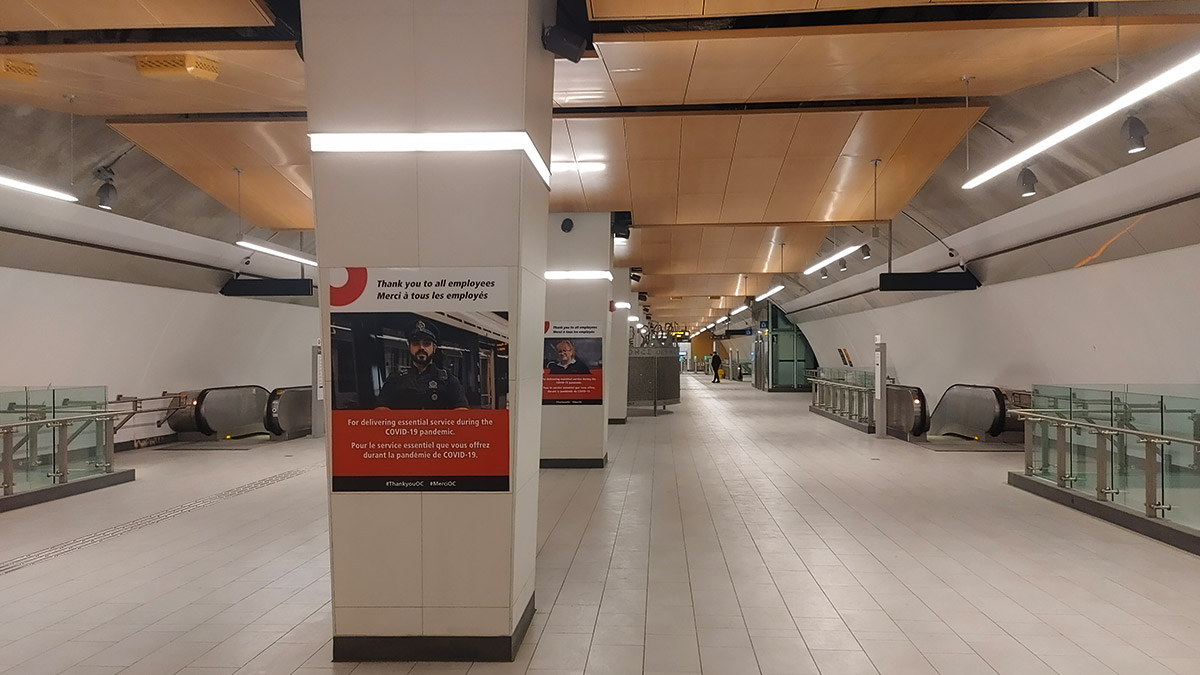 O-Train riders can expect to see advertisements in stations and trains later this year after Ottawa's transit commission decided to add some commercial messaging along Line 1 — and help recharge OC Transpo's depleted coffers.
The commission agreed at its virtual transit commission meeting on March 17 to negotiate a contract extension with Pattison Outdoor Advertising that would include the O-Train stations and trains.
The City of Ottawa has a year left in its 10-year advertising contract with Pattison that manages ads on buses and at Transitway stations. There is an option for a five-year extension, which the city now plans to negotiate to include Line 1 of the O-Train.
"I think it's a great way to roll out advertising now in the short term and get some money while leaving the city with some options and some flexibility moving forward," Anthony Carricato, a citizen transit commissioner, said in an interview.
Carricato said permitting ads on trains and at stations is a no-brainer considering the financial stress on public transit caused by COVID-19. OC Transpo ridership decreased to 15 per cent of pre-pandemic levels when restrictions first began, according to a recent transit commission update. Ridership peaked in September at 30 per cent of what it used to be and was about 21 per cent in February 2021.
"We're all kind of scrambling to look for other ways to fund transit without asking riders to pay more through the fare box or going back to the taxpayer and asking the city to increase taxes," said Carricato, who first brought up the idea for filling the ad space in June.
Revenue generator
The current ad contract generates about $2.2 million annually for the City of Ottawa. The city gets a percentage of revenue with a minimum annual guarantee, according to the commission report. The city waived the minimum annual guarantee during the pandemic because of lower ridership and advertising revenue.
"Pattison and the City of Ottawa have a longstanding and successful partnership," said a transit commission report presented at the meeting. "Throughout the contract period, Pattison has met or exceeded their minimum revenue payments with the exception of the period since the onset of the COVID-19 pandemic."
OC Transpo expects to use existing framed spaces in trains and at stations for advertising with the possibility to add more posters on walls, according to the report.
The frames feature public service messages from OC Transpo about train etiquette, COVID-19 guidelines and thanking public transit workers for their service during the pandemic. The transit commission previously decided to wait a year into Line 1 service before allowing advertisements. But opening Line 1 to advertising could help promote nearby restaurants, shops and events during and after COVID-19, Carricato said.
"It also livens up the stations and could make them more animated," he said.
Carricato added tourists and infrequent travellers may not know about businesses above busier stations, such as the Rideau and Parliament stops, making the advertisements a helpful option.
Bay Coun. Theresa Kavanagh echoed those statements during the commission meeting.
"I remember going to London on the Tube system and reading all the advertisements for the shows that are coming up," she said.
Future plans
The short-term contract extension allows the city to launch a full process to obtain a new advertising program when the second stage of O-Train extensions opens to the public. That future contract is expected to include all buses, trains, and O-Train and Transitway stations.
Carricato said he wants to see much more when that happens including digital advertising and other innovative ads that require higher investments and could lead to much higher revenues for the city.
 "Station domination" is one valuable option, where a company's branding covers the walls and regular advertising space, John Manconi, OC Transpo's general manager, said at the meeting.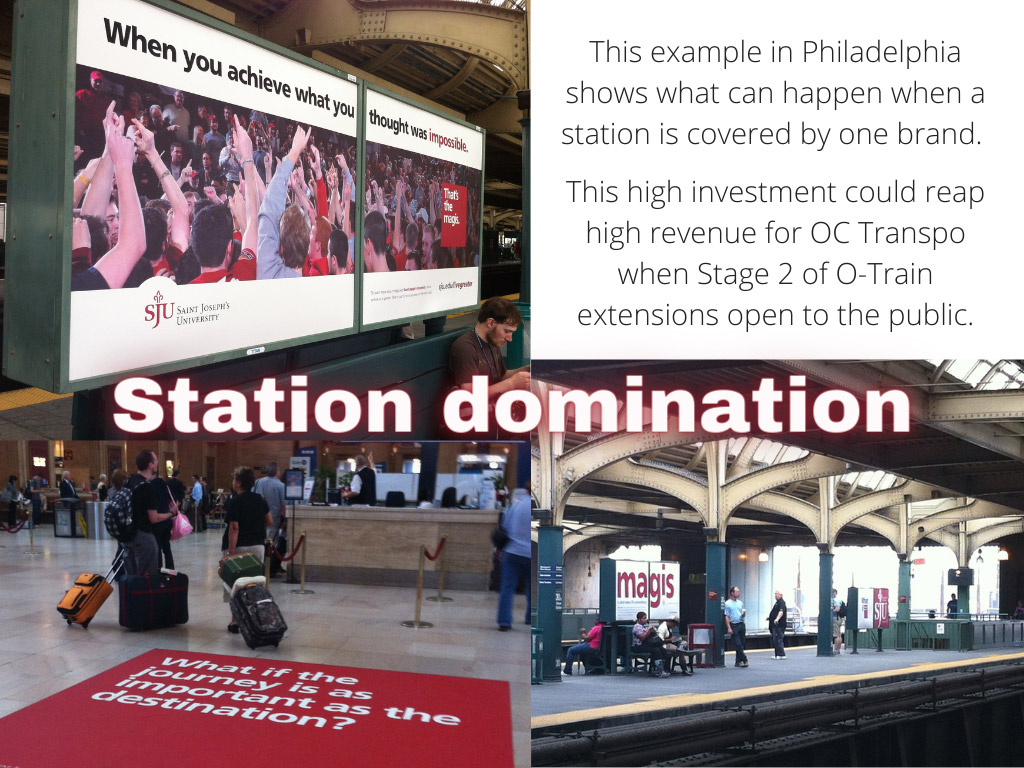 "Everywhere you go, you see that brand," Manconi said. "That's where the big money is." Another option, in which advertisements cover the exterior of the train, will not be considered, said Manconi.
"That causes a lot of damage to your vehicles and you'll get into big cost recoveries," he said.
Meanwhile, city officials still have to agree on a contract extension with Pattison through the rest of the pandemic and the beginning of the recovery period. The city can also decline the extension option if negotiations screech to a halt.
"We're going to roll up the sleeves and try to get the best value," said Manconi. "But if it's not a good value, we'll come back and say, 'Hey, it's not worth doing that right now.' "
---
More Stories