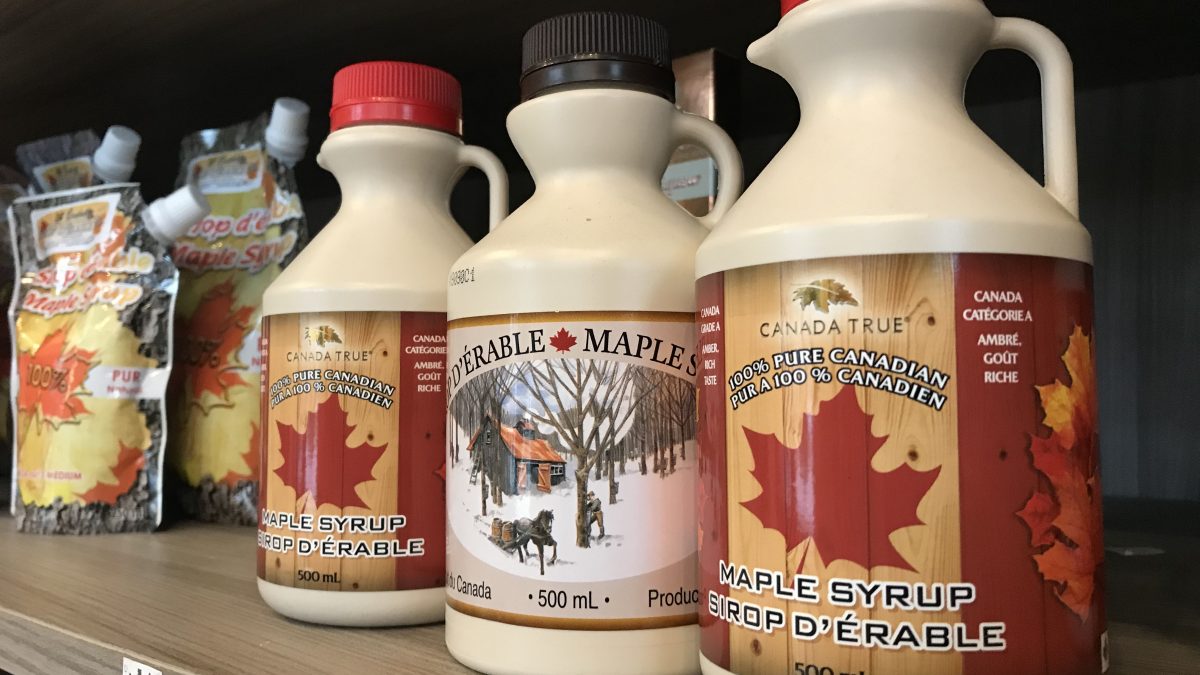 Canadian maple syrup producers are hoping for a repeat of last year's record-breaking season, but producers and researchers alike are concerned about the impact variable weather and climate change will have on this sweet — and valuable — industry.
In 2019, Canada's industry produced over 13 million gallons (49,210,353 litres) of maple syrup, the most ever recorded.
The record year followed a much smaller yield in 2018 caused by a harsh winter in Quebec, which is responsible for 91 per cent of Canada's syrup production. Whether the trees will be as generous in 2020 is yet to be determined.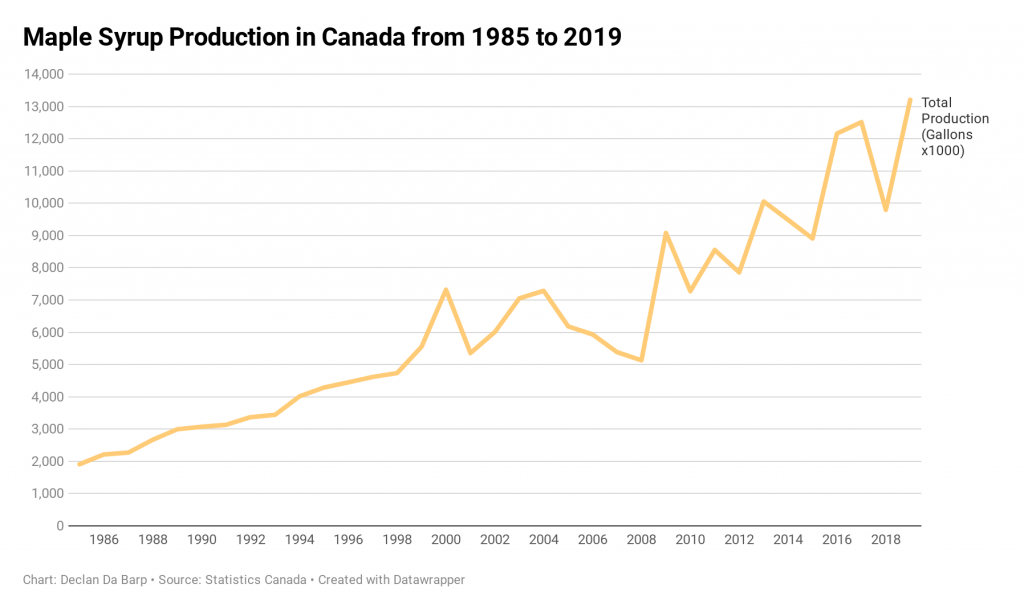 "[O]ur production areas in Ontario seemed to hit the sweet spot [last year]," said John Williams, executive director of the Ontario Maple Syrup Producers' Association.

Maple syrup production has been trending up since the end of the 20th century, in large part because of improvements in technology. It is now common for producers to tap trees with tubing and use a process of reverse osmosis to reduce the amount of water in the sap.
As a result, the industry has boomed — producing over half a billion dollars worth of maple products in Canada in 2019.
But a changing climate brings a lot of uncertainty to the industry.
"The single largest factor [for maple syrup production] is the weather conditions we face during the season," said Williams. "The big thing we see as producers is that we are tapping earlier. Sometimes up to a month earlier than what we consider 'traditional'."
The traditional tapping season usually starts in mid-February and runs to the middle of April or when temperatures are around -5 degrees Celsius at night and 5C during the day, conditions that help producers draw the sap out of the trees.
"We don't get those stable weather conditions where temperatures stay consistent three [to] four days. We are always scrambling," said Williams.
"The weather patterns are much different than they used to be," Williams continued.
Ray Bonenberg, owner of Mapleside Sugar Bush and a former Ontario ministry of Natural Resources employee, also finds there is a high degree of unpredictability.
"I have days where the conditions are perfect, and the sap doesn't run. On the other hand, I have had days where conditions are poor and the sap comes flooding out of the tree," said Bonenberg.
But the problems extend further than simply finding the ideal time to tap trees.
Joshua Rapp, a senior investigator at Harvard Forest – Harvard University's 4,000 acre laboratory and classroom – says an unpredictable and warming climate can cause adverse effects.
"Our study indicates that the sugar content of sap declined as growing season temperatures increased," he said.
His study, published in September 2019 in the journal Forest Ecology and Management, predicted that by the year 2100 the ideal location for sap production could move 400 km north.
This presents a concern as another study conducted by Alexis Carteron, a PhD candidate at the University of Montreal, found that the soil in the forests of North Quebec were "less beneficial for the sugar maple."
"This is due to different factors, chemistry of the soil and also the organisms present in the soil."
While Carteron believes that the soil composition of the area's boreal forest will change as the area warms, which, over time, could cause problems for a vital industry.
Non-climate related factors can also have an impact on the production of sap.
"Part of it is climate, part of it is invasive pests … part of it is invasive plants … and the overabundance of deer," said Rapp.
Bonenberg agrees.
"The big fear is invasive species," he said, referring to the Asian longhorn beetle and the Spotted lanternfly as particular concerns for maple farmers.
"These species worry me more than climate change."
Despite concerns about how a changing climate might affect production, for the time being it seems to be business as usual for maple farmers.
"Maple syrup producers are noticing changes out there. They do see those changes and are concerned about climate change and how it might affect them in the future but in the near term, its a profitable enterprise and the industry is expanding … and it doesn't seem to be slowing down," said Rapp.
---
More Stories