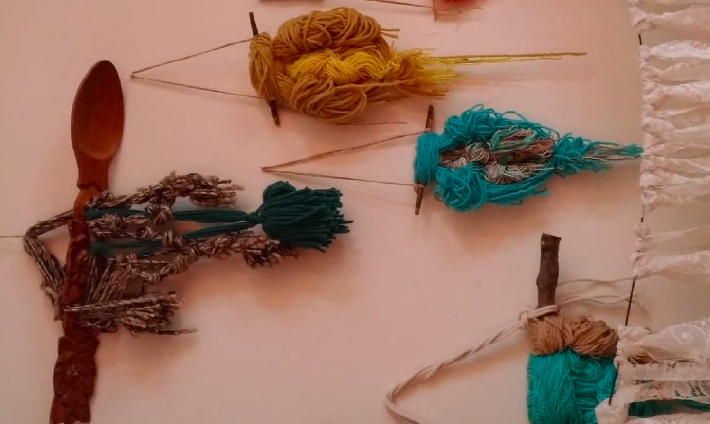 Richard Hubley sits alone in an Alta Vista Starbucks, with a half-completed red scarf on his lap. As he speaks, he continues to work his crochet hook, deftly wrapping yarn around the metal tool on a cold February afternoon.
Hubley says he learned to knit and crochet in honour of his mother and grandmother. Four years ago, he co-founded a weekly knitting group at the Ottawa AIDS Committee that is still going strong.
Fibre arts, which includes knitting, crochet, embroidery and sewing, are no longer just for your grandma. Fibre arts have become popular generally in recent years, but these arts have a particular hold on the queer community.
In New York City, gay bars and nightclubs such as the Holler and Club Cumming hold regular knitting nights. Ravelry, a site that functions like Facebook for fibre enthusiasts, has had a gay pride flag on its homepage since June 2019. In Toronto, an event called Pink Market offers a space for queer craft makers to sell their work twice a year. The Pink Market has drawn more than 10,000 people in total since 2015.
Crafts have also become an integral part of the queer art scene: A travelling exhibit called Queer Threads, featuring 24 artists from five countries, explored themes related to queerness through fibre arts in 2014, and a book on the exhibit was published in 2017. It was praised for its international, as well as its intergenerational, scope (the oldest piece is dated 1955). As interest continues to grow around the world, it begs the question: Why are so many queer people drawn to fibre?
One of the main attractions is the subversive power of taking up these crafts, which are deeply imbued with traditional gender expectations waiting to be broken, some researchers say. Others point to the do-it-yourself, "slow-fashion" nature of fibre arts as a form of anti-consumerism and anti-capitalism, pointing out that LGBTQ groups often align themselves with other revolutionary causes.
Political statement
For Hubley and the members of his knitting group, much of the work they do is a political statement: They make red scarves for World AIDS Day. When wrapped around the neck, the scarves look like red AIDS awareness ribbons. Even after the COVID-19 pandemic hit, members have continued to knit at home, meeting by Zoom every few weeks to trade tips and learn new skills such as how to crochet, he says.
Kim Valentine, a queer Ottawa artist, also uses fibre pieces to express a political message. She originally started creating yarn vulvas in 2017 as a way to feel more comfortable in her own body: "I have been able to come to a place of loving my body as it is, which allows me to connect to my sexuality in a more meaningful way. I'm not afraid of my body any more, and I absolutely was afraid of it before," she explained.
But as she created more vulvas, to sell and as part of a larger art piece, others began to see her work as a call for women to band together against patriarchy.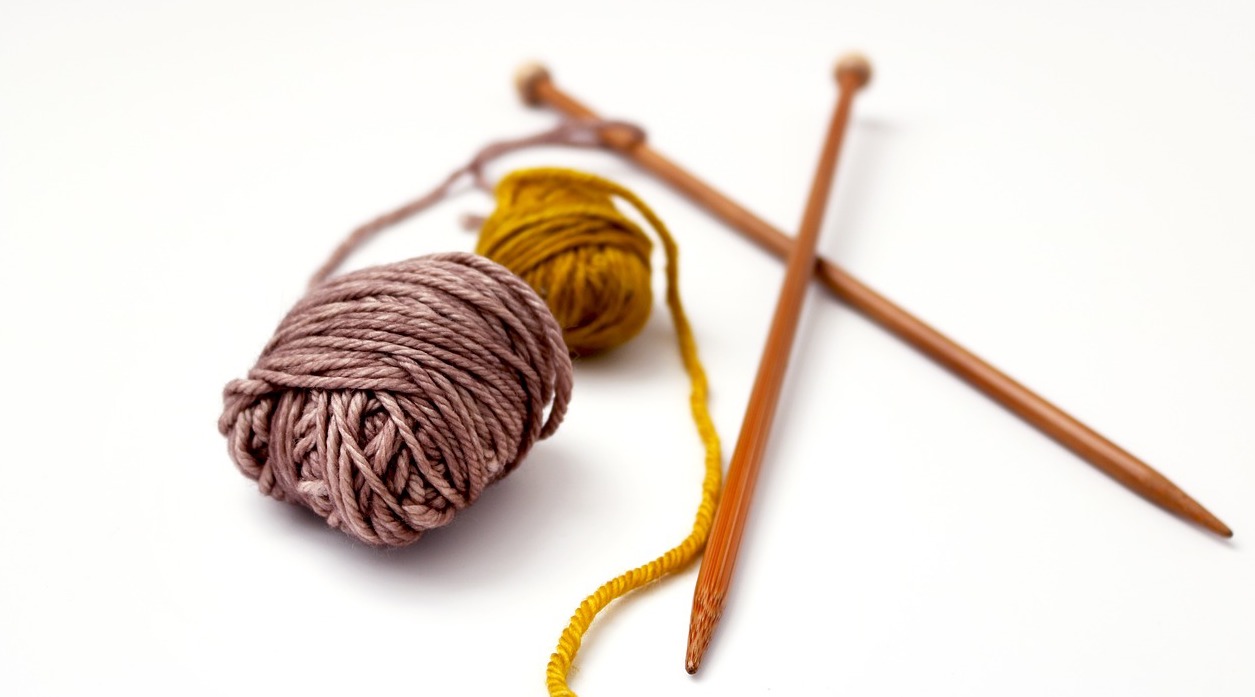 For many queer and feminist communities, crafts such as knitting, which are seen as traditional women's work, are being re-imagined, not as a return to a conservative past, but rather as a break from that past. Knitting represents the "feminist reclaiming of knitting as 'women's work,'" according to the 2005 book, Youth, Education, and Sexualities, an encyclopedia of issues related to LGBTQ youth.
This mission to reclaim and redefine traditional women's tasks led to a trend called The New Domesticity – a term coined in 2004 by Jean Railla, who went on to create the site Etsy, a popular online marketplace for handmade items and craft supplies. The New Domesticity promotes the idea that traditional women's work, which women were previously forced to practise, out of necessity as well as tradition, should now be celebrated as a choice women can embrace if they want to, rather than avoiding it on feminist principles.
Ben Cuevas, a queer, non-binary artist based in Los Angeles whose work was featured in the Queer Threads exhibition, also sees a connection to feminism.
"In queer spaces, there's this idea of reclaiming the word queer or reclaiming the word faggot or reclaiming the word dyke," he said. "I think there's sort of a coalescing of the (general) idea of reclaiming across activist spaces."
Celebration of femininity
Lauren Rollit, who identifies as pansexual and helped to found the Carleton University Knitting Club fall 2018, said she sees knitting as a celebration of femininity.
"It was exciting to see that the women in my family were making all these really cool things, and it was sort of like a secret club."
On the other hand, some of the men in the knitting club had never learned because their mothers viewed knitting as strictly for women, she added: "Some might say, 'I really wanted to learn to knit, but my Mom wouldn't teach me because she thought it was a feminine activity, but I always wanted to learn, so here I am,'" she said.
When men knit, it turns gender stereotypes on their head. Gay men may be more comfortable with the idea of gender nonconformity than straight men. Ann Morneau, who works at Carleton University's Women and Gender Studies Department, wrote her 2015 Master's thesis on men who knit. She wrote, "Men who participate in activities which are deemed feminine are often seen as 'effeminate, and presumed gay,'" which, if you are indeed gay, may be less of a concern. For men at least, being queer can take away one social boundary to pursuing fibre arts.
Queer people, who often experience an intense sense of social isolation because of their sexual orientation, may also find solace in the connection to the outside world that knitting and other fibre arts may bring.
"You spend so much time hiding parts of yourself or just trying to be quiet and invisible, that touching something outside of your body is a bit of an internal-external connection," Valentine said.
Hubley acknowledged the isolation many queer people experience, social or physical, could be another factor in their being drawn towards fibre arts.
"Sometimes it's being exiled. You have a lot of time on your hands," he said. But at the same time, knitting can fulfill a desire for community. Gay knitting groups such as Hubley's, and progressive groups such as Rollit's, which she says has many queer members, are becoming more and more common.
Hubley said he enjoys passing his skills on to those who want to learn. As for Rollit, she likes the accepting nature of knitting groups.
"I've never gone to a knitting group and felt like I've had any kind of judgment or any kind of commentary on the way I live my life," she said.
Valentine has experienced knitting as a way to connect with those outside the LGBTQ community as well.
"I actually found that when I started knitting, I could have a connection with more straight and very traditional-gender-role friends." In the case of one friend, "the closest we ever were was when we were knitting together. It was the only thing that we seemed to have in common," she said.
DIY activity
Another draw for many queer people is that, as a do-it-yourself activity, fibre arts are inherently anti-capitalist. Patrizia Gentile, a women's and gender studies professor at Carleton University, explained this connection: Knitting is "a slow process. It's not an efficient thing to do. It's a way of speaking back to consumerism. It's making something for yourself."
Rollit says that's why some of her friends like knitting. "(They say) 'I want to make my own clothes. I don't want to be buying clothes. I want to get to the point where I'm self-sufficient and outside the capitalist market.'"
Queerness and anti-capitalism often go together. In the 2011 book Anarchism & Sexuality, Gavin Brown, who specializes in the study of sexualities at the University of Leicester, wrote about autonomous queer spaces, describing them as spaces where people strive to achieve equality and to live outside of capitalism "through a combination of resistance and creation." He lists do-it-yourself events, which can include knitting groups, as an example of such spaces.
Cuevas said this DIY urge may also stem from feeling outside of the mainstream, socially and aesthetically.
"Queer people often have an interest in doing things for themselves. Maybe that comes from sort of being otherized and maybe not finding the things you want, not finding the clothes you want off the shelves."
Regardless of the reasons why queer people are drawn to fibre arts, Rollit hopes that as society becomes more accepting, even more people will participate.
"I think … changing attitudes about how people are expressing their gender and sexuality have encouraged more people to get rid of some of those stereotypes and get involved with some of these hobbies."
---
More Stories