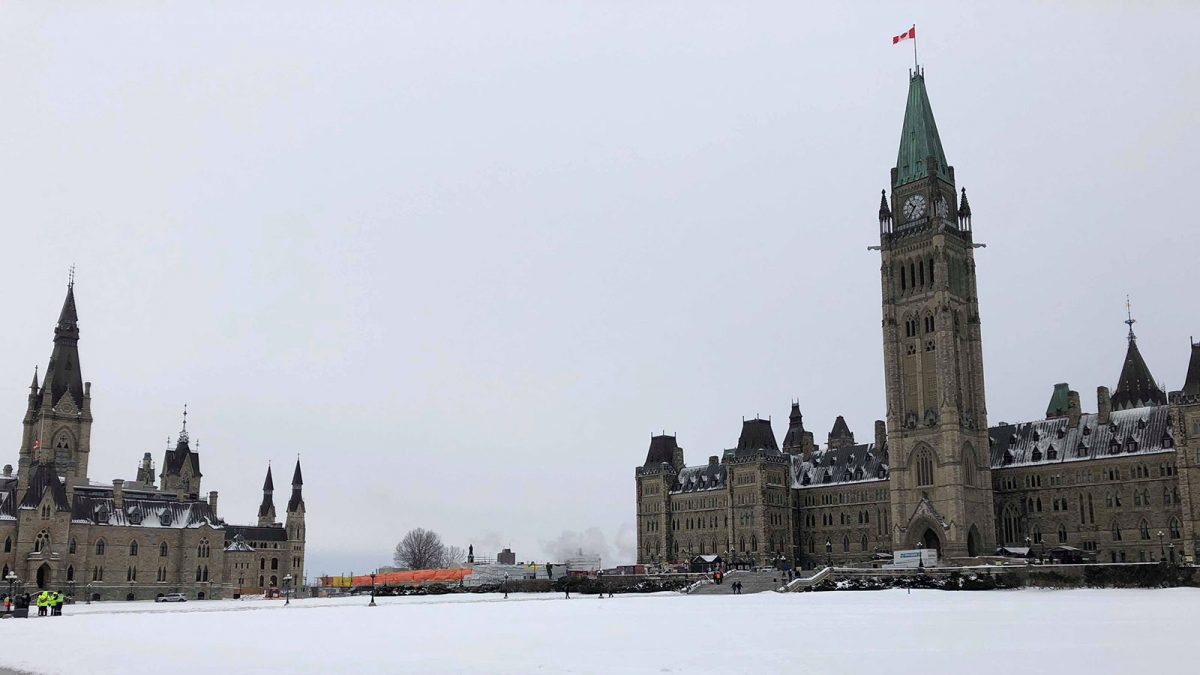 Ruzgar Kasapoglu, who traveled from Toronto to see a friend and the sights of an unknown city, paused to take a photo in front of the eternal flame on Parliament Hill on a recent chilly Tuesday morning. It was his first stop during a trip to Ottawa.
Kasapoglu said that when he learned Centre Block was closed upon his arrival, he was glad he had come.
"It's sad, because I wanted to bring my family," he told Capital Current, pausing before detailing his desire to share this experience with them in the summer. "I would have wanted to show them what it looks like here but I won't be able to."

Parliament and the Senate held sessions in Centre Block for the last time on Dec. 17. The historic building will now be closed for at least a decade as renovations take place.
Julia Thomson, who is project co-ordinator in the communications team at Ottawa Tourism, said the loss of a big draw to Ottawa, the closure of Centre Block, will hopefully not be a setback.
"We're really looking at the renovations as a positive," said Thomson.
During these renovations, the new home of the House of Commons in a courtyard inside the West Block opened for tours on Feb. 1. The Senate has taken up residence in the renovated government conference centre across the street from the Chateau Laurier.
A visitor's centre has also opened between the West and Centre Blocks of Parliament.
Thomson said because the West Block, the Visitor's Centre and the new Senate building are now being marketed as new experiences. "These are beautiful modern spaces that have really interesting architectural elements."
Sarah Hurcomb, chief of the Parliamentary Tours Program, said she hopes the two new venues will garner local interest since tours of Centre Block have always been popular with locals.

"Local people definitely consider this to be an important thing to share with their visiting friends and family," Hurcomb said.
Along with the marketing of these new government buildings, Thomson said the focus of her agency will be on the "Ottawa experience as a whole."
"We're focusing on some of the other iconic landmarks in Ottawa, such as the Rideau Canal, the Byward Market and all of our national museums," she said.
Thomson added that a year after the Canada 150 celebrations, it is unclear whether the 2018's tourism numbers continued on the same upwards trajectory.
But she said she hopes projects built in 2017 for Canada 150 such as the renewed National Arts Centre, the Canadian and Indigenous Gallery in the National Art Gallery of Canada and the Arctic Gallery in the Canadian Museum of Nature, along with the renovated Museum of Science and Technology, will draw more people.
However, the future is hard to predict, Hurcomb said. With two new tours, a new tour schedule and a new ticket system, the way people visit Parliament is changing.
"It would be fantastic for people to fall in love with these buildings the way they have fallen in love with Centre Block," Hurcomb said. "If people walk away with that same sense of magic and understanding that they have at Centre Block, that is reward enough."

---
More Stories