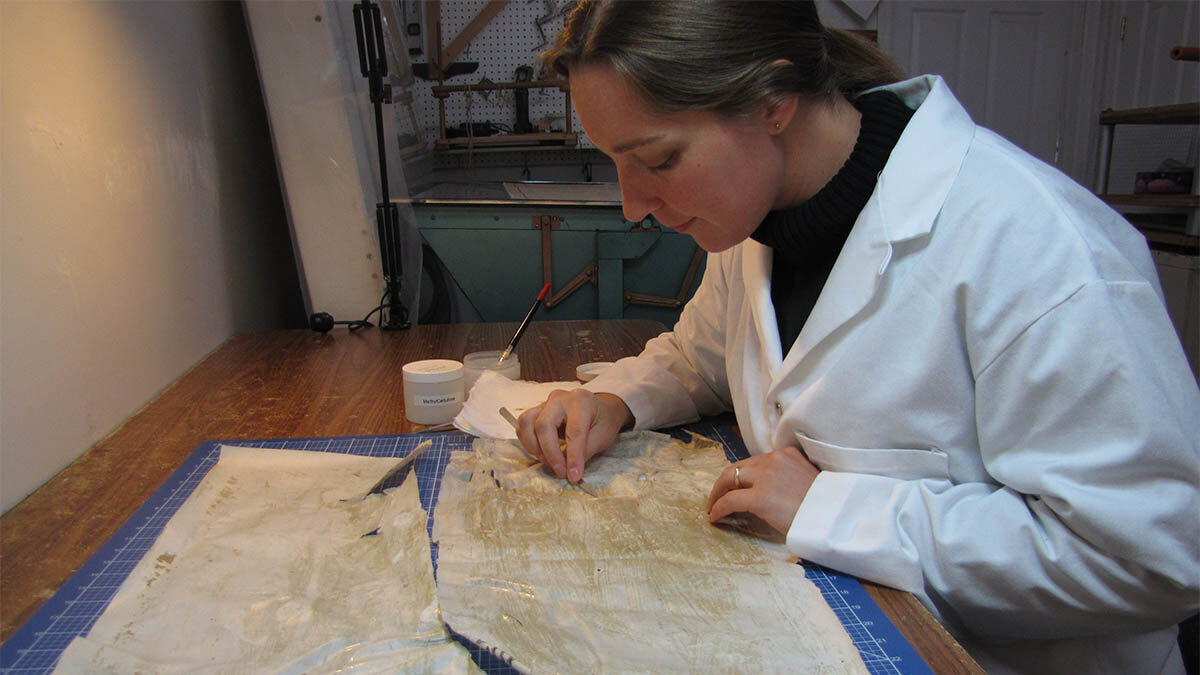 Inside an old copy of Anne of Green Gables that Kyla Ubbink is working on, there is an American Library Association library plate. "This book is provided by the people of the United States through the American Library Association for the use of soldiers and sailors," Ubbink reads from the 1908 first edition of Canadian writer Lucy Maud Montgomery's famous novel.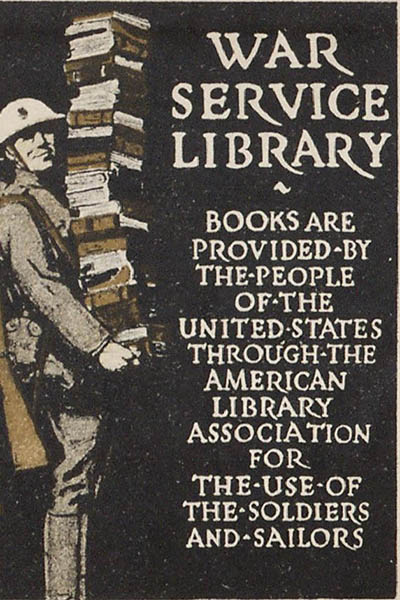 "It's plausible that it was sent out for the soldiers to use, and it survived and is still around," Ubbink explains.
The novel was part of the ALA's War Service Library, an effort established in 1917 to provide books and library services to Americans in training camps and overseas during the First World War. 
Conservation of art, books and paper play an important role in preserving history.
It's an act of sharing cultural history, and ensuring it lives on. Conservation work blends arts and science in a way that provides — and preserves — a glimpse into the past.
Local conservators like Ubbink highlight the importance of conservation work through their passion for ensuring the longevity of artifacts with personal and broader cultural value.
In the basement of her Ottawa home, Ubbink has a lab set up that allows her to run Ubbink Book and Paper Conservation. Her business handles everything from family bibles to vintage posters. When working with institutions, her restoration work has been featured in collections of the Canadian War Museum, Canadian Museum of Nature, Parks Canada and more.
"I work for auction houses, dealers, collectors — and then people are just coming to me with their family Bibles and love letters between grandma and grandpa."
In 2002, Ubbink opened Ubbink Book and Paper Conservation after entering the field of conservation with an internship at Library and Archives Canada. "I run a small private practice that offers restoration and conservation services," Ubbink said. She works on books, maps and so much more.
'I work for auction houses, dealers, collectors — and then people are just coming to me with their family Bibles and love letters between grandma and grandpa.'

— Kyla Ubbink, Ottawa conservation expert, Ubbink Book and Paper Conservation
Her love of book and paper conservation all began with Library and Archives Canada. "It was during my internship that I really fell in love with this work," Ubbink said. "I like the hands-on work … the technical work of it. I like that I get to work with the pieces themselves. I get to be involved with the chemistry of the pieces as well as the mechanics of it."
It's "mostly antique materials, old, not old documents, manuscripts, works of art on paper, like watercolour paintings, fine art prints, sketches and drawings and pastels," she explained. "I get to work on old bank notes, as well as books, too."
Ubbink's passion and talent for conservation is shared by Chloe Lucas, an Ottawa-based photograph conservator. She is the owner and principal photo conservator at Chloe Lucas Conservation, which she opened following the completion of her education and training in France in 2016. Lucas graduated from the prestigious Institut National du Patrimoine, and completed internships with private conservation labs in Paris, as well as with the National Gallery of Canada, Library and Archives Canada and the Ottawa-based Canadian Conservation Institute. Lucas has a long list of clients from private collectors to archives, libraries and art galleries in Ontario, Quebec and France.
Like Ubbink, Lucas said she loves the hands-on aspects of conservation. Lucas always knew she "wanted to do something that would be a manual job, but with links to science and artists." Conservation was the perfect blend.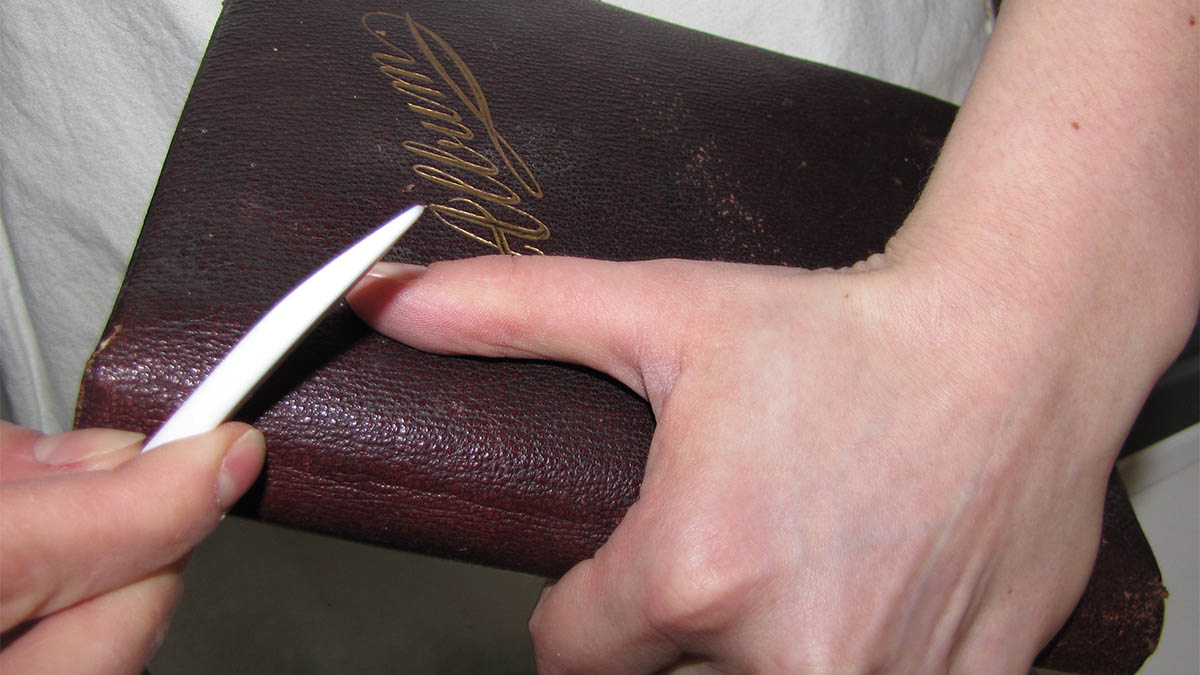 "You do have manual aspects to the job. You do need to have knowledge in art and knowledge in science, especially chemistry, to understand how the objects were before and also how they deteriorate — and how the treatments you apply to them are influencing their long-term stability."
Beyond conservation, Lucas found a love of photography while studying at university. For her, it comes down to the diversity in the art of photography. "There's diversity in the medium itself, that even if it's photographs in the category, you still have a lot of different work to do to get photographs on paper," Lucas said. "But you also have lots of photographs on metal and glass and plastic."
For Ubbink, there is always something new in her lab. "I love the variety," Ubbink said, speaking about working in conservation. "I love having all these different kinds of clients and the different kinds of pieces coming in and having those discussions about what are your goals?"
Ubbink considers many things when working with clients. She explains that she questions, "What's the use of the piece? What's the purpose of the scale? Why are we keeping it? What's the artist's integrity, how are you going to display (this in) the future?" This is all part of her process as she plans her approach to how a book or document will be treated.
Lucas' clients are always bringing her something different. "I really enjoy working for very different clients in very different collections," she said. Sometimes it's a single photograph of a loved one, sometimes it's hundreds of photographs for a gallery. "I never get bored."
For conservators, there is always an exciting new project. Ubbink and Lucas get the chance to restore memories and give tips and tricks for the longevity of photographs and documents. They also play their own role in preserving history as they aid in preservation of old newspapers and maps, or the delicate works of world-renowned photographers, and much more.
With a bit of work, the 1908 copy of Anne of Green Gables will be preserved for generations to come. Ubbink will strive to restore its craftsmanship, to preserve its history.
And what was old will become like new again.
---
More Stories