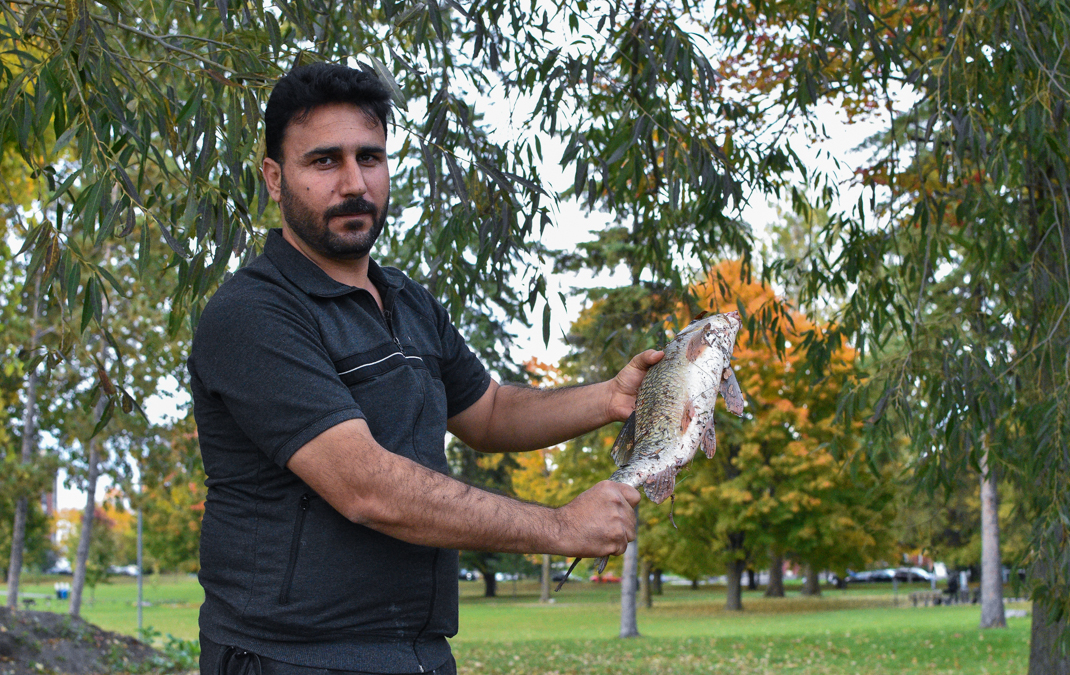 Every three or four days, Omar Yahya Masri drives his KIA Sorento from his home in Nepean to Mooney's Bay. Along the shore of the Rideau River just above Hog's Back Falls, the recent immigrant from Jordan unloads a folding chair, some cans of Coca-Cola, fishing rods, bait and tackle.
Masri totes his gear down a slope, away from the parking lot and towards a couple of picnic tables by the edge of the water. The tables are tucked into an alcove at the far end of the Mooney's Bay beach in a placid area of the park, away from others enjoying the long strip of sand or the nearby playground.
Here, the peace and quiet provide Masri a place to fish, unperturbed by large family gatherings or squealing toddlers wriggling down a slide.
Some days, Masri unfolds a chair and props up his fishing rod — resting on a forked twig stuck in the earth — all by himself. Other days, he's joined by a friend, or two, or three, or sometimes by his family of six for a riverbank barbecue. 
No matter the occasion, Masri says this time along the Rideau is sacred to him because the fish he catches — often carp or bass — help feed his family.
"Every three days, four days, I come on the day of bliss and catch three fish, four fish and take them home and my wife makes them for the children," Masri said in Arabic, speaking through a Google translate app on his phone.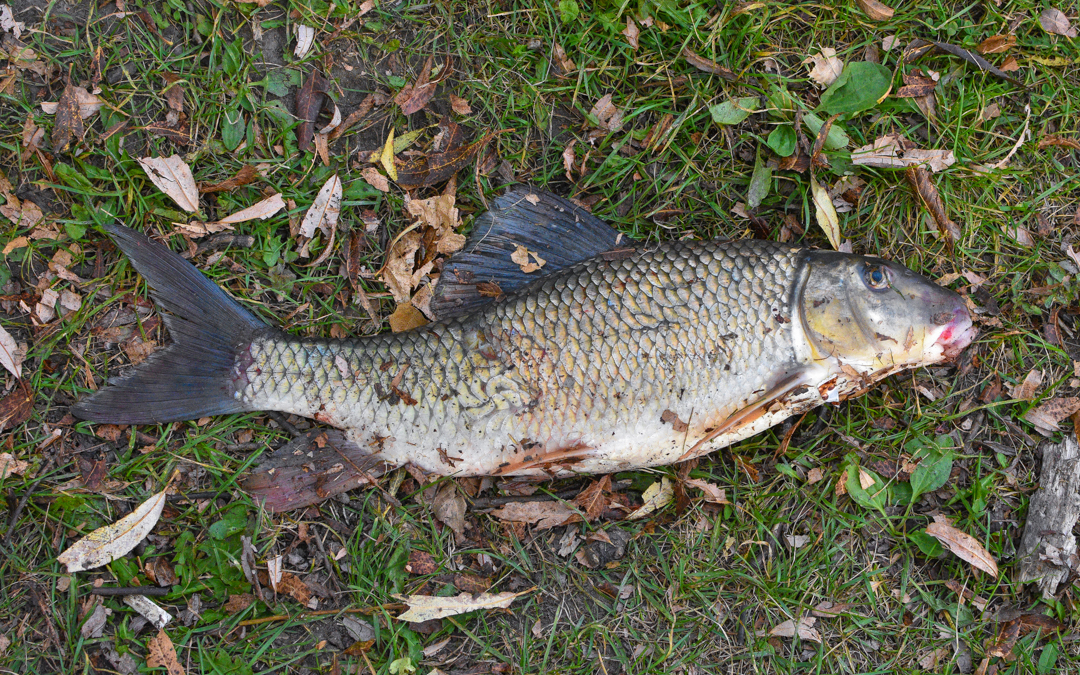 Originally from Syria, Masri, his wife Ghusoun Ismail Aloubaid, their three sons and one daughter immigrated to Canada last year from their home in Amman, Jordan.
According to Statistics Canada's 2021 census, released at the end of October, one in four people are or have been a landed immigrant or permanent resident in Canada. Masri and his family are six of the 1.3 million immigrants who permanently settled in Canada between 2016 and 2021.
This is the highest number of recent immigrants ever recorded, according to StatsCan. Additionally, 62 per cent of those immigrants were born in Asia, including Middle Eastern countries such as Syria and Jordan.
For Masri, the decision to move his family to a country where only his children can speak an official language was made to escape war.
"I came from Syria, from the Syrian War, and it was a very harsh war on us and many died," he said. "We fled from Syria to Jordan and then from Jordan to Canada."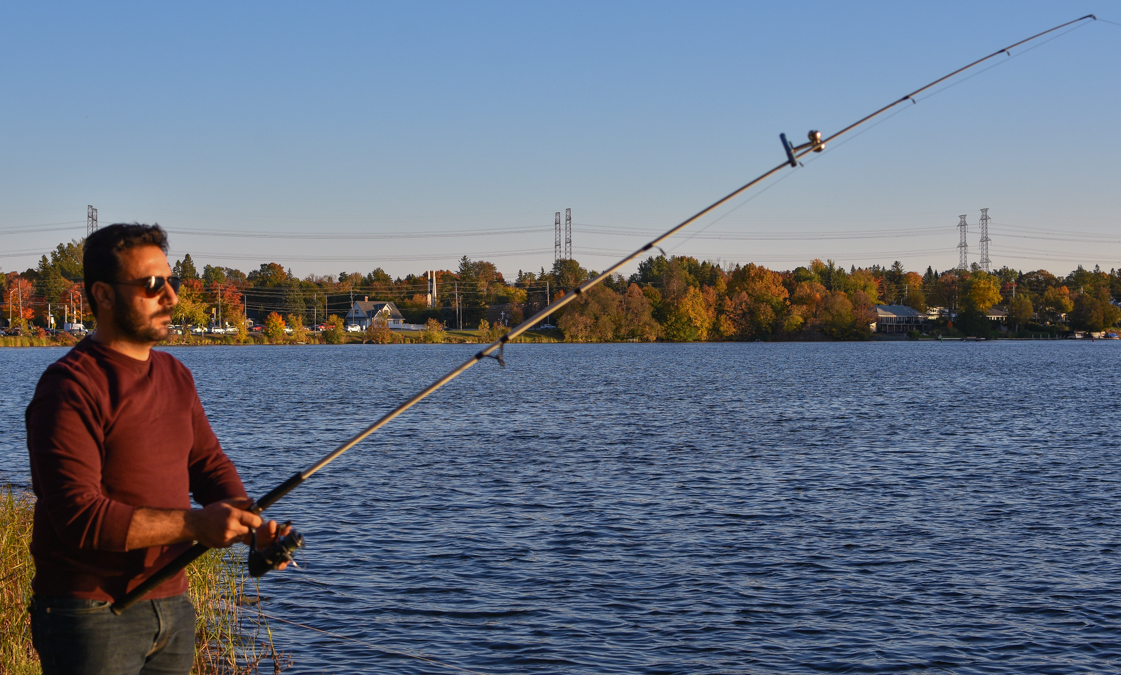 Now in Canada, Masri and Aloubaid attend English-language school every week with the intention of one day being able to apply to work in this country. Right now, their Arabic fluency hasn't gotten them very far in the job market.
In Jordan, Masri was a man of many trades. Aloubaid and their daughter, Ghazal, say he could — and did — sell almost anything, from clothing to phones. When prompted, Masri will also happily dig into his home cabinets — which he made himself — to pull out certificates he earned in educational courses in Jordan, such as a woodworking program he completed with the Turquoise Mountain training centre.
However, without being able to speak English, employment is elusive and he hasn't been able to use his many skills. So Masri has been forced to find other ways to provide for his family, such as returning to his fishing roots.
Before leaving Syria, Masri said he would often fish for sport in the waters near his home. Moving to Jordan meant he had to give up fishing because of the local water's salt content. Now, in Canada, Masri has returned to a pastime he loves and bring a whole new meaning to it by supplying food for his family.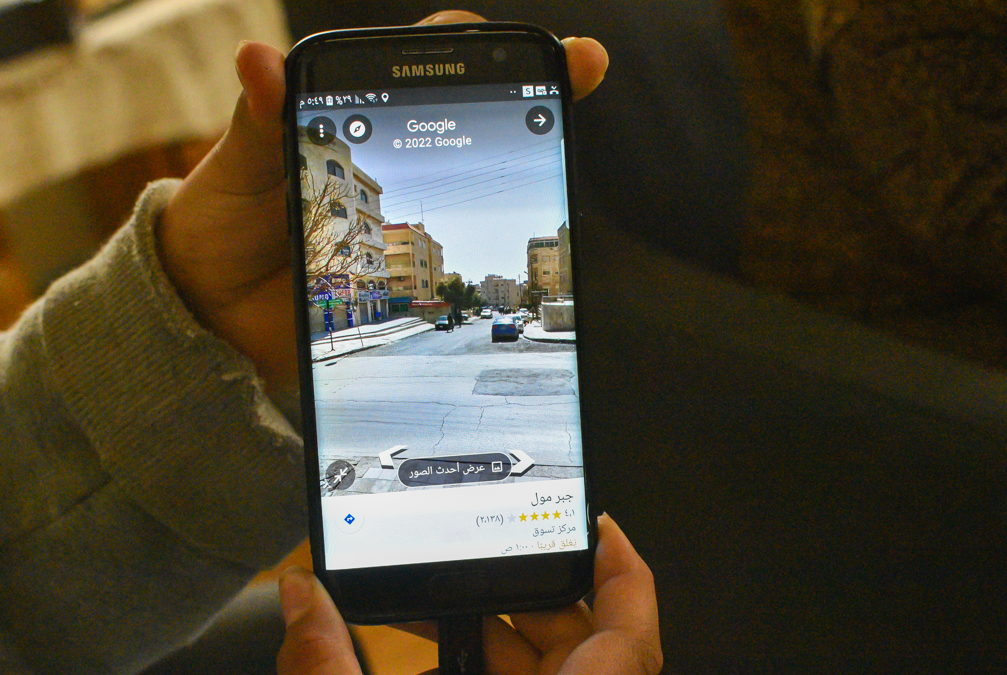 Often fishing in the late afternoons of summer, he stays out until the fish have begun to settle for the evening and his family calls him home.
On this day in late October, Masri enjoyed some success at his favourite fishing hole.
As he packed up his catch, Masri said goodbye to friends who'd stopped by for a chat, loaded everything back into his car and drove about 10 minutes home. When he arrived, Ghazal, currently in Grade 7, was peering out the window beside the front door of their semi-detached home to witness her father's return.
Pulling into the garage, Masri stepped out of his meticulously cleaned vehicle. Its exterior sparkles and the seats in its jet black interior are each lined with a soft, plush cover. Masri shows off the Sorento any chance he gets.
Ghazal joked that her father was spending time with something he loves more than her: his car.
Masri hauled the day's catch up a few steps from the bottom landing, where he left his shoes, to the middle floor where Aloubaid was eagerly awaiting his return with the oven warmed.
He handed her the fish and she began to cook.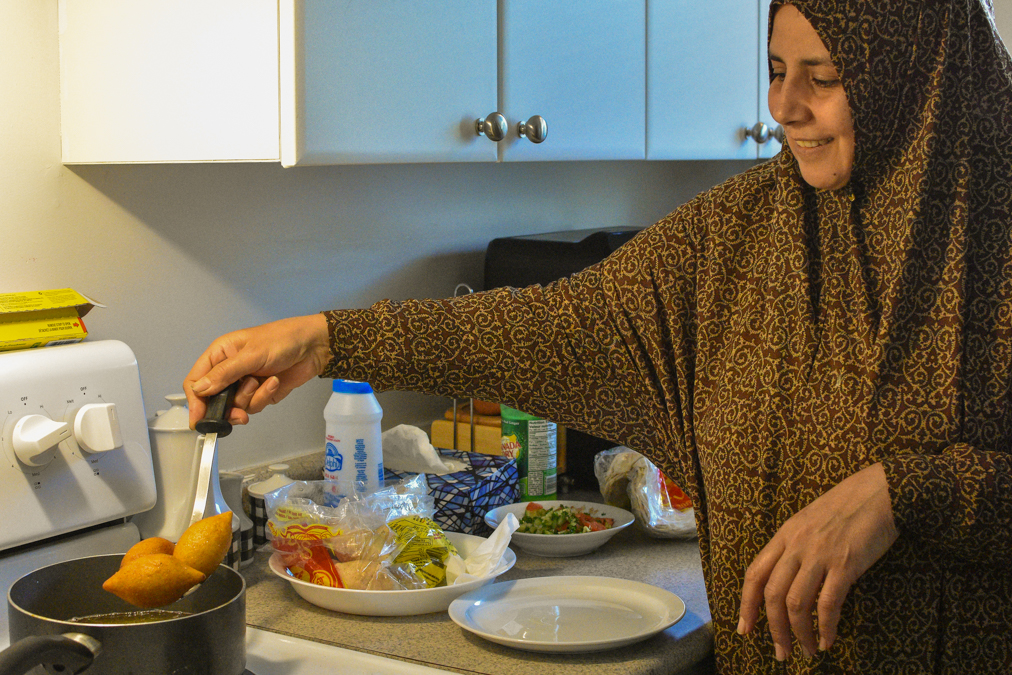 Slicing a fish down the middle and splaying it out on a baking tray, Aloubaid began adorning the fish as if it's a bride on her wedding day. Hexagonally cut potatoes, thinly sliced onions, vibrant yellow turmeric, a heavy shake of salt and a splash of oil are mixed together on and around the fish.
While Aloubaid worked, Ghazal squeezed around her mother in the tightly packed kitchen, busying herself with side dishes, cutlery and yelling back to her brothers watching soccer in the other room.
The promise of a delicious meal permeated the house and it was noticeable amid the sounds and laughter coming from the kitchen.
Wandering in to observe the commotion, Masri was quickly put to work drizzling pomegranate molasses over a salad of parsley, tomatoes and lemon. The sweet and sticky substance clung to the finely chopped vegetables; he caught a drip running down the side of the bottle with his finger and brought it to his lips.
After a short period of time, Aloubaid walked to the table with the tray of baked fish, still sizzling from the heat of the oven.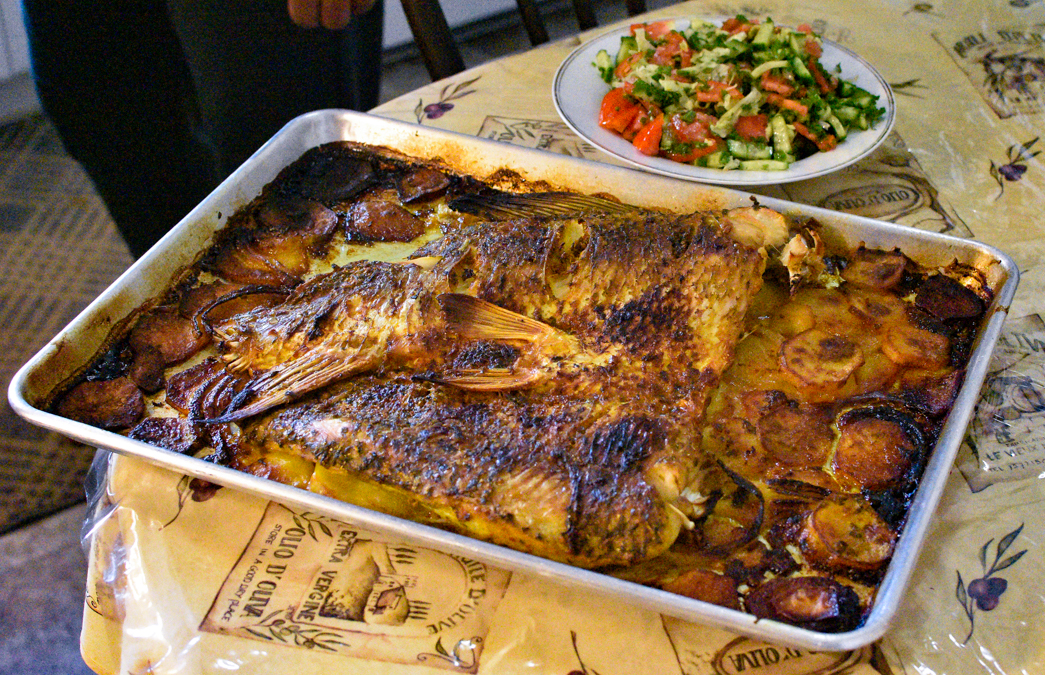 Following her steps, Ghazal trailed behind with forks, spoons, a salad and a piping hot tray of kibbeh — fried balls of dough containing ground meat, bulgur wheat, spices and pine nuts.
Tossed onto the table at the last minute were several dozen pitas and small bowls of dipping sauce made of tahini, garlic and lemon.
While the family ate, occasional bursts of laughter filled the air. As Aloubaid combed through the fish with her fingers, picking out the bones and putting the remaining flesh in a bowl for others to eat, her family poked fun at her for her fragile command of English.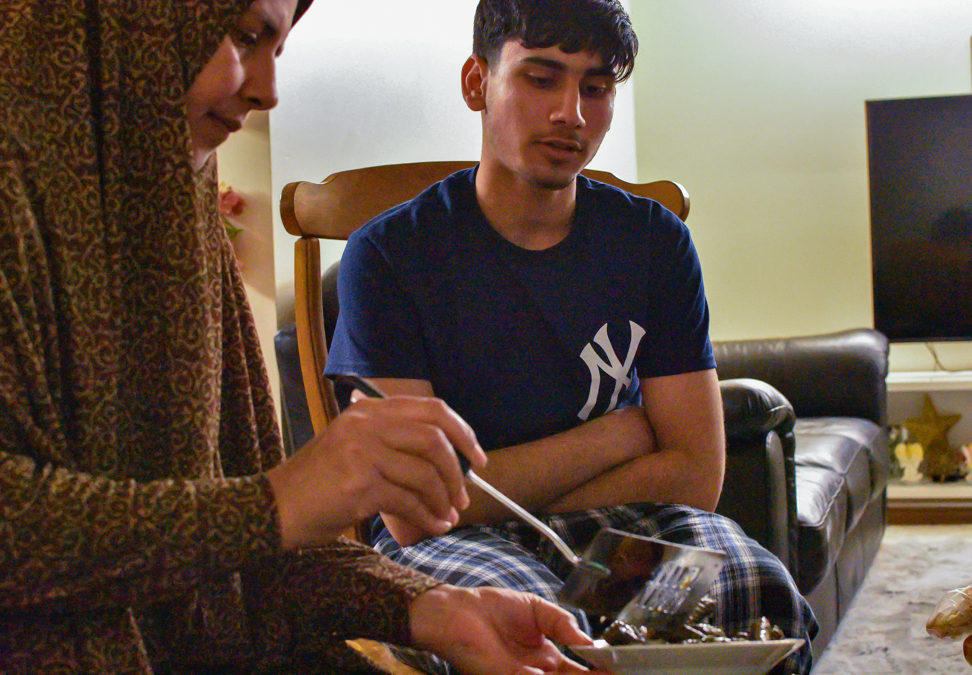 Ghazal speaks English fluently and only occasionally got hung up on a word while translating for her parents. Her brothers speak English with a similar level of proficiency. That has landed the eldest brother a job at a barber shop and Yahya, the middle son, a job at Royal Rooster Shawarma near the Ottawa airport.
"It's famous in Ottawa," said Yahya, claiming it's a must-try for any shawarma connoisseur.
While their two older sons work their jobs, Masri and Aloubaid continue to work on breaking down the language barrier. Masri has achieved a level one in English since moving to Canada; it's not enough to land him the job he needs, but it's still better than Aloubaid's level zero status.
"Omar, level one. Ghusoun — zero," she said, laughing at herself for the little progress she's made so far at learning English.
After the meal, everyone helped tidy the table before retiring to the couch, full from a meal proudly provided by Masri and prepared by Aloubaid.
Here, they shared stories of life in Jordan — from the boys' memories of playing soccer, to Aloubaid's memories of working as a chef, to Ghazal's memories of the friends she left behind. Masri added that he misses his mother and father, who are still in Jordan. The only family they have in Canada is Masri's cousin, who lives in Orleans and is the occasional recipient of a fish or two given by Masri to store in their freezer.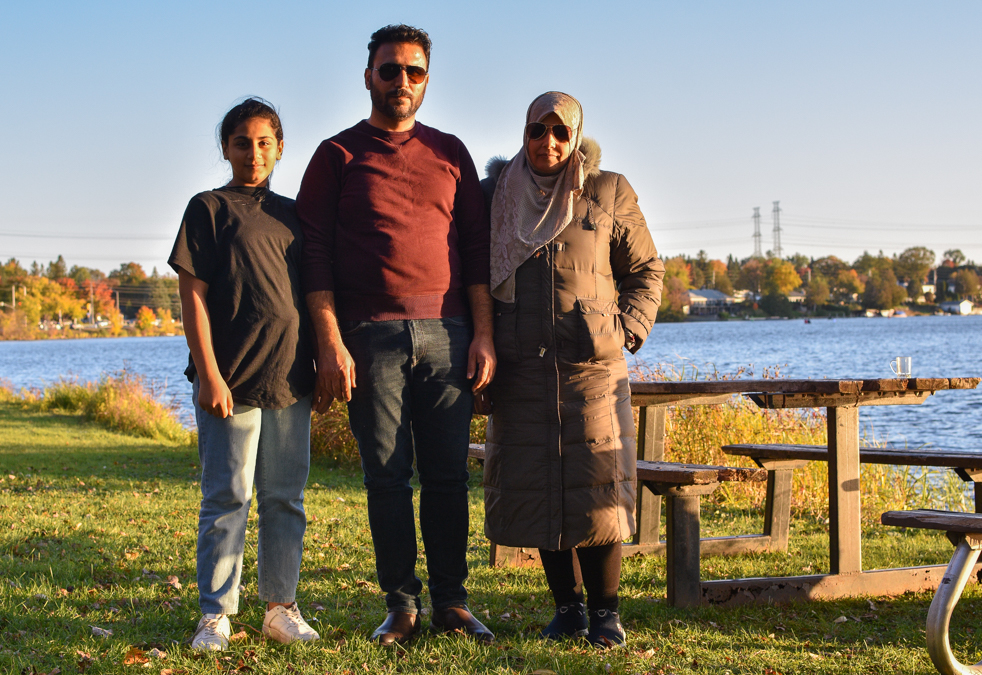 Despite being far from the place that was once home, Masri said Canada has been very good for his family. He doesn't regret the move.
"Living in Canada," he said through his phone's translator, "is very sweet, safe and stable for me and my children."
---
More Stories