The camera focuses on Troy Stewart's hands as he carefully slices some apples. While he works, he apologizes to those watching for filming from just one angle – he had trouble logging into the Zoom meeting on a second device.
It's only a minor inconvenience for the students he teaches every other Thursday. Stewart leads an online cooking class called Cooking Together (Cooking with Disabilities), a program offered by the Parkdale Food Centre, an Ottawa non-profit that provides healthy food to people in need.
Today, Stewart is pairing those apple slices with rice pudding. He instructs an audience of about two dozen to taste the "warm spiciness, the sweetness of the raisins."
"One thing I always do is I show people how to hold a knife," Stewart later told Capital Current in an interview at Parkdale Food Centre in Hintonburg. "Every class."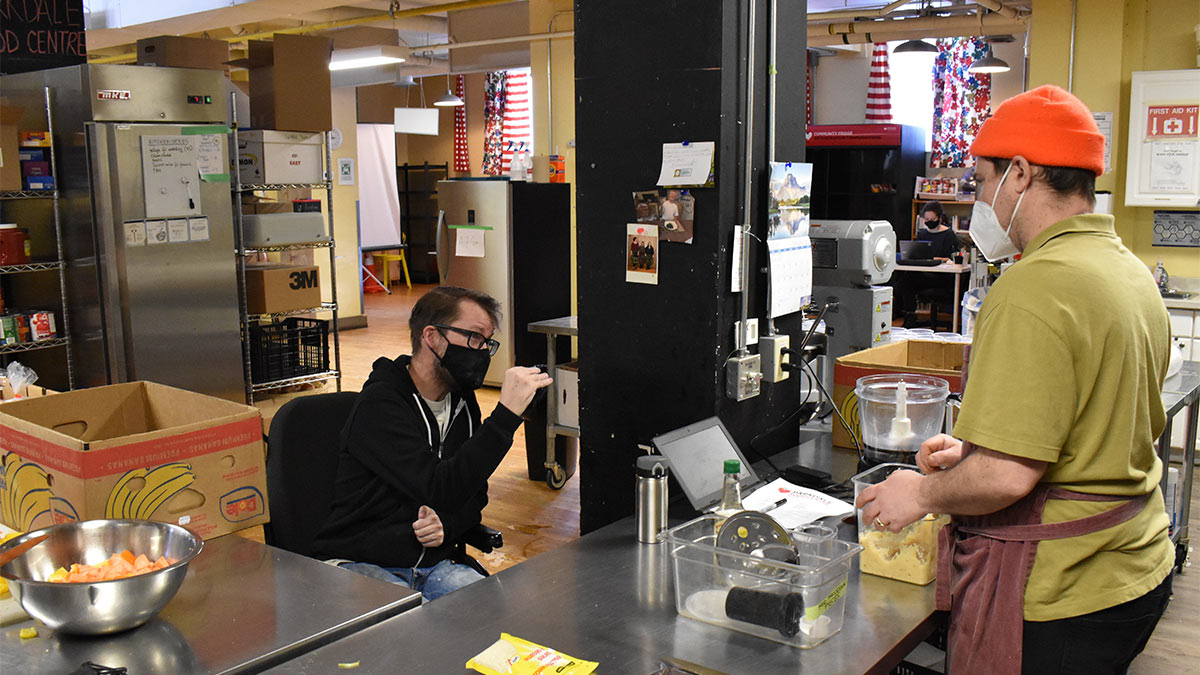 Stewart honed his knife skills during a long career as a chef. But that career, and his relationship with cooking, changed abruptly four years ago when he collapsed on the job.
He spent the next five months in hospital.
Stewart was eventually diagnosed with ataxia, a condition associated with damage to the cerebellum, a part of the brain responsible for voluntary motor control. Ataxia can cause difficulties with co-ordination, speech and fine motor tasks – including using a knife.
Stewart has taught the online classes since May 2021. For Ottawans with disabilities, it's an opportunity to practice cooking in an environment tailored to their needs. For Stewart, it's the latest step in a personal journey he hopes will resonate with others facing similar obstacles in life.
"That's what I want to do through my food classes," Stewart said. "I want to reach out to other disabled people and let them feel comfortable."
'It hit hard and fast'
Ataxia can develop gradually or all at once, Stewart said. For him, "it hit hard and fast."
After the initial symptoms, his condition quickly worsened. He began having seizures. When he collapsed at work, his neurologist told him to stay in hospital until she could diagnose the problem.
For the next five months, Stewart struggled to walk and speak. As he fought to regain control of his muscles, he was relocated to a Kanata retirement home. Just 44 at the time, he said the experience was "horrible."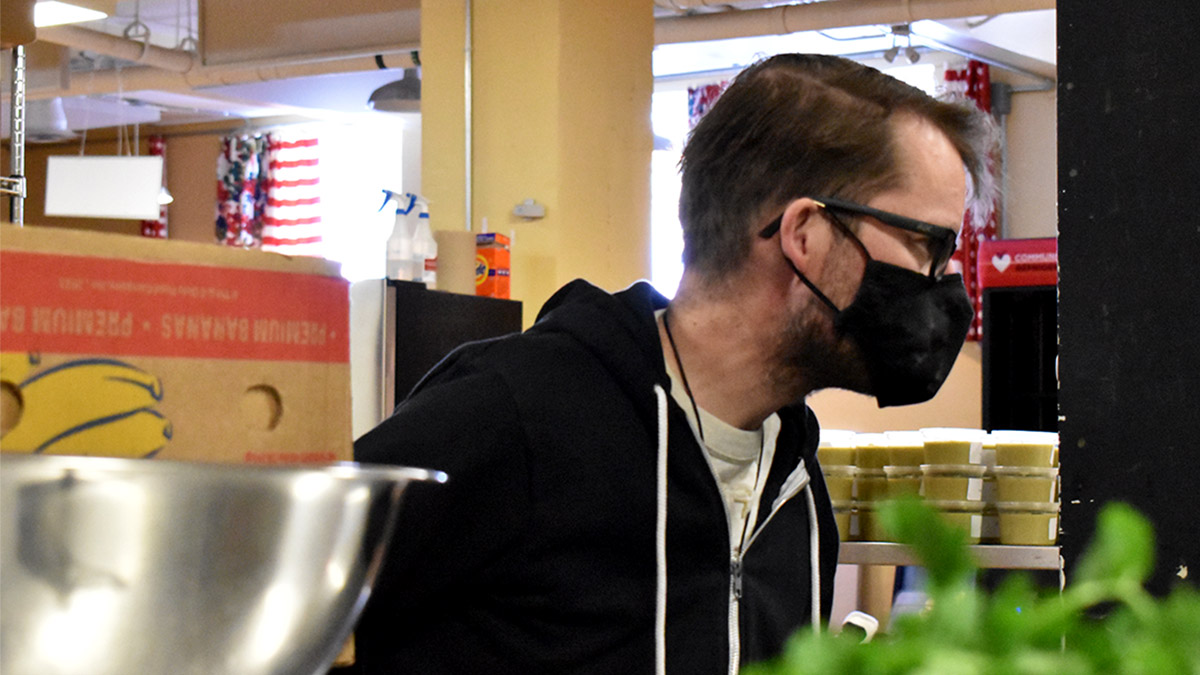 "When the doctor says, you won't ever walk again and you'll never work again, my response was, 'Watch me,'" Stewart said.
With the help of a walker, he did walk again. But ataxia is a progressive illness. He suffered a few bad falls and now uses a wheelchair.
As for working, he's since proved the doctors wrong – after years of determined effort.
"For the first two years, I didn't want to leave my house. I hated going out in public, being in a wheelchair, being treated as special," he said.
While he was still in the retirement home, an Ontario Disability Support Program counselor told Stewart the wait list for independent supported living in the province was anywhere from six to eight years. Stewart applied anyway and got lucky. Within three weeks he had moved out of the home and into the apartment he lives in today.
When a friend suggested the idea of an online cooking class, it felt to Stewart like the natural next step. He debuted the class in May, 2021.
Parkdale 'wanted to support what he was doing'
Stewart's class developed from another program hosted by the Parkdale centre. In Sept. 2020, Anna March, community kitchen co-ordinator at Parkdale, started a weekly online cooking class called At Home with Anna.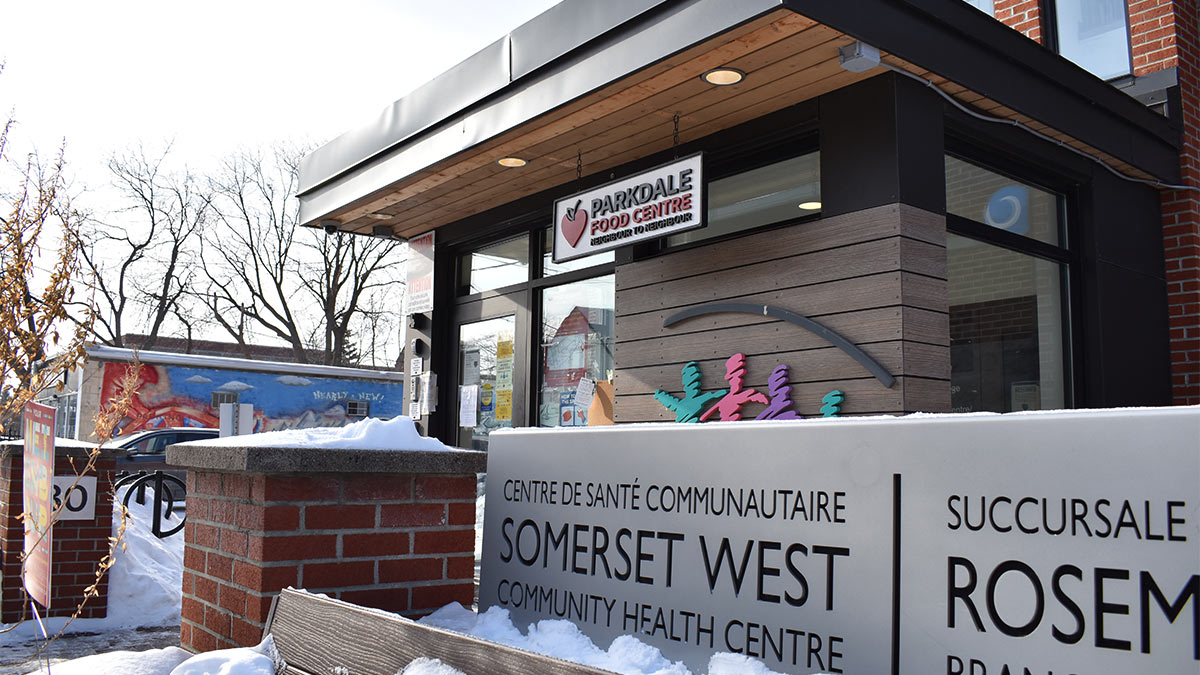 After Stewart had run his own course for a little over a month, he went to one of March's sessions and spoke with her after class. That conversation led to a conference call with other members of the centre's staff.
"First and foremost, Troy is a very talented chef," said Simon Bell, kitchen manager at the Parkdale Food Centre who was on the call.
"The more people like that I can bring onto my team, the better. But we also really wanted to support what he was doing."
Bell brought him onto the team. After renaming the class Cooking Together (Cooking with Disabilities), Stewart and March began teaching alternating weeks. The centre supplies the ingredients in each recipe, either by pickup or delivery, to participants who are unable to purchase the ingredients themselves.
"It's so great that they're able to provide the ingredients," said Michael Sheridan, who also attends the classes.
Brenda Sidla has attended the classes almost from the beginning. Sidla has struggled with anxiety since she sustained a traumatic brain injury six years ago. She said Cooking Together, and classes like it, give her the feeling she's found her "tribe."
"We've all got things to overcome. … If we see somebody overcoming their barriers, then whatever barriers we have, we feel like we can overcome them too.""

— Brenda Sidla
"Because I can show up safely there, and show up safely at Parkdale, all of a sudden the world is not that threatening," she said.
During class, Sidla has taken on the role of monitoring the Zoom chat and notifying Stewart if he misses a comment or a question.
"[Troy has] had to overcome many things, and we've all got things to overcome," she said. "If we see somebody overcoming their barriers, then whatever barriers we have, we feel like we can overcome them too."
In-person classes next step
Stewart hopes to offer an in-person class this summer. He said in-person classes create opportunities that aren't possible over Zoom, such as supplying specialized equipment and offering a lowered work surface for people using a wheelchair or walker.
For now, Stewart teaches from the kitchen in his apartment.
As he discusses the appropriate ratio of brown sugar to spices, a message appears in the Zoom chat.
"Thank you so much for the cooking class today," it reads. "I truly appreciate this opportunity."
Busy cooking, Stewart doesn't seem to notice the message. Someone else in the meeting unmutes their microphone and asks: "Eh, Troy, how much butter in the pan?"
Stewart pauses to respond. "About a half a cup," he says. "Enough to coat the apples." He lifts the camera, showing inside the pan so everyone can follow along.
---
More Stories