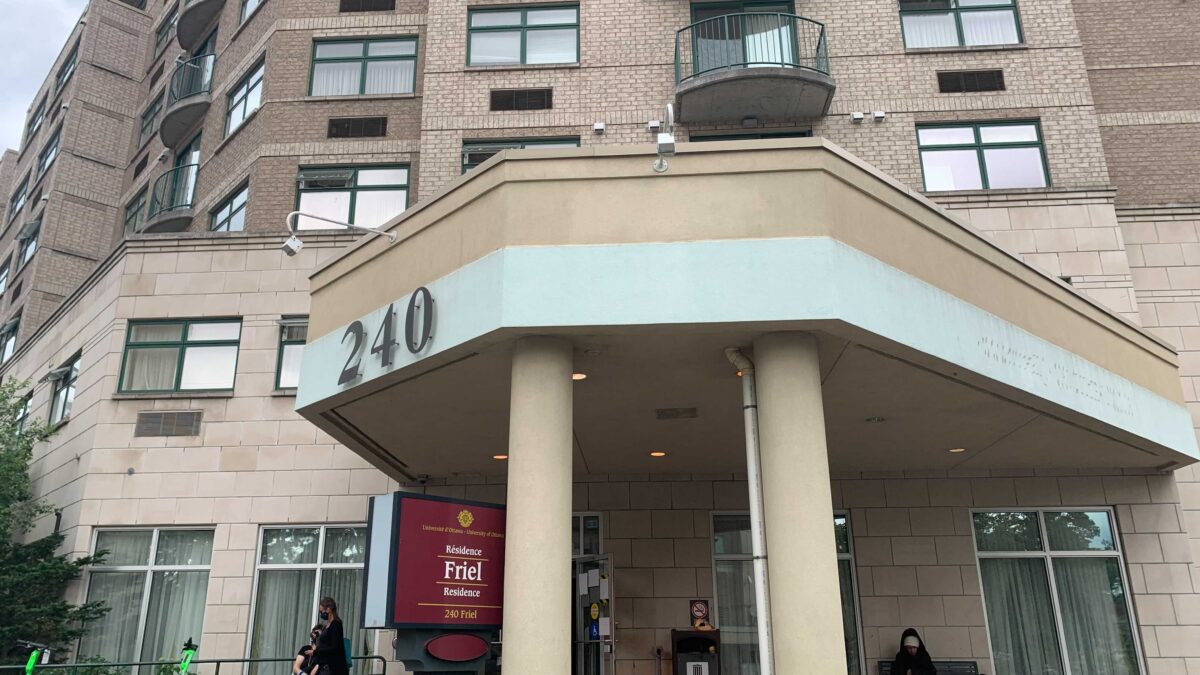 After being hit with the news that their lease with the University of Ottawa is ending early on June 30, Cornerstone Housing for Women's urgent need to find a new site is highlighting the lack of security and safety vulnerable women and gender diverse people face during the pandemic.
When staff and residents first found out that the shelter's lease was being terminated, they were all taken aback, says Amber Bramer, resource development manager with Cornerstone. The situation has left more than 100 residents searching for a new home.
"It was definitely a bit of a shock," Bramer said.
The shelter moved to a facility at the University of Ottawa in December 2020 to accommodate a surge of women and gender diverse individuals experiencing homelessness during the pandemic.
After lockdowns and business closures, Bramer says more and more women were experiencing homelessness "due to job loss, or inability to stay with family or friends, or a family breakdown or a partnership breakdown. … We've also seen a huge rise in the opioid epidemic."
By mid-December the shelter that once housed 61 residents was now accommodating 125 people. In order to meet this demand the shelter moved into the uOttawa residence facility and were set to stay there until July 31, 2021.
In an email statement, uOttawa said they leased the residence for a period of six months to the City of Ottawa to offer support to Cornerstone while student residences were not occupied.
The university has terminated the lease to prepare to house students coming in during the late summer and early fall months.
Full capacity from the beginning
Normally, during situations like these, other shelters in the city would help house some of Cornerstone's residents, but since the start of the pandemic, many shelters are at capacity, especially those that cater to vulnerable populations.
"We have been consistently full since the beginning of the pandemic," says Ray Eskritt, the executive director of Harmony House.
As an emergency shelter, Cornerstone provides immediate safe and secure accommodations, food, and support for women and gender-diverse people experiencing homelessness or whose home life has been disrupted.
Other shelters, such as Harmony House, provide a transitional home in Ottawa for women who are fleeing violence and are ready to live independently.
But even before the pandemic began in Canada in 2020, emergency shelters for those fleeing gender-based violence were turning away 1,000 women and children a day, according to Statistics Canada.
A report from The Women's National Housing & Homelessness Network (WNHHN) found the numbers, of women, girls, and gender diverse peoples experiencing homelessness in Canada, is dramatically underestimated.
Pandemic precariousness
The pandemic has also strained shelter resources, with many across the city having to adopt new operational strategies, ensuring they are following COVID-19 safety guidelines while still providing services and resources to the increasing number in need.
In 2020, Cornerstone reduced the number of its volunteers from 157 to 61 and increased social isolation for residents, not allowing any volunteers or visitors on-site, according to their annual report.
To work within social isolation rules, Harmony House created safety planning strategies for women who are experiencing domestic violence to stay at home because many did not have the same opportunity to leave.
"People were really trapped during the pandemic," Eskritt says.
But for many women, being at home isn't always the safest option.
"The pandemic has increased people's vulnerability to exploitation because of income precariousness, because of housing precariousness," says Erin Leigh, the executive director of the Ottawa Coalition to End Violence Against Women (OCTEVAW).
"We know that the pandemic is creating really unstable home-life experiences. If there is already partner abuse, it can be exacerbated in the pandemic where opportunities to reach out for help are incredibly limited."
'COVID took community away'
Many community groups have reached out offering their support for Cornerstone while they search for a new location.
"We are so overwhelmed with the community's generosity and support during this difficult time so we truly do appreciate everybody coming together to support women experiencing homelessness," Bramer says.
Eskritt agrees that the financial support from the community during the pandemic has been fantastic.
"People understood what kind of crisis we were facing, and they really came out and supported us," she says.
Eskritt mentioned one donor in particular who provided Harmony House with an outreach office space where they could meet women to counsel them in person. Normally, they would meet women in a Tim Hortons, or on a park bench, but COVID cut off access to those public spaces.
"When you're healing from abuse, or addiction, or any kind of major issue like that, the healing power of community is the biggest resource we have. You need other people and COVID robbed us of that. COVID took community away," she says.
Invest in affordable, accessible housing
To support women and gender-diverse people who are experiencing homelessness or gender-based violence in times of crisis, Leigh says the solution would be to increase emergency shelter capacity and more affordable housing options.
"The City of Ottawa was able to fundraise billions from all levels of government for the LRT… We need to invest the same kinds of support into creating affordable, accessible, safe housing and stop playing jurisdictional football," she says.
"As a community, it's so clear that if we don't support everybody, especially women and gender-diverse folks, who are making it all happen for us, then we are failing as a community."
'Cornerstone has their back'
An email statement from Christopher Tuck, the director of employment and social services, the city of Ottawa is "working tirelessly to find a new temporary location with the least amount of disruption to those using the Centre as well as the staff, who all deserve support and stability."
Bramer says, "we are hopeful that we are able to find a place as soon as possible."
"[Our residents] know that Cornerstone has their back at the end of the day and we will ensure that we have a place for the women that's secure and safe for them to go to."
As of yet, Cornerstone has not established a new location for their residents to move to by the end of June.
---
More Stories