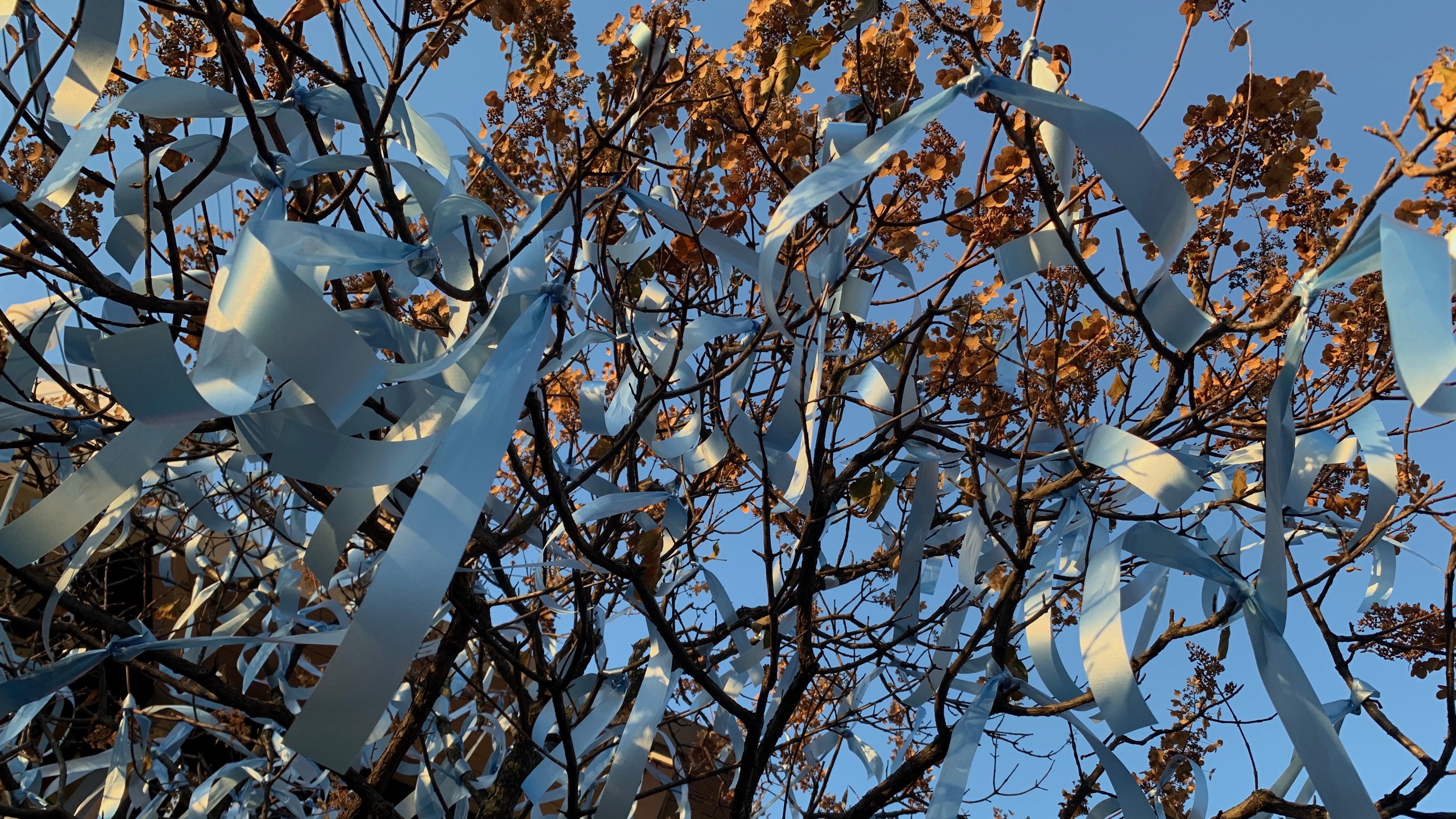 A small tree beside a church in the Glebe has been transformed into a memorial for local victims of the COVID-19 pandemic.
Hundreds of pale blue ribbons — the colour of the disposable masks so commonly worn since the global health crisis began in the spring — flutter among the tree's branches, each knotted strand dedicated to an Ottawa resident who has lost their life to the coronavirus this year.
The COVID Tree is the result of Rev. Teresa Burnett-Cole's vision to remember those who have fallen victim to the pandemic.
"I was trying to find a way to make it visual to the community," said Burnett-Cole, coordinating minister at the Glebe St. James United Church, where the tree is located.
Burnett-Cole said she decided on blue ribbons because blue is the colour of peace, perhaps best symbolized by the United Nations flag and the blue berets worn by UN peacekeepers.
"There's a lot of grief out there and we haven't really figured out how to process what's happening in our community with the pandemic," she said.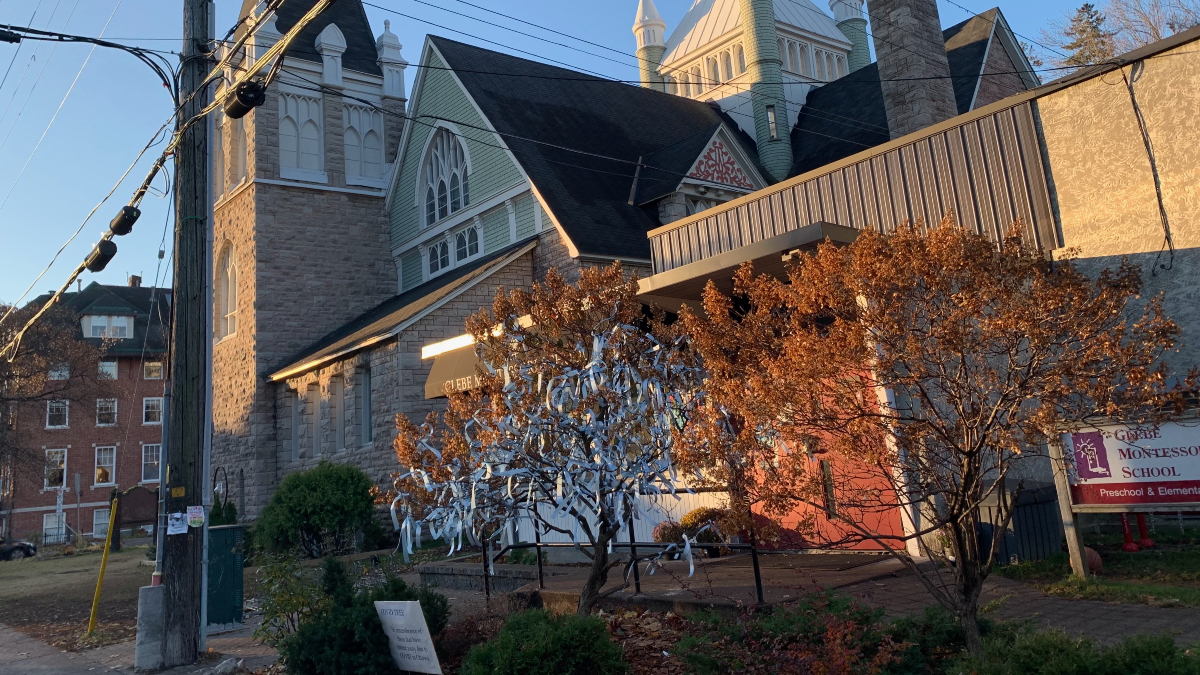 Howard Crompton-Tweddle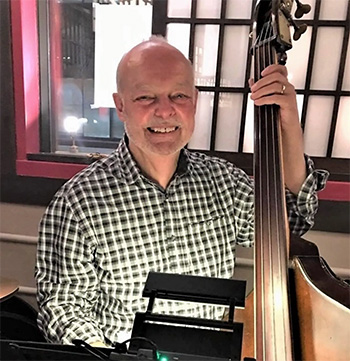 The passing of Howard Crompton-Tweddle from the coronavirus pandemic was a major loss for the Ottawa jazz community. Friend and bandmate John Haysom said that the band thoroughly enjoyed making music together. He said one of the fondest memories he has of Tweddle is when he would take solos on his bass. He said Tweddle didn't take solos often, but they were always a hit. "Bert [the third band member] and I would get a little jealous because he'd get more applause than we did," said Haysom. [Photo © howardtweddle.life]
Each ribbon represents more than just a lost life. According to Burnett-Cole, each ribbon symbolizes family, friends and a community that is grieving.
"We've got 328 ribbons on that tree," she said during an early November interview. "But it actually represents thousands."
"My greatest fear is that we are going to fill that tree, and have to go to another one"

– Rev. Teresa Burnett-Cole
One of the ribbons is tied to the tree in memory of Howard Crompton Tweddle, who died of complications related to COVID-19 in April.
Tweddle was a well-known jazz musician in Ottawa and played bass in the the Glebop jazz band trio.
The Glebop trio — the name a blend of "Glebe" and "bee-bop," according to one of the band members — played gigs around Ottawa for more than 20 years.
Trio member John Haysom said he met Tweddle at the JazzWorks Jazz Camp more than two decades ago and they made music together ever since.
Haysom said he thinks community symbols of remembrance are important. He added that Tweddle's family had been planning a tribute concert, but that it has not happened because of the pandemic.
"We were all in support of participating in an event like that," he said.
Burnett-Cole said the community has responded very positively to her tribute.
She said she received an email one day from an Ottawa resident whose mother had passed away from COVID-19 in May. The woman told Burnett-Cole she had been walking through the neighbourhood and saw the tree. She was so moved by the symbol that she reached out to Burnett-Cole by email
"Thank you," the message said. "Thank you for remembering."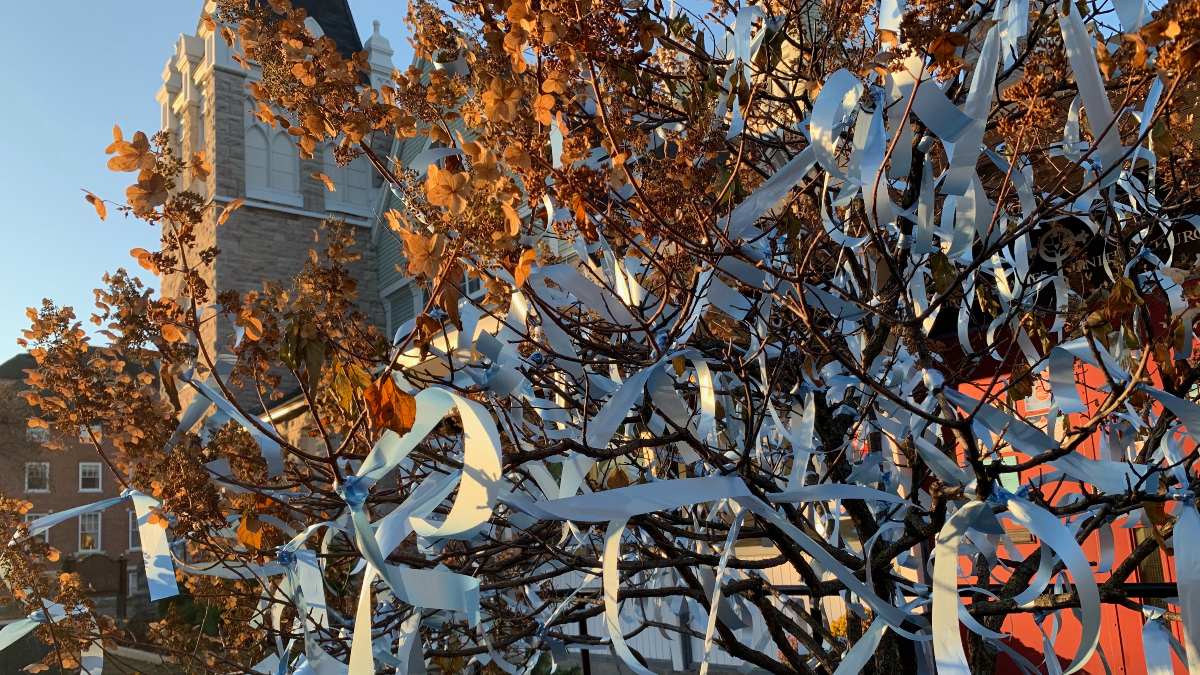 The tree is not just cherished by those who have lost a love one. The entire community seems to revere it as a symbol of remembrance.
Burnett-Cole said many people stop for a moment of reflection when they see the display.
"They don't just walk by," she said. "They stand there for a few minutes and take it in."
The tree serves as a commemorative symbol for a grieving community.
"It's one thing to have to social distance and wear masks, but we've not been able to deal with the loss," said Burnett-Cole.
"That's going to be the harder part of surviving the pandemic".
Walking our daughter to school today, we passed this tree commemorating those who have died in #Ottawa due to #COVID19.

Think about this for all of #Ontario. Mortality in the pandemic includes secondary deaths (LTC neglect). Could acknowledge ongoing morbidity (illness), also. pic.twitter.com/XZpLF6Js03

— Dr Nili Kaplan-Myrth, MD, PhD, CCFP (@nilikm) November 2, 2020
---
More Stories