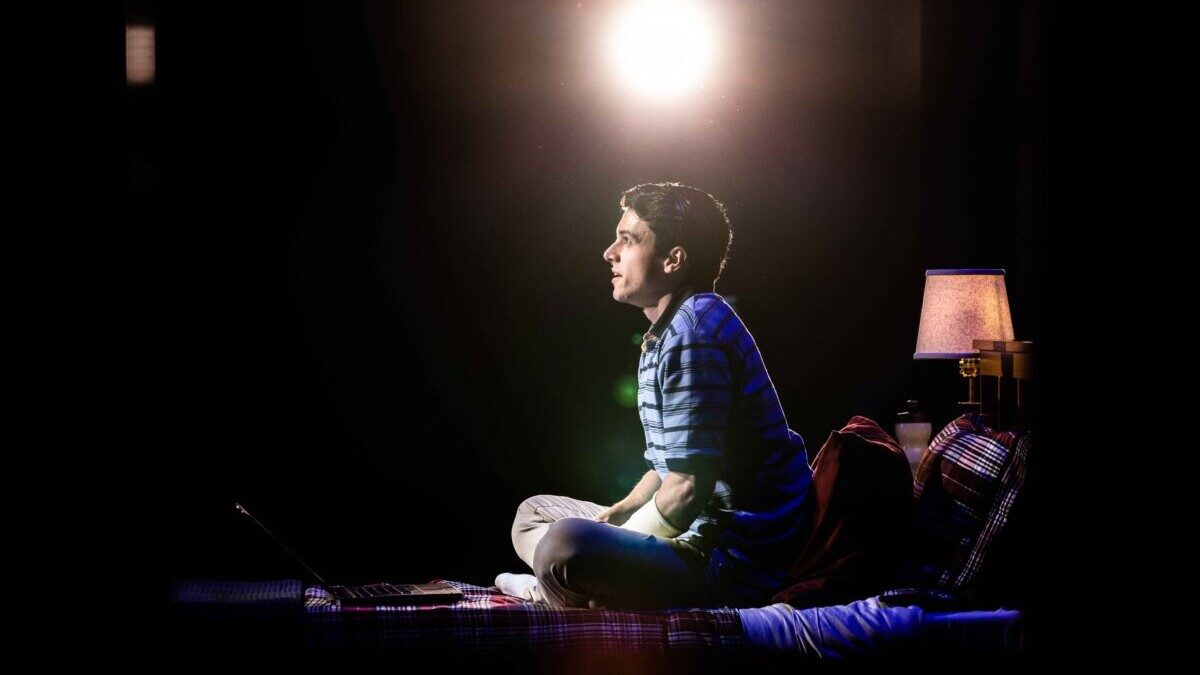 "Dear Evan Hansen, today is going to be a good day, and here is why…"
This is the first line in Evan's letter to himself, an assignment given to him by his therapist. By this point, most people have heard of the musical Dear Evan Hansen – running at the National Arts Centre until Aug. 14. 
When it first played Broadway, the production took the world by storm, winning six Tony Awards along the way.
Evan Hansen (played by Anthony Norman), is a high school student with social anxiety and a broken arm. He writes a letter baring his soul and prints it. It should have never been read by anyone else, but fate has it that another troubled teenager Connor Murphy (played by Ian Coursey) who picks it up and keeps it.
When Connor kills himself, his family finds the letter and assumes Evan is his best friend. Evan doesn't deny this and one lie becomes another and a story of grief, loneliness and realization unfolds.  
This is the first musical I have attended, so this review is through the eyes of a newbie.
In general, I was quite impressed with the acting and production. I liked the way the stage setting allowed for a focus on the characters and their emotions.
The set featured screens hanging from the ceiling and they showcased a stream of social media posts, Evan's letters to himself, the fake emails supposedly exchanged between Evan and Connor. They also reflected landscapes to help set the scene for the audience.
The placement of the screens act like make-shift walls when more than one room is being represented on stage, like during scenes in the Murphy household, during school or during the musical scores when more than one character was singing. 
A smart use of lighting happened whenever Evan was texting: the entire stage would be dark and two spotlights would be on Evan and a second character, often Alana Beck (played by Micaela Lamas). 
All the actors did a fantastic job conveying the emotions of their characters.
Norman showed Evan's anxiety through simple actions like fiddling with the hem of his shirt, talking a bit too fast about things that worry him, stumbling through sentences when talking to others and apologizing too much. These subtle and not-so-subtle hints showed the audience who Evan is without the need to tell them.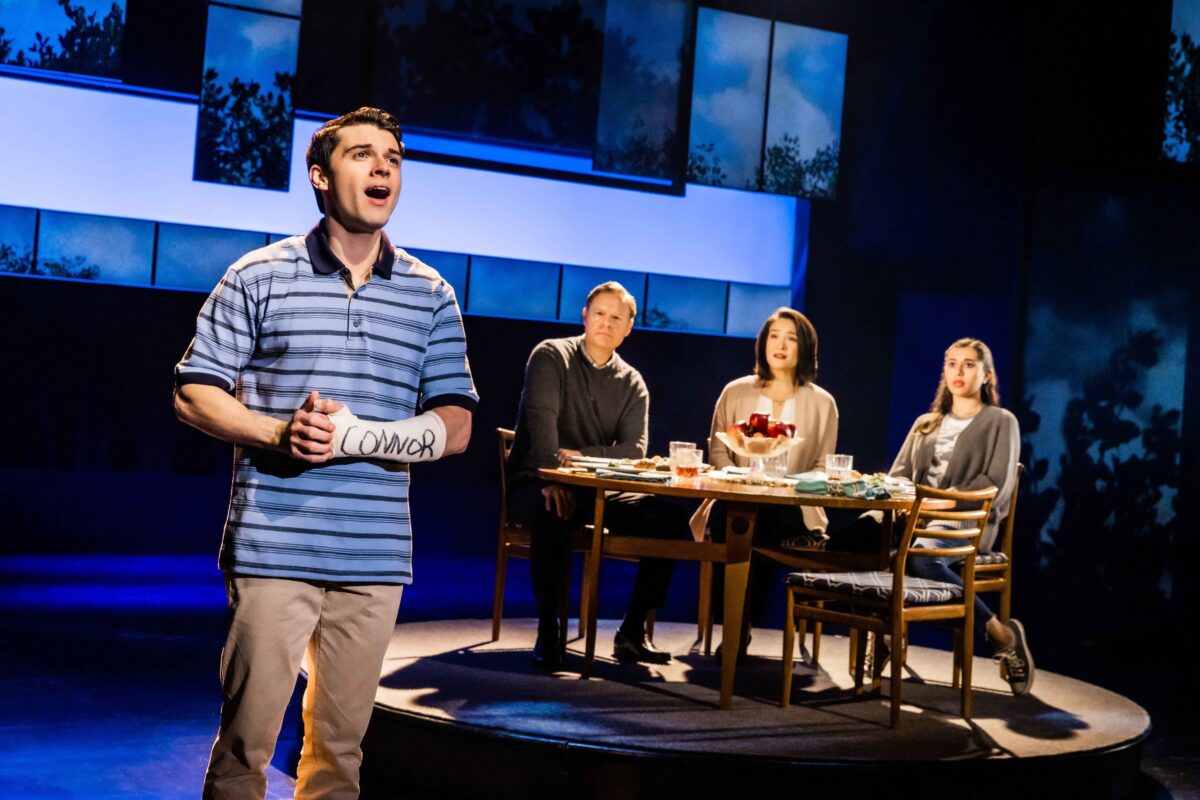 Examples of this are many, and I will only list some here.
The performance of Zoe Murphy (played by Alaina Anderson) was very impressive. Anderson's singing of "Requiem" was very emotional, conveying the depth of the conflicted emotions that Zoe felt about her brother. She called him a monster, but her broken voice showed her sadness for her brother's death and how he treated her when he was alive. 
Cynthia Murphy (played by Lili Thomas) showed the grief any mother would feel after losing a child. Despite Connor's drug use and misbehaviour, she remembered the best in her son. Thomas showed depth of emotion when talking about Connor. She portrayed the regretful and grieving mother very well.
Jared Kleinman (played by Pablo David Laucerica) had everyone laughing whenever he spoke. But this does not mean that Jared was happy in any way. Laucerica's acting showed how lonely Jared truly was simply by his expressions and way with words. Slowly throughout the play, the audience gets to see that Jared does not have any friends besides Evan, and that he uses his mostly inappropriate jokes as a mask to hide his loneliness.
The choreography for the musical scores were all very well done. I was especially impressed with the choreography of "Waving Through a Window" and "You Will Be Found".
In "Waving Through a Window," the characters did not face each other, turned their faces away whenever Evan looked at them and would run away when someone tried to face them.
In "You Will be Found", the show's big hit, the opposite is true, where the characters all face each other. This reflects the lyrics of the songs and also shows the progress that happened throughout the musical.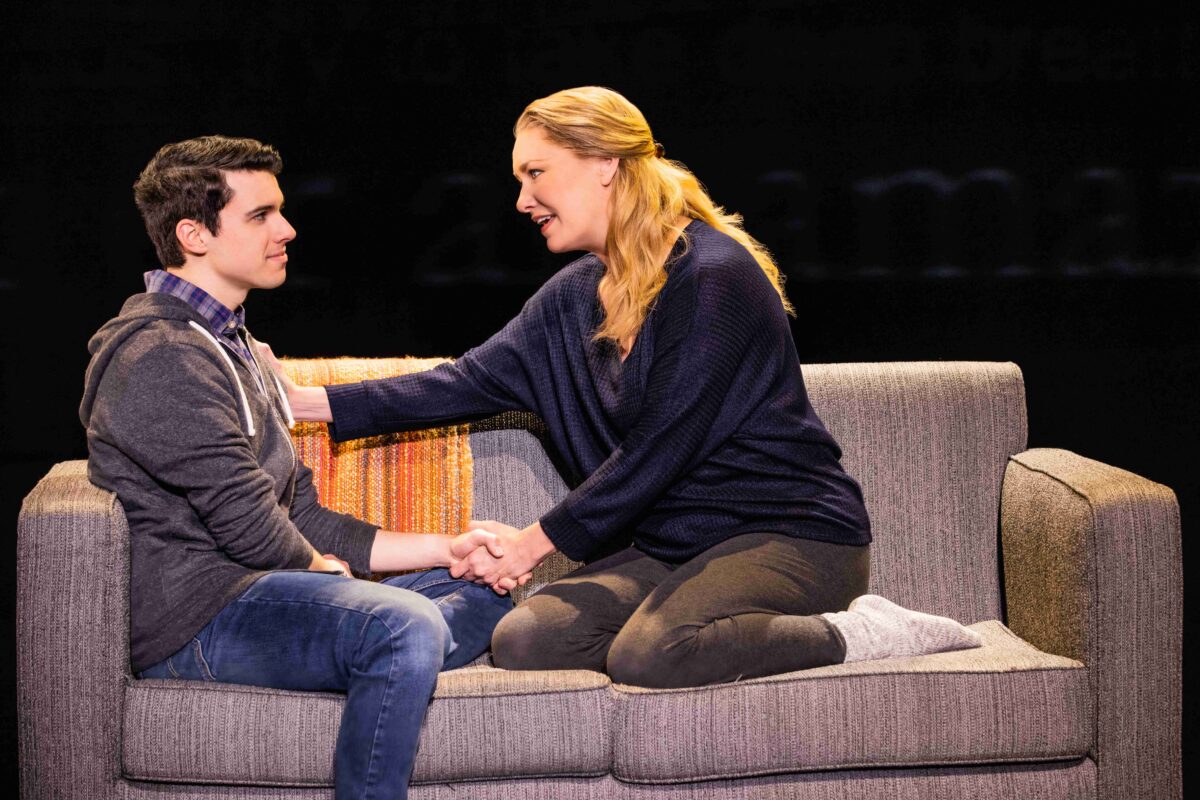 Overall, the production and the acting were all very impressive.
The story is another thing entirely. 
I believe most people have heard of Dear Evan Hansen before this point, and I had high expectations going in.
The musical does a fantastic job of reflecting the feelings of loneliness that many teenagers in high school feel. This is especially evident through the musical numbers, almost notably "Waving Through a Window" and "You Will Be Found". Listening to them while heading into my fourth year of university brought back memories of high school, a place where most people were struggling to find their place in the world.  
The musical also discusses the effects of suicide on the community, including the school and family. Connor's death, despite him not being a likable character, did have an effect on his school and on his family. We learn that after his death, his family argued a lot or just did not talk to each other. They all grieved in different ways.
It also shows the importance and strength of initiatives that are built to help others, like the foundation set up in his memory.
There are a lot of people who feel left out, and initiatives like this can help them and bring some peace to families that lost their loved ones due to mental illness. 
What is the problem with the script? It's Evan and the lie.
The message of comfort is something that people everywhere need to hear. However, the audience is reminded that it is all based on an accidental lie that quickly turned into a selfish lie.
Despite Evan fumbling at the beginning, it can be excused for his anxiety. Asking Jared, his only friend, for help back-dating emails, sure he wanted to help the Murphy family, but creating thousands of emails and adopting the Murphy's as his make-shift family is a step too far.
As Jared said in the musical, the only one who benefited from Connor's death is Evan himself, where the lie brought him everything he wanted: a mother, a father, his dream girlfriend and lots of friends. He was not invisible anymore.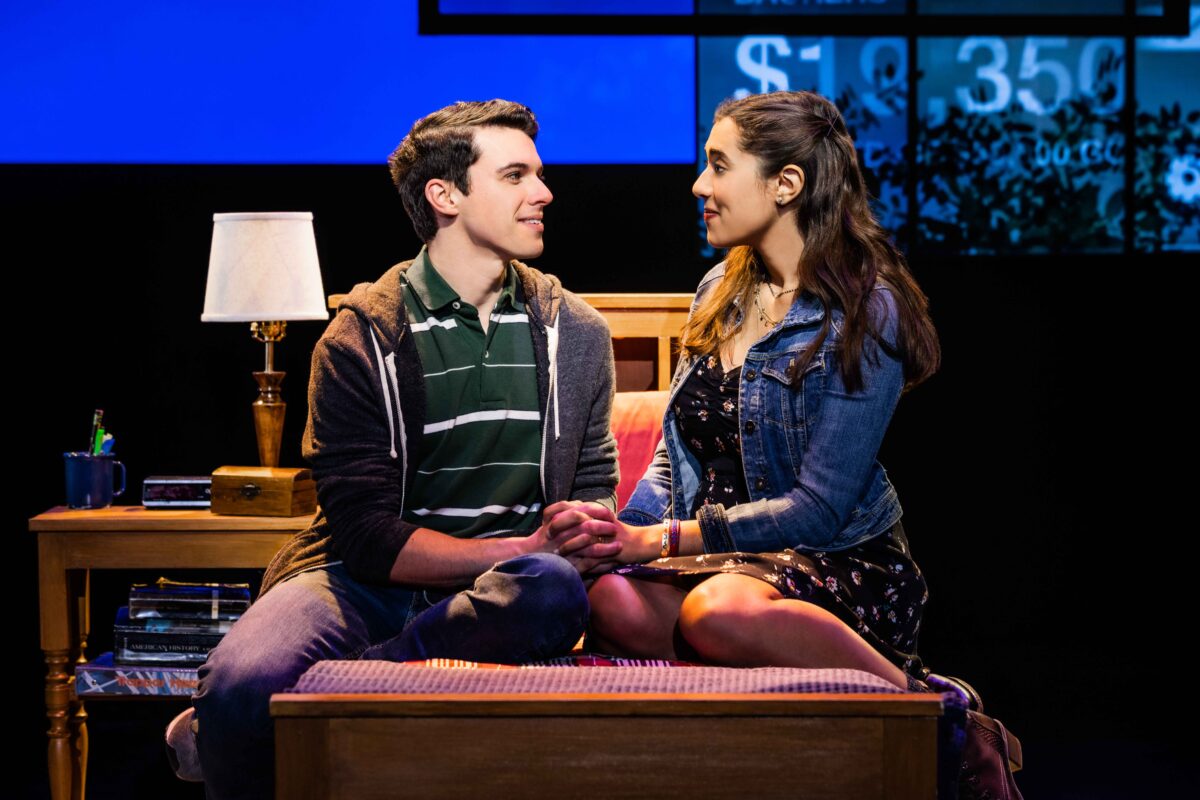 Despite the positive message the musical is sending to the audience, the glaring problem is that Evan solves his problems through a lie that brought harm to the Murphys. Despite the harm, by the end of the musical, the Murphys are closer.
The question remains – was Evan's lie preventing them from growing as a family, or was it a way for them to become closer? This is never answered since the audience will never know a world where Evan does not lie to the Murphy family.
There is also no real punishment for Evan because of this lie, nor do we see the development of his character.
At the end of the musical, Evan has finished high school and was taking a gap year. We learn that he finally accepted himself, but that is it.
As a sucker for stories that tie everything together, this left me quite unsatisfied. Evan's lie affected everyone around him, including his relationship with his mother. Maybe a bit more time should have been spent on it than the musical provided. 
Overall, however, it is a well-produced musical full of good intentions, but it ultimately ends up sending mixed messages.
Tickets for the musical at the National Arts Centre are available online or at 1-888-991-2787. Friday's show starts at 8 p.m. Saturday has a matinee at 2 p.m. and a show at 8 p.m. while Sunday plays at 1 p.m. and 7:30 p.m.
It is worth seeing, but don't expect a fully satisfying ending.
---
More Stories