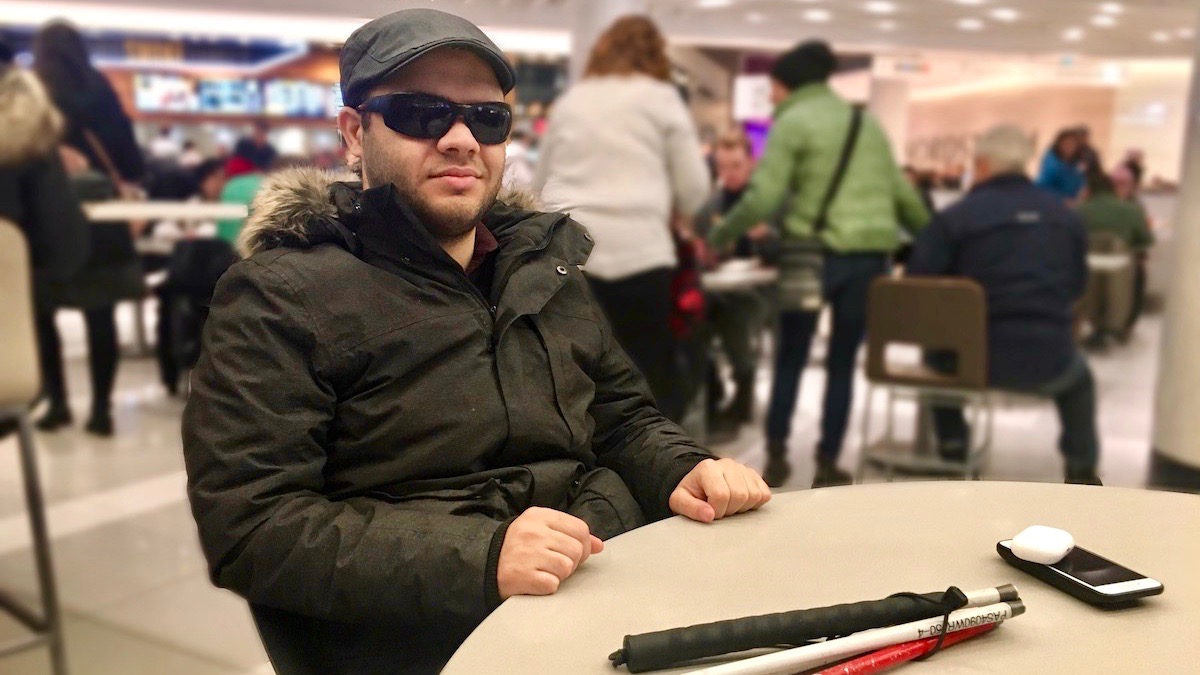 Born in Iraq, Mustafa Al-Humairi grew up in a world of darkness and isolation. Now a software specialist at the Rideau Centre Apple Store, Al-Humairi – blind since birth – remembers how "people treated me different" during his upbringing in the Middle East.
With no accommodations for his blindness available in his home country, Al-Humairi longed for a better life. "Sometimes people get uncomfortable," he says. "So, they kept me in a house, immobile, no social life, saying this is the way to protect you."
In his job in Ottawa, Al-Humairi works in customer service and sales. He handles a variety of responsibilities ranging from software issues to product recommendations. Apple has provided him with a platform to prove himself, he says. 
Since coming to Canada in 2015, the 27-year-old Centretown resident says he's made it his mission to get out of the protective bubble that once surrounded him.
And with the help of digital technologies that Al-Humairi says are revolutionizing life for people with disabilities, he is working full-time and also spreading the message that many more employers need to embrace accessibility and inclusion in hiring. 
Al-Humairi says he wants to unlock people's potential and to demonstrate what those with accessibility needs can do with accessible technology.
"I want to show my work as an example of an accessible place," he explains, adding that he believes Apple is "really committed to accessibility."
The Canadian National Institute for the Blind Foundation is a non-profit organization that focuses on making lives more accessible for those with visual disabilities. According to the CNIB, employment levels are a serious problem facing people with sight loss.
With all the advancements in technology and educational opportunities available, people with sight loss shouldn't be disadvantaged when trying to find a job, according to CNIB.
"We're empowering people with sight loss to lead independent, active lives and chase their dreams – and we're smashing the stigma and barriers that stand in their way," states the CNIB website.
Few jobs in the workforce are truly "accessible". In its ideal sense, the word captures not only think wheelchair ramps and automatic doors but also accessibility for all forms of disabilities, including tools such as text-to-speech conversion apps that allow individuals with impaired vision to make better use of smartphones. 
And with the help of various Apple products, Al-Humairi says he has been able to lead a more accessible life himself. When there is no accessibility, he says, it can be really challenging.
Anneke Van Nooten, matching program co-ordinator at the Catholic Centre for Immigrants in Centretown, pairs newcomers to Canada with compatible volunteers. This is how she came to know Al-Humairi and his story. 
When he first came to Canada, Al-Humairi's goal was to work at Apple, and it was Al-Humairi's perseverance that created his opportunity with the company, she said.
When he started, the company gave him very limited tasks. But he would seek more, noted Van Nooten.
"He had confidence in his ability to do it, much more confidence than they had," Van Nooten explains. "The employment phase has been huge in showing that he's like everyone else – that he's capable of doing what others do."
Al-Humairi continues to assist those who have not been given the same opportunities he has. He buys used technology and sends it overseas to individuals with disabilities. Al-Humairi says as much as 50 per cent of his paycheque sometimes goes towards such donations.
"Apple is a part of my life, but not all of my life," says Al-Humairi. "Anything accessible is a part of my life."
Al-Humairi says he strives to show how much someone with a disability is able to contribute.
"He's not afraid to take risks and he's not afraid to push the boundaries of technology to see what they can do," explains Van Nooten. "He's able to imagine the possibilities of what the technology can do. He knew that technology could help him achieve his potential."
Van Nooten explains that we need to increase awareness around accessibility issues. "It's about opening the doors for them through accessible technology, through an accessible workspace."
Working at Apple, she says, has allowed Al-Humairi to develop skills and become increasingly confident in his abilities.
"The fact that he's a good sales person – in a way it's not surprising because he's had to be selling himself his whole life," Van Nooten explains. "He's had to convince people that he's had something to offer when people couldn't see that."
---
More Stories