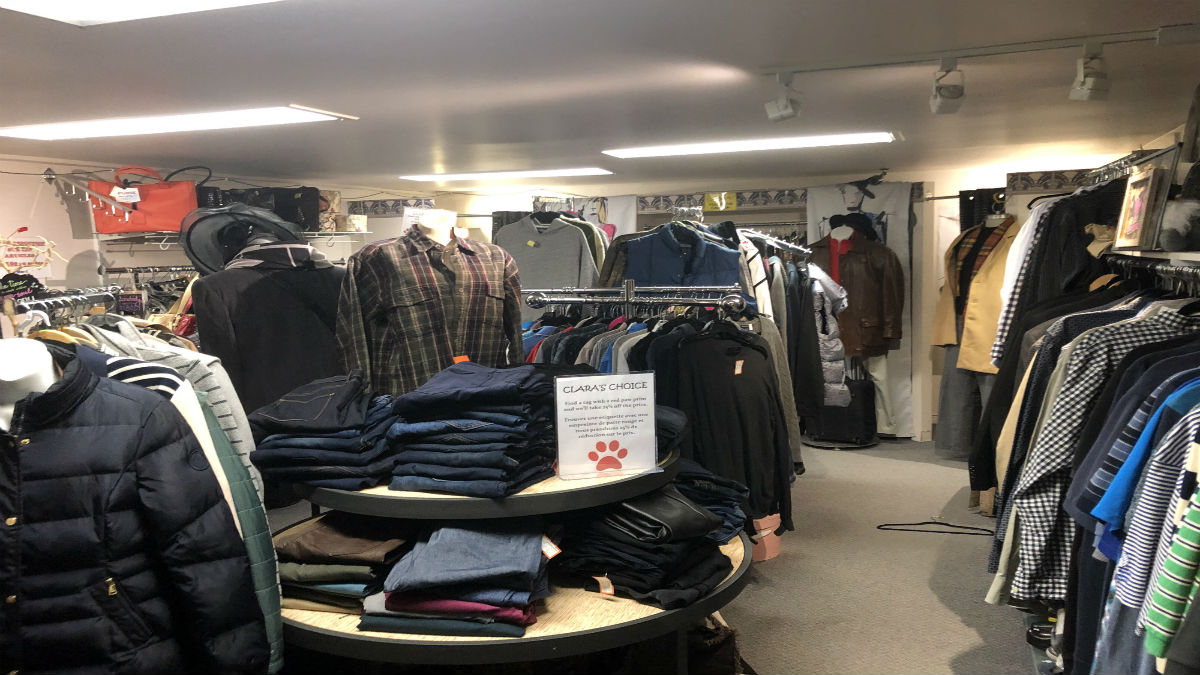 An increasing number of shoppers have turned to thrift and consignment stores instead of traditional stores to find the perfect holiday present or Boxing Day sale.
Consumers are shifting towards more sustainable shopping choices and away from "fast fashion" — trendy clothes and accessories that are out of fashion next year — due not only to environmental concerns such as climate change but also to growing demand for one-of-a-kind items at a lower cost.
Over the past few years, thrifting has steadily risen in popularity, with many young people browsing thrift and consignment stores to find unique or designer items at more affordable prices than they'd find in big-name clothing stores.
According to ThredUP's 2019 Resale Report, the U.S. resale industry has had 21 times greater growth than the traditional apparel market over the past three years. The two age groups that are leading the movement towards secondhand fashion are Gen Z and Millenials, adopting the practice 2.5 times faster than other age groups.
The U.S. report — a good indication of what's happening in Canada, too — also highlights the fact that an estimated 72 per cent of consumers prefer to buy clothing from environmentally friendly stores, up 15 per cent since 2013.
Nearly 60 per cent of consumers also expect retailers to produce clothes sustainably.
Plato's Closet on St. Laurent Boulevard and online stores Poshmark and Depop — which sell gently used, brand-name clothing for a fraction of the price — are particularly popular amongst young adults.
The stigma surrounding shopping in second-hand stores has decreased over time, as more and more people start to buy higher-end clothing for deep discounts.
Instagram has also become a popular forum for store owners to advertise their products. Spin Off Vintage is an online store based in Ottawa that buys clothes from second-hand stores and re-sells them via Instagram.
Spin Off owners Natasha Ezeard and Sean MacDougall recently encouraged their customers to buy second-hand gifts instead of fast fashion with a wide range of Black Friday deals — discounts "that gave people who might not have a large budget to shop for their friends and family the ability to buy clothes that their friends and family might really enjoy," says MacDougall.
Ezeard said the sales have also, of course, been beneficial to their store.
"As we have enough stock to be able put on these promotions, we noticed a huge intake in our followers, in our presence online and throughout the community."
Spin Off Vintage's target audience is university and college students who are keen to try new looks but may struggle to afford new clothes. The virtual shop offers a variety of vintage pieces that are distinctively designed and well manufactured.
Sustainability has become a major factor in people's purchasing decisions, with rising concerns over how wasteful the fashion industry can be. The industry, for example, is the second highest consumer of water, generating 20 per cent of the world's wastewater.
The fashion industry is also estimated to lose $500 billion of value each year due to products ending up in landfills and through lack of recycling.
On Nov. 29, Climate Strike Canada hosted an international Black Friday climate strike on Parliament Hill, protesting consumerism and disposability in the fashion industry. The strike encouraged people to buy their clothes more responsibly.
The event coincided with an Extinction Rebellion protest at the Rideau Centre on the same day.
Monique Dugas, owner of the consignment store Clothes Encounters of a Second Time on Beechwood Avenue in New Edinburgh, says she sells or recycles everything that comes into her store.
" I never throw anything out," said Dugas. "We repurpose old furniture from stores that went out of business, I reuse clothes and signs all over the store, and whatever we don't keep, we donate to local churches."
It's a mentality, Dugas added, that is also shared by her customers: " I have one customer who comes in and buys clothes with rips in them and uses them for rags and to make scarves."
Dugas said her practice of donating all the clothes and items her store does not sell to local charities is something she encourages her customers to do, too.
"We take a lot of items as is," she says of her consignment system, "but whatever we can't take we tell them to donate it to their local church so that they don't end up going into the garbage."
Dugas has shoppers regularly looking to buy gifts for their family at her store because they are able to find unusual items that are unavailable in other retail stores.
With resale options becoming increasingly popular among shoppers, big fashion retailers may need to implement more sustainable practices in the future just to compete.