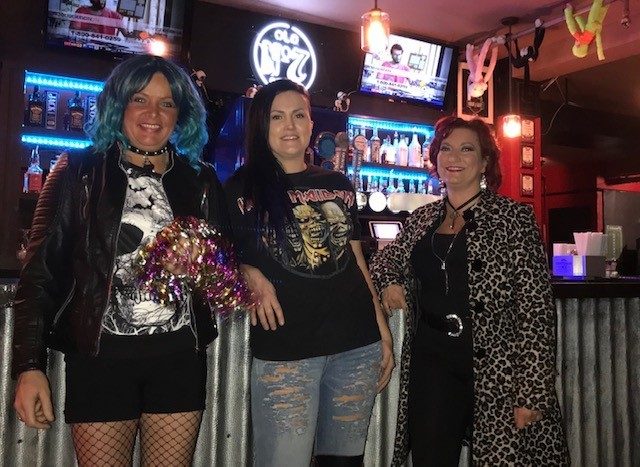 In the professional world, Erin Davis is chief of staff to a member of Parliament. In her free time, she's known as the purple-haired lead vocalist for metal band Beyond Driven and the brain behind a recent concert event Divas and Distortion.
On Feb. 1, three female-fronted Ottawa bands collaborated to promote female inclusion in the metal and rock genres and to celebrate the local music community. Beyond Driven was joined on stage by Mystara and Treble Junkies to show the community that women can rock, too.
Allison Stanton is the lead vocalist for metal group Treble Junkies. She works five other odd jobs to support what she calls a "costume addiction" and sports an electric blue bob and black fishnets.
"A lot of people think that there is a certain type of person that is drawn to the metal genre but I've seen all kind of people that are into it," Stanton says. "It's cool to represent and show that females can enjoy that harder side of music too."
The event was held at the Brass Monkey in Woodvale. Davis organized the concert so rock and metal female-fronted bands could have a turn in the spotlight.
"Women are gaining more respect in this type of music. We've demonstrated that we belong here and that we can rock with the rest of them," Davis says. "I just wanted to do an evening of women who rock."
A goal of the event is to shatter traditional expectations about women in male-dominated genres and offer an opportunity for the Ottawa music industry to come together and enjoy the craft.
Tara Heft is an arts teacher and the lead vocalist of featured rock band Mystara. She wears a trendy cheetah print coat with her red hair in pin-up curls.
"A lot of times, people have a misconception that women like to sing softer, pop-type music," Heft says. "I'm hoping this event will help people become more aware of… amazing artists in the Ottawa scene with really powerful rock vocals."
Heft, Stanton and Davis work day jobs but say they love the creative opportunity that the music industry can offer. Heft says that one of her favourite parts of performing is being able to catch her audience by surprise.
"When you step onto a stage, you can take on a different persona and that's part of the appeal," Heft says. "I feel like a bit of a rebel."
 "A lot of the songs we cover people will say, 'Oh, I can't believe a woman is covering that'," Davis says. "It's kind of cool because they don't expect that from me… It's fun and it's empowering."
For Davis, Divas and Distortion is about more than empowering women in untraditional genres; it's about bringing Ottawa musicians together to promote local talent and community.
"This event is just all local bands. We're all just nobodies showing up and doing our thing," Davis says. "It's a chance for Ottawa to support local bands that were founded and created right here."
Heft says Divas and Distortion is a vehicle for camaraderie.
"There have been a lot of female artists coming out but I think it's still important to support all of your other local sisters who are doing the same thing that you are," Heft says.
Davis says the music industry in Ottawa is moving towards a more positive and encouraging attitude for women performers in the rock and metal genres.
Stanton says she's proud to have a part in these crucial steps forward.
"I'm happy to be a part of that and breaking ground," she says. "I love to support the community. I love being a part of it."