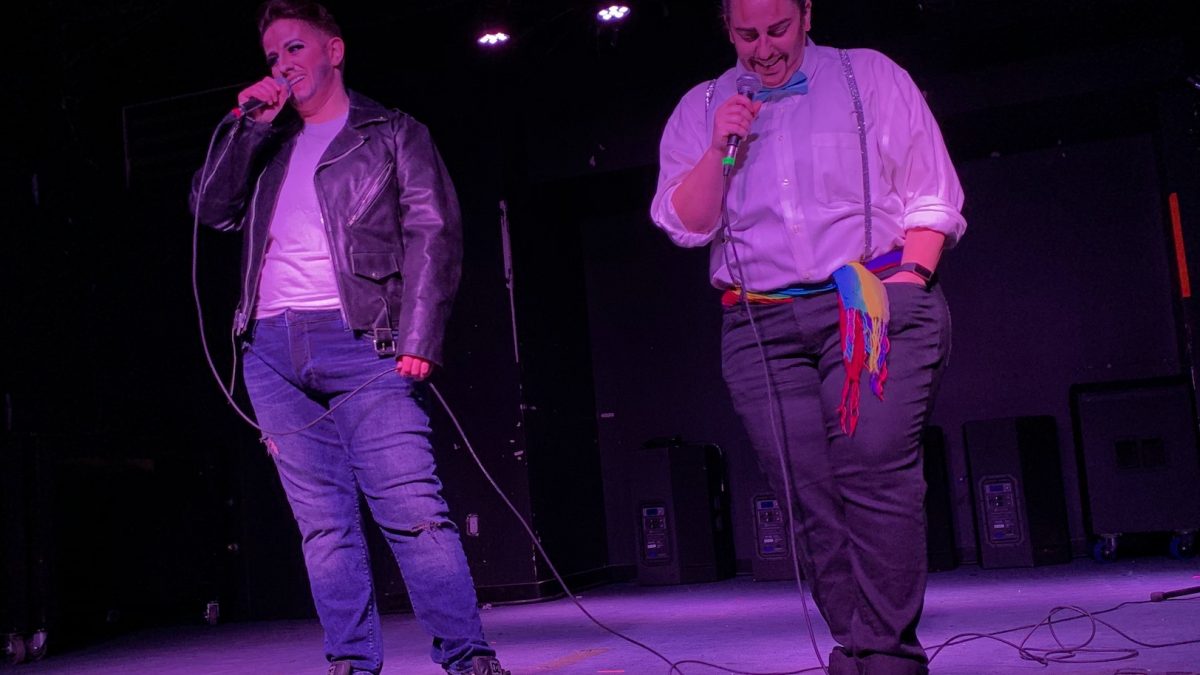 Bright lights flash and the crowd screams for the entertainers who take centre stage in Byward Market's The 27 Club, ready to perform their practiced lip syncs.
Drag King Master Cameron Eric Leon entices the crowed with his high energy performance, causing the crowd to cheer for an encore. Drag King event nights consist of full performance line ups, but occur sparsely throughout the month. Now the kings say they intend to make their presence known during this WinterPride in Ottawa.
The city of Ottawa will hosting its second WinterPride in February. The celebration consists of concerts, activities and guest speakers, rivalling its summertime counterpart. It is argued that one of the most prominent features of LGBTQ+ spaces are drag performers, more specifically, drag queens.
In recent years, the popularity surrounding drag queens has skyrocketed, thanks to popular television and media. Left in the shadows to some degree are the so-called drag kings, traditionally thought of as women who dress and perform as men or masculine figures. Ottawa contains an abundance of drag queens, but by comparison drag kings are few and far between.
Master Cameron Eric Leon, an Ottawa drag king, says the drag king scene is growing, with more people wanting to perform as drag kings.
"The Drag King community has kind of fluctuated over the years," Leon says. "but especially right now we're seeing a massive interest in drag kings."
Despite the growing interest in drag king performers in the city, there are fewer venues for them in which to perform. Leon said it is easier to make bookings in cities such as Toronto and Montreal, where there is a larger drag king presence. Leon says there is a significant decline in bookings when a performer is located in Ottawa.
"One of my co-producers he was getting between three and four gigs a month when he was in school in Toronto, and he came back to Ottawa and didn't get booked anywhere for I think about four months," Leon says.
The WinterPride board acknowledges that drag kings are too often under-represented when it comes to drag performances at events and festivals. "For WinterPride this year, we had drag king and drag mx performers on top of mind," said Davy Sabourin, the chairperson for Ottawa Pride.
He said Capital Pride plans on booking drag kings to perform at their signature events, including on the main stage and during the pageant event, as they did last year. To ensure there is a diverse performance list, WinterPride has reserved more than a third of performances for drag kings, increasing the number of performers who do not fit the traditional mold of drag.
"We will continue to ensure that underrepresented and marginalized artists are included in Capital Pride's year-round programming," Sabourin said.
The board members of WinterPride are not the only ones who want to ensure that drag kings are receiving the recognition they deserve. Devona Coe, a resident drag queen, tries to work with drag kings as much as possible.
"It's super important to include them," Coe said. "Talent deserves recognition in every form."
When it comes to drag performers, mainstream media has contributed to what is and isn't drag through the popularity of reality shows such as RuPaul's Drag Race. Those shows don't highlight performers such as drag kings and non-binary artists, instead placing most of the focus on drag queens. Coe said it is important to stop dividing drag performers into kings and queens and instead focus on the performance.
"I think everyone should recognize talent, regardless of the gender they portray their art as," Coe said. "The art form needs to exist in unity for it to have the impact that we are trying to build towards."
Understanding of drag has also evolved alongside notions of gender. Leon, who identifies as trans non-binary, said drag can no longer be understood as simply dressing as the opposite gender since some performers don't feel they actually have an opposite gender in which to perform.
"When it comes to drag kings, people thought that performing masculinity was somehow less revolutionary, less pushing the boundaries of gender, and it's not," Leon said.
Leon explained how the art of drag was intended to challenge the notion of gender and was not simply about dressing as the opposite sex. This idea has now begun to be realized in Pride performances and bookings, with WinterPride aiming to ensure they have a large variety of performers who do not fit the traditional mould of what drag is or should look like.