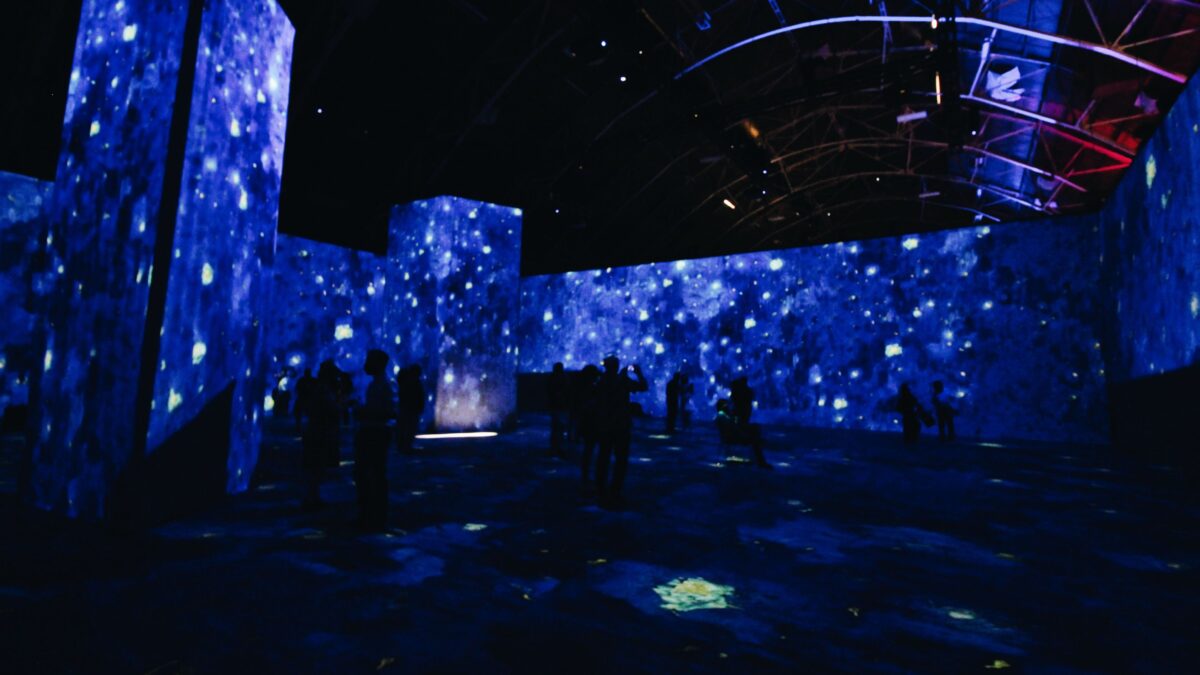 As COVID-19 restrictions ease in Ottawa, public attractions opening their doors with warm summer welcomes.
This weekend Beyond Van Gogh, an immersive art exhibition, will begin a run in the Aberdeen Pavilion at Lansdowne Park. The walk-through experience allows for a pandemic-friendly social outing in which Van Gogh's art is presented in a refreshed digital format, made possible by cutting-edge technologies.
Beyond Van Gogh's opening night was attended by dignitaries including Mayor Jim Watson during which Ottawa's gradual reopening were celebrated. The attraction offers a unique opportunity to re-connect with the community.
Beyond Van Gogh: an inside look
The 360-degree photos above offer an inside look at the Beyond Van Gogh immersive experience. [Photos @ Max Peacock]
Attendees are absorbed into the painter's thoughts and dreams, surrounded by massive walls and pillars on which his artwork is projected. The main section of the exhibit is contained in a single room, with a narrative-style multimedia journey that unfolds visually around the audience in a stunning fashion. Paintings have been animated and cinematically remixed, turning the room into a living version of the scene while still remaining true to the essence of the originals.
The masterclass fusion of classic art and modern digital tools is made possible through visual projection technologies and machine-learning models. Surfaces are swathed in light, colour and shapes which flourish and transition seamlessly between displays of unique pieces. An ambient background score completes the truly jaw-dropping aura of the exhibition, beyond the paintings of Van Gogh, and directly into his creative view of the world.
Creativity in the digital age
Emerging technologies are constantly changing the way we interact with the world around us. In the case of Beyond Van Gogh, tech changes the way we engage with art and history. With new digital tools generating new possibilities for creation, the state of art and the culture surrounding it can be expected to change rapidly throughout the 21st century.
As we approach a future when artificial intelligence (AI) will be increasingly more central to the daily lives of citizens, it is fascinating to hear how artists are harnessing these tools for creative purposes. In an interview, Mathieu St-Arnaud, the creative director of the Beyond Van Gogh exhibition, described how he uses AI tools to create life-like visual simulations of water flow. St-Arnaud built the show, that features 300 works by Van Gogh, with his team at Montreal's world-renowned Normal Studio.
While these computer learning models can be applied to rigid and repetitive tasks, they can also be used to bring about novel creation and sensation, even by mistake.
Ottawa's latest attraction demonstrates how cutting-edge tools can be used to bring us a deeper appreciation of history and culture. Beyond Van Gogh runs from July 23rd to Sept. 16th, and is a certain pandemic-summer bucket list item.
---
More Stories