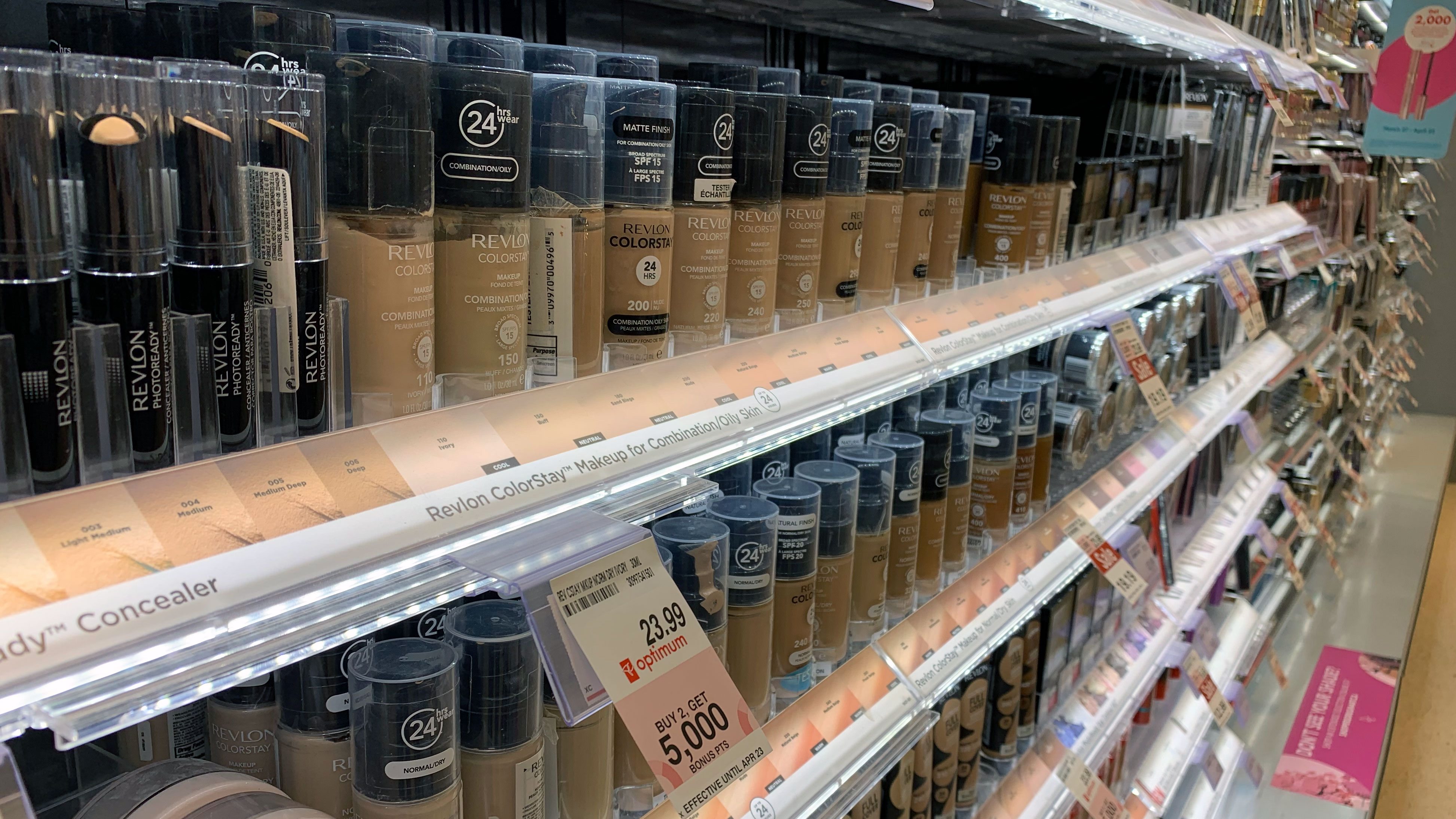 Revlon has the face of a Black woman on its website, yet the cosmetics giant recently came out with a new powder foundation with only six shades— none of which would be suitable for a person with a deeper brown complexion.
Revlon is just one of many cosmetic brands found in Canadian drug stores, including Shoppers Drug Mart and Walmart, that do not provide a large cosmetic shade range. This excludes many people of colour, leaving them to purchase their makeup at more expensive retailers, such as Sephora.
"It's embarrassing to tell a customer that we don't have a shade for them because the makeup industry doesn't cater to Black people," said Leo Williamson, a beauty specialist at Shoppers Drug Mart in Brampton, Ont.
Williamson, who is also a makeup artist and graduate of the cosmetics and business program at Humber College, said that even when drugstore cosmetic brands do carry a shade that might suit a deeper complexion, often the undertone is wrong, or the preferred formula is not carried because of the sparse selection.
"I think right now we're really in a stage of performative activism," said Williamson. "Many brands are saying they believe that inclusivity and diversity are important, but their products do not display that. It's (not) genuine and it reflects through their commodities."
Leo Williamson speaks about how to create positive change within the cosmetics industry. Created by Ameera Ali.
The push to provide a full shade range in cosmetics went mainstream in 2017 when the pop star Rihanna launched Fenty Beauty, a luxury makeup brand sold at Sephora that carries 50 shades of foundation. This provoked other prestigious cosmetic brands to follow Rihanna's inclusive cosmetic ambitions.
However, many drugstore brands have not yet followed.
As noted recently in Glamour magazine, a Toronto-based cosmetic company, Makeup for Melanin, surveyed about 5,500 customers, mostly people of colour and found that that 80 per cent of respondents have a difficult time finding cosmetics that actually match their skin tone in drugstores.
"It's always been a struggle finding darker shades especially by brands like Revlon, CoverGirl, Maybelline and so many others that are carried by drugstores," said Felicia Gunnis, a Black beauty influencer and the CEO of the clothing brand GunnisOnMe.
Gunnis, a student in the fashion and business program at Humber College, said if she did find a shade that would match her complexion, it was often out of stock because of how rare those products are.
She said racism is not only evident with cosmetic products, but also within the marketing of cosmetics. Gunnis said that with the advancement of technology, there is no excuse for cosmetic companies to not promote diverse and darker-skinned models on their social media platforms.
"I hope to see more brands taking the initiative to sell shades in all skin tones, and not only just sell it but genuinely promote it. As a Black customer, I know I would love to see billboards, commercials, magazine covers and so much more including diversity within their brands," said Gunnis.
A Racial Bias in Retail Study conducted by Sephora in the U.S. found that three in five retail shoppers have experienced discrimination. It also revealed that two in five retail shoppers have personally experienced unfair treatment because of their race or skin color.
The online study concluded that 53 per cent of the shoppers who experienced unfair treatment because of their skin colour were Black, with 36 per cent Latinx, 35 per cent Asian and 24 per cent white.
While major players in the industry continue to lag when it comes to producing product lines for all consumers regardless of skin colour, some businesses have begun to acknowledge the problem.
"In the world there is unconscious bias, and people are becoming more and more aware of that today and in the industry at large," Esi Eggleston Bracey, a beauty products executive with Unilever, told the U.K-based Financial Times in October.
"We have always been conscious of the fact that we are global," Susan Akkad, director of "multi-ethnic innovation" with cosmetics giant Estée Lauder, also told the Financial Times. "We are not simply exporting an American beauty vision — we need to deeply understand local markets and local beauty culture."
Still, professional wedding makeup artist Shakereen Chowdhury of Mississauga, ON, said drugstore makeup is not an option when purchasing makeup for her clients. She said she knows the colour range available in drugstores for foundations, concealers and bronzers will not suit most of her clients.
Chowdhury has been working in the cosmetics industry domestically and internationally for more than 15 years. She said a lot has changed and now brands reach out to her as a woman of colour to help develop their products.
"The brands that want to look at you as an individual and as a member of their community are the ones to be doing the best in the future," said Chowdhury. "Today's cosmetic industry is very different from the one I began working in 15 years ago and I feel it's definitely going in the right direction."
Hope for a more racially inclusive future
Chowdhury said with the efforts initiated by select brands, she is hopeful of a more racially inclusive future in the industry. She added that the cosmetic brands that do not get on board soon and provide a full shade range will be the ones to get left behind by consumers.
Last month, in a Glamour article that explored how the beauty industry is "failing Black women," a Revlon official asked to explain why Black employees make up just five per cent of the company's U.S. leadership at the director level or above: "In 2021 and beyond, we continue to remain focused on diversity including working with our Inclusion & Diversity Council, as well as recruiting and human resources teams to improve representation at every level. We're committed to our progress," Diyanti Camilla told Glamour.
Beauty experts such as Chowdhury, Gunnis, and Williamson say they want to see action and positive advancements within the cosmetic industry. And Williamson said to see change, drugstore brands need to promote and uplift Black voices by listening to them and giving them a platform.
"I hope to see actual inclusivity and diversity," said Williamson. "I hope to see innovation. I hope to see recognition and apologies from cosmetic brands to the people who have been excluded for so long. I hope to see solutions offered that are actual solutions, and not just empty words."
---
More Stories