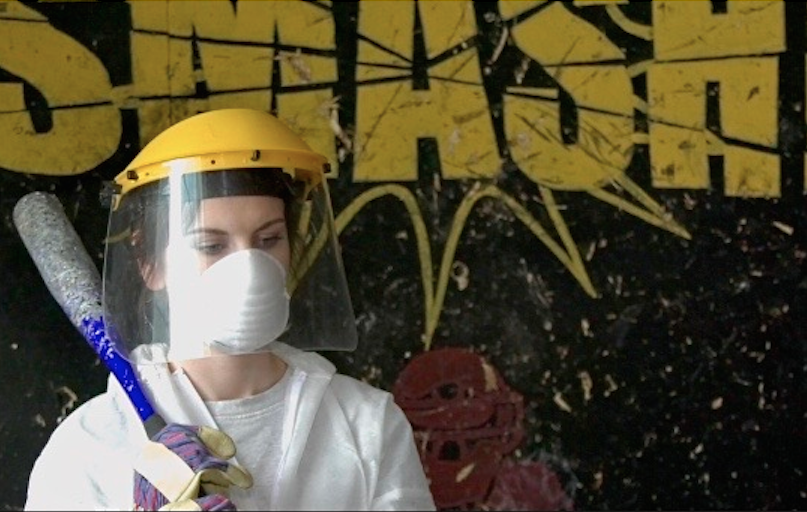 They've been breaking attendance records, and lots of bottles and old TVs, across North America and beyond.
And in Ottawa, rage rooms — businesses where customers go to destroy stuff for fun — are on the rise.
In the past year, three rage rooms have opened in the city. The most recent, Smash Rooms Ottawa, opened on Oct. 25 on Lady Ellen Place in Carlington.
"It's a great place to come to relieve your stress and anger — and then leave the mess to us," states the company's website, echoing the vent-your-fury marketing pitch that most rage rooms have used since they first appeared in Japan in 2008.
But an Ottawa mental health expert has doubts about the theory that rage rooms are the ideal antidote to pent-up anger.
"Smashing or destroying things does not give any 'real' psychological relief," said Frances Fitzgibbon, a registered psychotherapist who specializes in anger management. "People may punch a hole in the wall or damage something in anger or frustration, and that is reactionary to the emotions they are experiencing.
"People I sit with express shame and guilt over these actions rather than joy at the relief they may have perceived they would feel," Fitzgibbon added. "Engaging in destructive behaviour would actually fuel anger."
Michee Jean, finance manager of Smash Rooms Ottawa, explains what happens in a rage room.
"We give you some overalls, a protective mask, then you get into a closed room, choose a smashing tool and you have plenty of objects to smash," said Jean. "You come in, smash the objects and then leave the cleanup to us. It could be TV screens, glasses, plates — we even have gnomes, and different figures."
The wood-board walls inside the smash room are painted in pop art. Sledge hammers, baseball bats, crow bars and hockey sticks hang from the wall ready to be used for smashing.
"If you look at it, usually it's like in warehouses or in other industrial spaces. We wanted our concept to be a walk-in, and it's like an art gallery," Jean said. "We wanted to provide something different, something you can't find anywhere else — an experience."
Since opening, Smash Rooms Ottawa says it has seen steady growth in its customer base, and Jean has an idea of why more smash rooms are breaking ground in Ottawa.
"People come here because Ottawa is a government town. Everyone has all that pent up anger, they have their tie on super tight to their necks, and they get to come here and everything you've been told you can't do your whole life, you get to do it."
"You can smash plates, your 'boss' you don't like if you want to. You can just take a baseball bat and smash one of our mannequins and just let loose," said Jean.
Harley Wolsey says she uses the smash room as a creative way to relieve stress.
"I like to do it because it's kind of taboo in a way — you don't get to smash things on the regular. It's fun to let loose and smash a bunch of stuff that you're not supposed to smash," Wolsey said.
After raging in the rage room, Wolsey said she gets an overwhelming feeling of relief, and excitement.
"To come here and smash and relieve stress, it's something that you can't do on the norm. You can't just smash your own stuff."
But Fitzgibbon has a different perspective on rage rooms.
"Smash rooms are likely marketed to project that they release tension, but then so does exercise — and it's one of the top five things that we give patients/clients to do when they struggle with emotions in general," she said.
The purpose of rage rooms is to provide temporary relief through an entertaining activity, but they do not provide a permanent solution for anger or stress, she said.
"Ideally," she suggested, "I would encourage people to experience the emotion in its entirety, turning toward anger or rage, feel and allow it."
But for lasting relief, Fitzgibbon suggests alternative ideas such as meditation, breathing exercises and learning self-awareness to deal with anger and stress.
---
More Stories