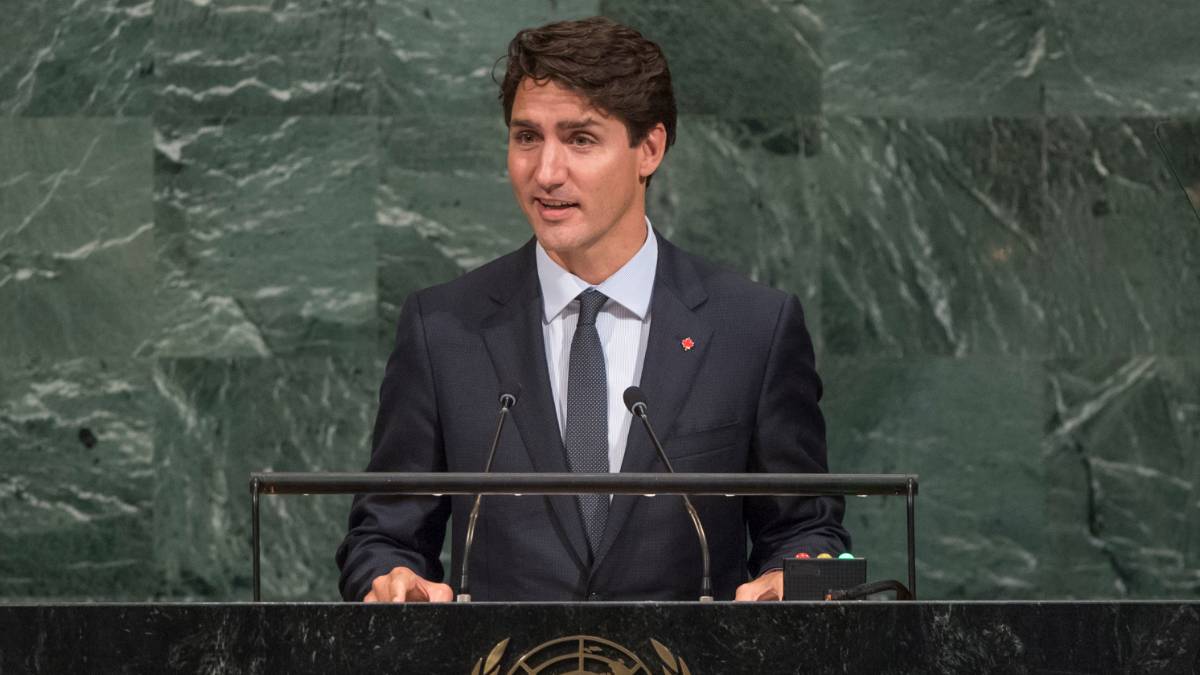 After four years of campaigning, Canada has lost the vote for a two-year seat on the United Nations Security Council, the global body mandated to maintain international peace and security.
With 128 votes needed for a two-thirds majority, Norway and Ireland won the two available seats with 130 and 128 votes respectively. Canada got 108 votes.
The secret ballot saw members filing into a nearly-empty hall at UN headquarters in New York, all were wearing masks and physically distancing, as per guidelines set out by the UN General Assembly.
This is the third time Canada has lost a campaign for a temporary seat on the United Nations Security Council.
The first was in 1946 — the first vote ever held — when Canada lost to Australia. After the 1940s, Canada was elected to the Security Council six times before its second defeat in 2010.
Today's loss reportedly was a surprise to Canadian officials, having received multiple written and verbal pledges of support before the vote.
Trudeau congratulated the winners of the vote on Twitter, pledging to continue working on issues mentioned in Canada's campaign.
A comparatively short campaign
Trudeau announced Canada's decision to run for the seat in 2016, almost a decade after similar announcements from Ireland (2005) and Norway (2007).
"The challenge that was set for the Canadian election campaign was perhaps insurmountable," said Adam Chapnick, author of Canada on the United Nations Security Council. "And if it was surmountable, it would have taken almost miraculous campaigning to beat these two candidates."
Chapnick said that Trudeau, in spite of running a strong four-year effort, may not have given himself enough time to fulfill his promise.
"Critics have every reason to criticize the prime minister's decision to run in this particular election," said Chapnick. "I don't think choosing to run for the 2020 election in 2016 was a good choice."
Concerns over climate and Middle East
Canada's bid for the seat hit some roadblocks along the way.
A pro-Palestinian coalition condemned Canada for favouring Israel.
Climate activist Greta Thunberg was also critical of Canada's campaign. The 17-year-old advocate spoke to Trudeau in September 2019, urging Canadians to do more on climate change. Her appeal included calling for cancelling pipeline projects and ending subsidies to the oil and gas industry.
It's unclear what impact such criticism had on the vote, though Canada's ambassador to the United Nations, Marc-André Blanchard, addressed them earlier this week.
To experts like Chapnick, the primary factor was time and the similarity of the candidates.
"The Irish and Norwegians are entirely credible candidates," he said. "A lot of deals were made long before Canada declared in 2016."
Priorities based on unity and advancement
Addressing "climate change together" was one of five major priorities for Canada's United Nations Security Council bid.
Priorities were linked by an emphasis on "togetherness," a sense of international unity that was at the core of the Canadian government's bid for a seat.
The Canadian priorities included the promotion of gender equality — which has been central to Canada's foreign policy under Trudeau — as well as peace, economic security and multilateralism.
As a prospective member of the Security Council, Canada had sought to promote a "rules-based international order — one in which might is not always right; one in which more powerful countries are constrained in their treatment of smaller ones by standards that are internationally respected, enforced and upheld."
Four seats filled, one decision to be made
New members will take their positions in 2021 for a two-year term. Ten temporary members sit alongside five permanent members — the United States, United Kingdom, France, Russia and China — that hold veto power.
While Norway and Ireland claimed the two seats for the Western European and Others Group, Mexico won the only available seat in the Latin America and Caribbean Group, with India taking the Asia-Pacific seat.
Kenya has an edge over Djibouti for the African seat, but not by enough to secure a majority. This final seat will be decided in a second round of voting on Thursday.
---
More Stories