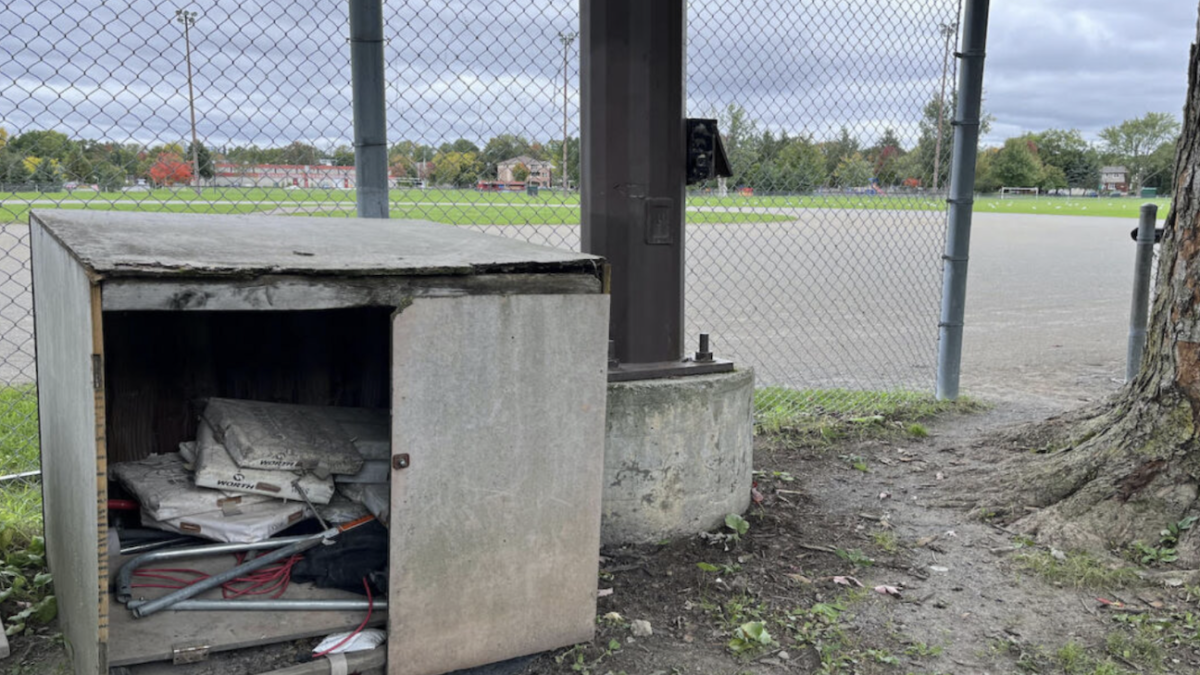 Trash littering the field, boxes of supplies rotted open and left for the taking: this is often the state of the Brewer Park baseball diamond, a city-run field popular among little leagues in Ottawa.
The baseball community says no new diamonds have been built in recent years, while the existing ones haven't received much-needed upgrades. Local baseball groups are hoping to get the attention of candidates in the Oct. 24 municipal election — followed by action to improve conditions.
With more than 10 amateur baseball organizations in Ottawa, thousands play on these fields. But with poor quality facilities, they say the game has become less enjoyable and safe.
"The existing infrastructure is leading to sub-par playing surfaces for kids, not-for-profits increasingly having to allocate signifiant resources to maintain deteriorating fields, and Ottawa losing out on coveted sports tourism dollars," Chris Becker said in a statement to candidates on behalf of the Ottawa Baseball Infrastructure Improvement Group (OBIIG). It represents nine leagues and teams such as the Carleton Ravens and the Ottawa-Nepean Canadians.
Ottawa's fields, he wrote, are "in desperate need of immediate repair."
OBIIG has made three specific requests to candidates:
Allow increased community use of RCGT Park, a stadium currently only available for the Ottawa Titans and university level games;
Make an immediate, one-time cash infusion into improvements of existing diamonds with new fields, reimagined dugouts, and proper fencing;
Develop a co-ordinated, city-wide strategy to improve baseball facilities long-term, which may include building new facilities and diamonds.
The group says teams from places such as Toronto have refused to play in Ottawa because of the conditions of the fields. Players on Ottawa teams wish they had the ability to play elsewhere too, says Colby Schroeder, who plays infield for the Carleton Ravens baseball team.
Before he started playing for the Ravens, who do have access to RCGT Park, Schroeder often found himself playing "with hazards and sub-par field conditions, which always make the game worse." Schroeder played little league in Ottawa, and said he has been on these fields his whole life.
Growing up in the Ottawa Valley, he played for the Carleton Russell Aces as a child, before later playing for the triple-A Ottawa Nepean Canadians. "It's nothing like the GTA," says Schroeder, pointing to what he says is the vast difference between the quality of facilities in Ottawa compared with Toronto. He says even RCGT Park does not compare to the fields elsewhere in Ontario.
Capital Current emailed questions about the baseball diamonds to all the mayoral candidates. Only a few responded.
Catherine McKenney had no comment as of Sept. 30; candidates Ade Olumide and Bernard Couchman both said they strongly supported improvements. Mike Maguire said he is not in support of any cash infusion nor is he in favour of any strategy outside of existing recreation plans. "I see empty diamonds in many places," says Maguire, "I'm just not hearing a demand for baseball."
Peggy Pratt, president of South Ottawa Little League, said the reverse is true. According to Pratt, many local leagues, including her own, reported record registration numbers this year. Numbers had been on the decline because of COVID-19 in the past two years, but things are looking up for the community, Pratt says.
There is also a large influx of girls wanting to play baseball in Ottawa, with leagues like South Ottawa creating an all-girls league. The high numbers of registrants is just another reason in support of building new facilities, as "there are not enough diamonds to meet the demand," says Pratt.
A map of the existing baseball facilities and diamonds in Ottawa (Ethan Sherwood, data from the City of Ottawa)
---
More Stories