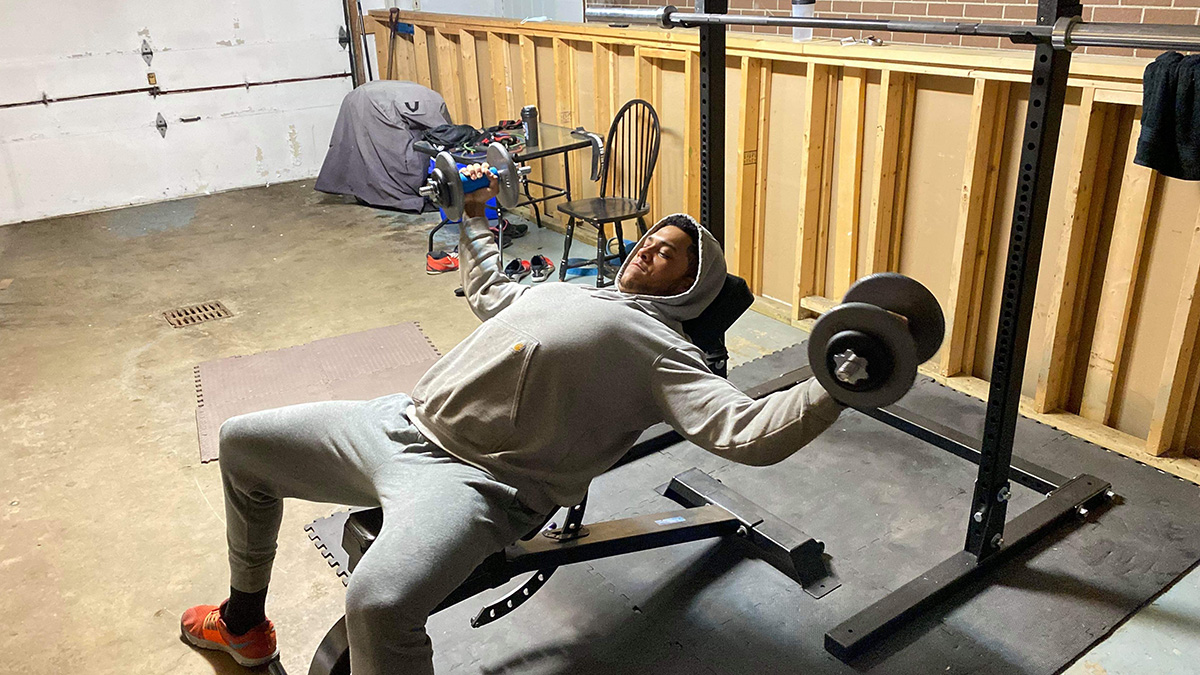 On April 30, 2020, Jack Cassar sat down with friends and family and turned on his TV.
The 2020 Canadian Football League (CFL) Draft was about to begin and – given his impressive football resume – the 23-year-old Toronto native knew his name might be called early on.
"It was super exciting," Cassar said. "It kind of felt like when you wake up on Christmas morning."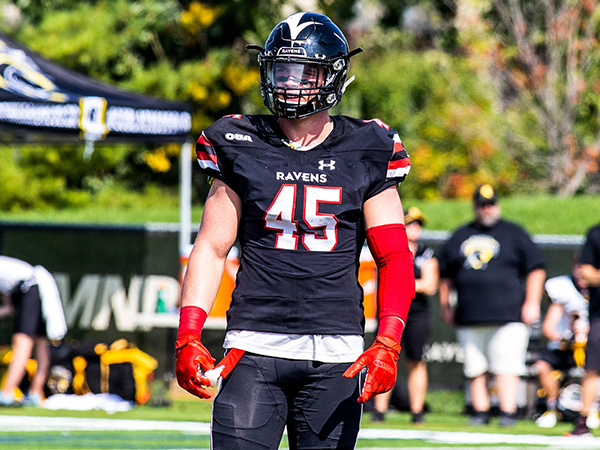 Cassar was a much-decorated linebacker during his time with the Carleton Ravens. In four years, he recorded 157 total tackles, eight sacks and one interception. In 2019, Cassar received the OUA's Outstanding Defensive Stand-Up Player Award and was named a First-Team All-Canadian.
The Toronto Argonauts took Cassar in the second round, 11th overall. 
"It was pretty amazing, but at the same time, I kind of expected to be drafted fairly early," Cassar said. "The fact that I was able to get chosen by my home team was nice."
For other players, the draft wasn't such a sure thing.
Mitch Raper, 22, anxiously watched the online draft live-stream, waiting to see his name.
As the draft crept into the later rounds, Raper got a call on his phone. The Edmonton Football Team was on the other line.
"They called and said 'Hey, not to pull the trigger too quickly here, but if you don't go (before our selection) we're taking you,'" Raper said.
Edmonton took Raper in the eighth round, 68th overall.
"I knew if I were to get picked, it would be later on," said Raper, a fullback during his four years with the Ravens. "I didn't even want to watch it, to be honest."
Draft day dreams
For lots of young Canadian football players, it's a life-long dream to be drafted to the CFL. A day of hope and excitement, the draft is typically a celebration for players who are finally rewarded for all their hard work, as they leave USports to join professional football. 
Instead, the pandemic-altered 2020 CFL Draft was bittersweet leaving players anxious about the their rookie seasons. 
"There was definitely uncertainty, especially because the teams themselves didn't have much of a clue what was going on," Raper said.
In April, COVID cases increased and it looked as if the season was in jeopardy. Before the draft, the CFL had already cancelled its 2020 training camp and CFL commissioner Randy Ambrosie acknowledged the season wouldn't start on time. 
On Aug. 17, after the federal government rejected a $30 million loan request from the league, the 2020 CFL season was officially cancelled.
After the announcement, an Edmonton Football Team staff member reached out to Raper and told him all 2020 rookies would receive an invite to the team's 2021 training camp. Raper said it was a relief.
"Just the sense of some certainty was like, 'Okay, I can still get excited for a season next year,'" he said.
A long off-season
Since the cancellation of the 2020 season, players have been adjusting to life in the pandemic. Some CFL rookies have found themselves enduring the longest time they've gone without a game of football since they first put on a helmet and shoulder pads. 
As restrictions tightened this winter, players have pivoted to more unconventional methods of training for the 2021 season.
For Cassar, that meant travelling to the United States when training facilities in Ontario closed down. He said he spent a few weeks in Chicago and just recently returned to Toronto after a brief training camp in Fort Worth, Texas.
Cassar said his decision was influenced by his desire to get back to the game he loves.
"I am antsy for sure," Cassar said. "That's why I was just down in the States trying to get some opportunities over there. For me, I just want to play at this point."
Not all incoming CFL rookies can travel across the border to train for the season.
Jesse Lawson, a former Ravens offensive lineman and seventh round pick by the Saskatchewan Roughriders, said he and his roommates set up a make-shift gym at his home in Ottawa.
"We get together and lift," said Lawson, 25. "I have a little bubble and we make it work."
For Raper, exercise is a way to keep his body in shape for football, but also boost his spirits during the pandemic.
"I'd say overall I'm doing OK," Raper said. "Football aside, I'm still trying to get exercise every day. It's been an important thing for me in terms of keeping my mental health."
The social isolation is particularly unusual for athletes in team sports. Usually when players join a new team, they spend lots of time getting to know their teammates. But not this season.
"It's definitely unique in that I haven't fully experienced being a rookie or been in the locker room with the more experienced guys yet," said Raper.
He said the COVID-19 restrictions in Ottawa have denied players access to the normal luxuries given to high-level athletes.
"It's a rude awakening in a lot of ways," he said.
Lawson, who signed his 2021 CFL contract on Jan. 18, said he's not worried how an entire year off will affect his performance once he returns to play.
"There will be some rust for sure," Lawson said. "But, if guys are staying ready, then as soon as training camp comes around you can get the kinks out and get back to it."
Cassar said he's appreciated the time to rest up.
"I feel pretty comfortable, like, honestly I looked at it almost as a good thing," Cassar said.
Blessings of the break
Coming off an injured knee and a broken ankle last season, Cassar said his body was breaking down.
"I think it was almost better for me to have a year off to just recover my body and make sure it's at 100 per cent by the time the next season starts," he added.
But Raper said the 2021 season will also carry more weight than usual.
"I just think taking such a long break from football is going to be strange for a lot of people," Raper said. "Because none of those guys have had the chance to have played a real game in such a long time either."
Raper said there's a bright side to his current situation. With football on hold, he's working towards his engineering degree at Carleton University. 
He said he's also had time to reflect on what football means to him.
"It's a lot of time to just focus on why you love playing football so much, what makes the game great and why you're excited to play it again," Raper said.
As of now, the CFL pre-season is scheduled to begin in late-May. 
There has been no mention from the league regarding precautionary measures relating to fan attendance, player testing or isolated living situations.
CFL commissioner David Ambrosie has released a newsletter that encouraged fans to stay positive during these tough times and stated his hopes for a season to be played despite the circumstances.
The regular season is scheduled to start June 10 when the Hamilton Tiger-Cats meet the Winnipeg Blue Bombers in a 2019 Grey Cup rematch.
---
More Stories