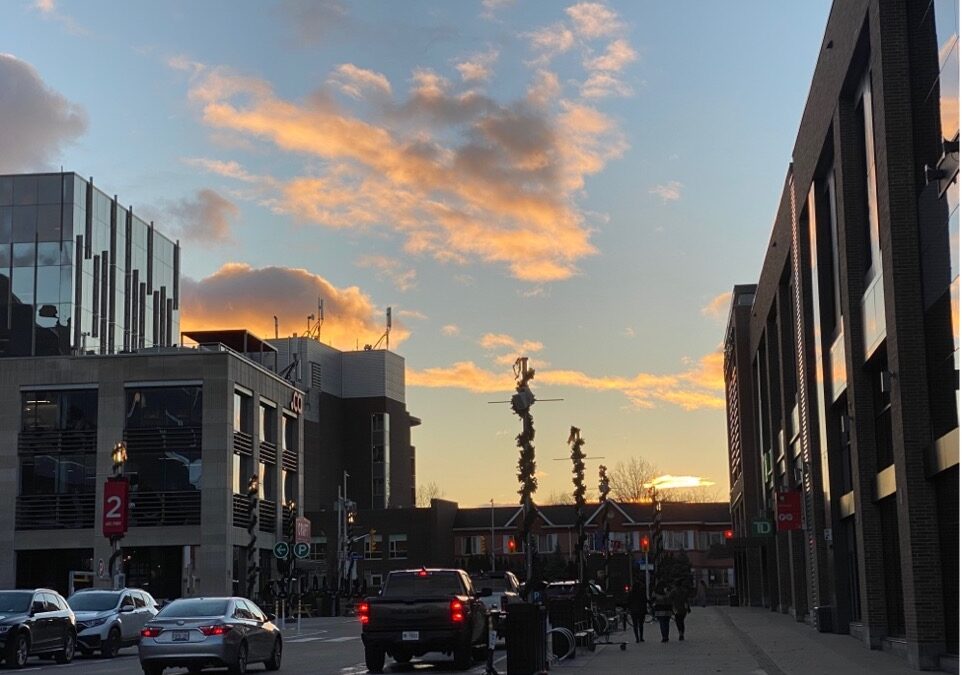 As Canada enters winter, some students are sharing their experiences with seasonal affective disorder (SAD) on social media. Often referred to as seasonal depression, SAD is defined as changes in mood and behaviour brought on by the changes in seasons. 
Tariro Hlahla, a Carleton student studying neuroscience said that symptoms of SAD are similar to general depression. 
"You'll be seeing a lack of energy, hypersomnia, general sadness, and other things within that realm," she said.
International students studying in Canada, in particular, face a different adjustment at this time of year. Canadian winters can be difficult for students from milder climates. 
Sade Mohammed, a first-year student at Ryerson University, is experiencing her first Canadian winter. Mohammed moved to Toronto from Trinidad and Tobago in September, and said that Canada is a "lifestyle change". 
"There's no such thing as being cold in Trinidad," she laughed. "We don't have daylight savings time in Trinidad, so that (also) was a huge adjustment." 
As winter approaches Mohammed expressed how shorter days and poorer weather had been affecting her.
"My sleep is definitely messed up," Mohammed began. "I sleep in a lot later than I used to. I'd rather just stay in bed." 
"I've wanted to stay inside rather than go out." Mohammed said. "I even dropped my only in person class this semester, so my classes are only online." 
Research shows that SAD is often brought on by the lack of sunlight during the day. These days the sun sets around 4:30 p.m. Accompanied with Canada's often harsh winter weather, more students are opening up about their experiences with SAD.
Sade attributed her own mood shifts to bad weather and a lack of motivation to keep up with a regular routine. She also said her productivity has been affected along with academic and social life. 
Hlahla explains that for mood changes "to qualify as SAD, it has to have a temporal relationship. This must be something you observe primarily at one part of the year, usually winter." 
Seasonal affective disorder may present itself as mood and energy changes that impact the productivity and routine of individuals, she said.  
To cope, Sade said she is focussing on overcoming the mood affects caused by the changing season.
"Today I decided to study on campus and I'm going to book rooms to get me out of my house," she stated. "I also am going to the gym, finding things that get me out."
Sharda Maraj is a first-year student studying criminology at Carleton. She started adjusting to Canadian winters after moving to Brampton, ON, from Trinidad and Tobago when she was 17. 
"I came in November, so it had already started snowing, I wasn't prepared at all." Maraj stated. "I wanted to leave right away," she added.
Maraj spoke about the physical symptoms she experienced adjusting to winter in Ontario.
"I grew up with hot blood, but here its super cold and dry."
"I never had a nosebleed before and now I get them all the time if I don't have a humidifier," Maraj said. "My finger turns purple in the cold and my skin gets really dry."
Maraj also shared that the changes in weather have affected her mood and behaviour.
"Two months ago, I would get up early but now I can't. I used to study on campus, but the weather makes me not want to."
Adjusting to daylight savings time has also been hard for Maraj. "I have to change my routine based on the time of year," she said. Maraj has felt a lack of motivation, resulting in skipping the gym, and doing classes from bed instead of a desk. 
"I think it's mentally draining to look outside at the weather." Maraj expressed.
In an effort to overcome seasonal effects on mood, Maraj has been aiming to go to campus when she doesn't have class and to be inspired by others. 
"I bought LED lights for my room to brighten it up," She added.
Hlahla shared that light therapy is a common and useful approach to overcome the effects of seasonal affective disorder. 
Hlahala also said that Vitamin D supplements are useful. Researchers at the University of Georgia conducted a study linking Vitamin D deficiency to seasonal affective disorder.
Resources are available for students experiencing symptoms of seasonal affective disorder. Carleton University offers on campus counselling for anyone struggling with mental health concerns.