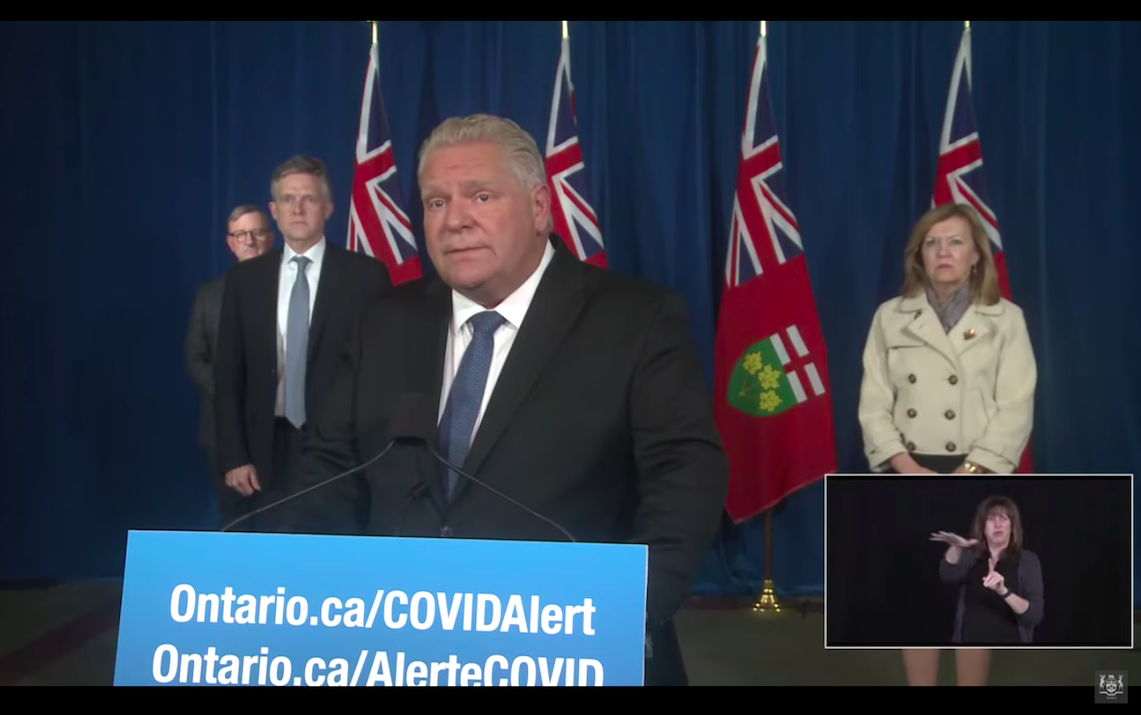 Ontario Premier Doug Ford has announced that COVID-19 hotspots Toronto and nearby Peel Region will be on full lockdown as of Monday.
The decision to impose the strictest pandemic precautions in the two health regions folowed extensive discussion with the provincial health board and other medical experts along with the Ontario cabinet, Ford and Health Minister Christine Elliott said in a dramatic media conference Friday afternoon.
It also came on a day when the federal government released new modelling that showed without tougher restrictions, daily case counts could reach 20,000 in December. And if people increased their contacts, case counts would hit 60,000 a day.
"The national epidemic curve shows that case counts have far surpassed peak levels seen during the first wave," Chief Public Health Officer Dr. Theresa Tam said during a briefing in Ottawa on the modelling Friday.
The prime minister said later that "we need to do everything we can to slow the spread of COVID-19." Justin Trudeau spoke in front of the entrance to Rideau Cottage, which has become a symbolic place for stern messages about the pandemic. "We need to reduce our contacts, we need to do it right now," he said
Later Elliott explained why Ontario is cracking down. "Despite the health measures that have been put in place since early October, we've seen the situation continue to worsen across the province," she said Friday.
Surging case counts
Ontario has seen a steady increase in cases in recent weeks, with the surging case counts concentrated in the Toronto area.
On Friday, Ontario officials reported more than 1,400 new cases of COVID-19 — including 400 in Peel and 393 in Toronto — as well as eight additional deaths.
The province hit a grim milestone, topping 100,000 total COVID-19 cases. Ontario has now registered a total of 100,790 cases since the pandemic began, 84,000 of which have been resolved.
The total number of Ontarians who have died of the coronavirus this year is 3,451.
There are 518 hospitalizations with 142 Ontario residents in intensive care units — including 92 on ventilators. In Ottawa, there were 77 new cases reported Friday. The city has had 8,104 confirmed COVID-19 infections since the pandemic began, including 412 that remain active. The death toll in Ottawa is 364. The capital remains in the orange zone while the neighbouring Eastern Ontario Health Unit moved from orange to yellow.
We have to get the community spread under control.

Ontario Premier Doug Ford
Ford said Friday that an overall analysis of the situation demands the Toronto lockdown.
"The case is extremely serious, and community action is now necessary," he said. "We cannot put in-class learning at risk, we cannot risk overwhelming our hospitals. We have to get the community spread under control.
"We have introduced safety (measures) since September and have spent billions of dollars," said Ford. "It is the collective help that has saved lives, but the virus is still spreading at an alarming rate. Modelling shows that if nothing is done, 6,000 cases (per day) will happen in coming weeks."
Pandemic fatigue
The premier acknowledged the pandemic fatigue that has set in, but reminded Ontarians that their efforts to follow safe-distancing and other guidelines have blunted the overall affect of the virus.
"Today we are doubling our supports, up to $600 million in relief to help with property bills and hydro taxes — businesses today can register for these benefits," he said. "Please shop local, do your holiday shopping through curb-side pickup, go to grocery stores, pharmacies, takeout. Please folks, avoid panic buying right now — no need to buy more than you need for a week or two."
Ford concluded by urging Ontarians to remain optimistic.
"My friends, I have faith Ontario will weather this storm together," said Ford. "Because in this darkest hour, we see what we're made of. We see what we can endure, and we will endure, we will persevere, and we will get through this.
The lockdown in Peel and Toronto, which will begin Monday, will force the closure of most non-essential businesses, including gyms and personal care services, and will prohibit sit-down dining in restaurants. The province issued guidelines detailing the range of lockdown measures and exceptions. They include:
Schools, before and after school programs, and child care will remain open;
Post-secondary schools open for virtual learning with some limited exceptions for training that can only be provided in-person, such as clinical training or training related to a trade;
No indoor organized public events or social gatherings except with members of the same household. Individuals who live alone, including seniors, may consider having exclusive, close contact with one other person;
Outdoor organized public events or social gatherings limited to a maximum of 10 people;
Wedding services, funeral services and religious services, rites or ceremonies where physical distancing can be maintained can have up to 10 people indoors or 10 people outdoors;
Retail permitted to be open for curbside pick-up or delivery only, with certain exceptions such as for supermarkets, grocery stores, pharmacies, hardware stores, discount and big box retailers selling groceries, beer, wine and liquor stores, safety supply stores, and convenience stores, which will be allowed to operate at 50 per cent capacity;
Restaurants, bars, and food and drink establishments will only be able to provide takeout, drive-through and delivery. Indoor and outdoor dining services are prohibited;
Personal care services closed;
Casinos, bingo halls and other gaming establishments closed; and
Indoor sports and recreational facilities, including pools, closed with limited exceptions.
---
More Stories