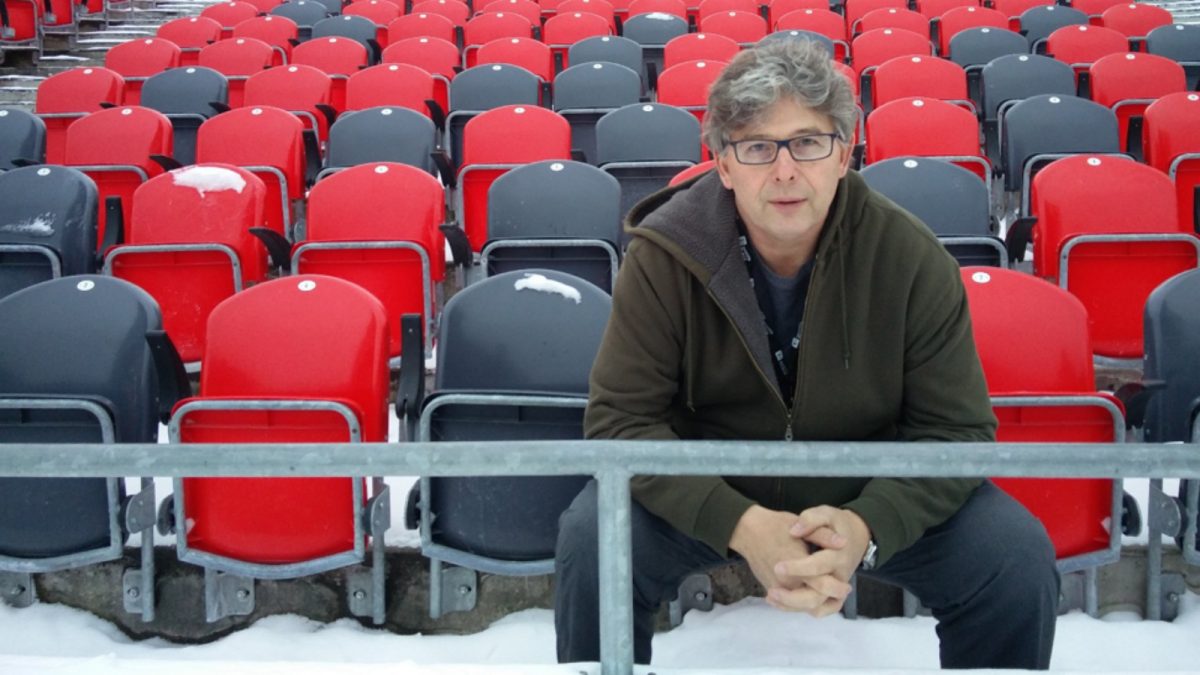 Gord Weber's enormous right hand gently pushes open the gate to TD Place Stadium. The 53-year-old stands just over six feet tall, with dark-rimmed glasses and curly greying hair. Wrapped around his neck is his TD Place media pass lanyard. It highlights who he is now. The lanyard represents his life after football.
Weber walks carefully walks down the steps to the field, his gait uneven and jarring. Seven major leg surgeries and three torn ACLs will do that.
Weber's CFL career was not glorious. He is not a household name, and his time in the league was short, but it shaped him into the man he is today.
"I would do it all again if I could," said Weber. "People ask what is the hardest job you have ever had. The answer is being a professional athlete."
His childhood was a balance of his police officer father's firm hand and Weber's youthful delinquencies. When he was first given the opportunity to play football for the Bell Warriors Football Club, Weber jumped at the chance.
He was so enthusiastic he would bike to practice every day.
"I would be on my bike, full gear," Weber reminisced. "The football helmet used to rub on the tire so by the end of the season I had this big black skid mark on my helmet."
At the University of Ottawa, Weber was a starting linebacker. He studied social sciences recreation, aka "leisure studies." The title of his program speaks to what he priorized as a student.
"I always say to my kids, you can do three things well: school, work, football and partying. You can only pick three. I picked work, football, and partying," he said with a chuckle. "I kinda forgot the school part."
For Weber, work and partying were intertwined. During his university days, he worked as a doorman at the Byward Market club Stoney Mondays, which then became Fat Tuesdays and now is a Starbucks.
In his time working the door, Weber was threatened with guns and knives. One of his fellow doormen was stabbed on the job. Weber didn't worry about the threats, though. The ones who show the knife never intend to use it, he said.
This endearing arrogance may just be what won him the love of his life. Her name was Ellie, and she worked at Stoney Mondays alongside Weber for about a year. Each week she was behind the bar, serving drinks and collecting tips and a group of guys, just as Weber was surrounded by women.
"She would have her gaggle of men at one end of the bar and I would have my gaggle of women at the other," said Weber. "But at the end of every shift I would give her a ride home. I would have a date with me, but I would throw her in the back seat while my wife got the front."
Ellie is something special to Weber. As the spouse of an athlete, she knew just when he wanted to talk but also to steer clear prior to game time. Weber knows he hasn't always been the best partner. He admits he was a womanizer and the difficulty his time as an athlete put on their relationship. But, 33 years later, their marriage, and love, is unwavering.
As Weber approached the end of his university days in 1989, he was drafted by the Ottawa Rough Riders.
He tried out, but he didn't make the team. But he was invited to join the practice roster.
He decided instead to go back to the University of Ottawa for one last season.
It paid off.
In 1990, Weber made the Rough Riders and began his arduous journey to make a name for himself in the league. He was a linebacker, but for the most part he was a special teams player.
He played in Ottawa for four years, all with teams that were constantly changing personnel on and off the field.
"You would get a new guy in the locker room and he would ask to borrow five bucks. I would say no, because I didn't know if he would be here tomorrow," joked Weber.
One of the constants on his roster was star wide receiver Stephen Jones. He is fourth all time in Rough Riders receiving yards and won a Grey Cup before his time in Ottawa. Jones' respect for Weber came from his drive and work ethic.
"He wasn't overly talented. But he had a lot of heart, a lot of determination, and that helped make up for a lack of superior talent," said Jones.
Weber and Jones shared a bad habit. They smoked. Weber remembers sneaking outside during halftimes for a quick smoke with Jones. Those cigarettes may have been what stopped Weber from returning an interception for a touchdown in one of his fondest football memories.
The Riders were on the road, a playoff game in Hamilton. He picked off the quarterback at the Rough Rider 30 yard line, put his head down and returned it all the way to Hamilton's five yard line. When he was tackled, he stood up and saw an offensive lineman and a running back behind him.
"All I wanted, all I needed to know was that I hadn't been caught by an offensive lineman," Weber said with a smirk. "Turns out I wasn't."
In 1994, Weber tore his ACL during a game. He tried to come back from the injury, but he was deemed physically unable to continue and his football career was over.
"Playing sports is like running over and over into a brick wall. When you are young you run into it, get back up and do it all again," Weber said soberly. "But, when you get older. the wall starts to break you."
After a short stint as an office worker, Weber settled into a role as a wine sales representative for 16 years. In 2003, Weber picked up his first digital camera and started to experiment with photography.
When Facebook developed as a platform to share photos, many of Weber's friends began asking him to take their picture. Eventually, he started to make money on his images.
Photography has allowed Weber to reconnect with football. He has a contract to photograph the Ottawa Redblacks Cheer Squad and also shoots team home games. He is well-known for his work with fitness models.
Weber has launched his own photography business and lives comfortably in a beautiful house he and his wife designed. When asked what challenges he faces, Weber casually replied, "Finding my socks in the morning." With the state of his knees, more likely, the challenge is putting those socks on, and getting out of bed.
With a knee replacement somewhere down the line, Weber's body bears the scars of his love for the game.
As Weber walks across the field at TD Place, he describes where the dressing rooms used to be, and how simple the stadium was in his time.
He points out the exact spot where the stands collapsed at a Panda Game halftime and students tumbled onto the field.
And, he explains, the lessons he learned in football live on.
"Sports is a way of understanding community, understanding working as a team, and people don't realize how much sport is related to life and jobs," Weber said. "You rely on somebody else, you are accountable, and you have to show up. It isn't just a game."

---
More Stories