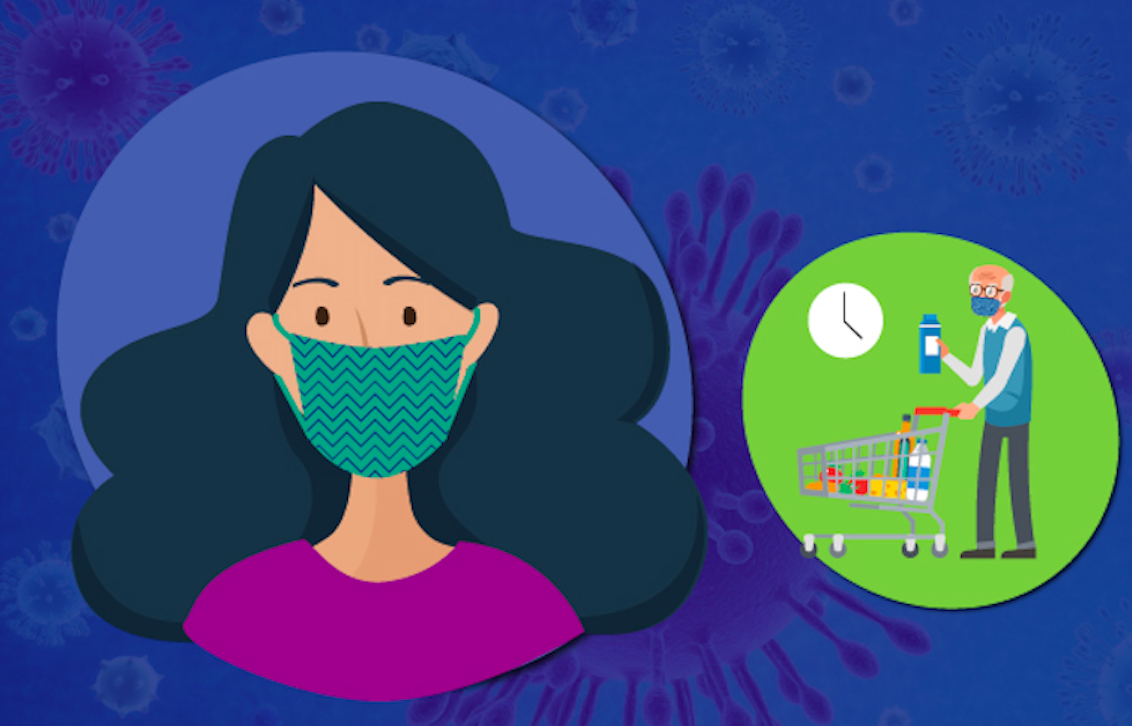 Ottawa Public Health has shifted its approach to reducing the spread of COVID-19, and is now officially requiring that city residents wear face masks in indoor public spaces.
In a statement issued jointly on Monday by four regional public health units in Eastern Ontario, including Ottawa Public Health, the agencies stated that they were "invoking a directive under the province's Emergency Management and Civil Protection Act that requires individuals to wear a mask in certain enclosed public spaces."
Ottawa's Medical Officer of Health Vera Etches explained in the July 6 statement that "increasing scientific evidence indicates wearing a mask is an important measure in reducing COVID-19 transmission."
She added that the four Ottawa-area regional health units were collaborating to implement the directive because "it is important to have a clear and consistent regionalized approach to mandatory masks across the Champlain region, especially as we are in the middle of peak travel season."
Ottawa has required OC Transpo users to wear masks since June 15.
Anyone violating the new directive — which is in force today — could face a fine of $800, though Ottawa Public Health stated that "the policy will be enacted and enforced in good faith and will be primarily used as a means to educate people on mandatory mask use in enclosed public spaces."
The directive applies to all stores, shopping malls, churches and other places of worship, community centres, museums, libraries, hotel lobbies, taxis and other enclosed areas.
There had been clear signals in recent days that the mandatory-mask rule was coming.
In a statement released last week, Mayor Jim Watson and Coun. Keith Egli, chair of the Ottawa Board of Health, said they supported making cloth masks mandatory for local residents in order to control the spread of the virus.
"We believe that one of the many ways to support local small businesses is to do whatever we can, such as wearing a cloth mask, to help them stay open," they said at the time.
And while Etches had previously encouraged citizens to wear masks only when unable to maintain a two-metre physical distance, OPH stated in a July 3 Twitter thread that there have been other changes in their COVID-19 prevention measures and that making mask-wearing mandatory had become crucial to public health.
THREAD: MANDATORY MASKS. Please read

Public Health is about following evidence, so when we call for change, that change is the result of what our evidence is telling us. Lately evidence has been coming at great speed & volume. We've been doing our best to keep you informed (1/7)

— Ottawa Public Health (@ottawahealth) July 3, 2020
While mandatory masks are intended to reduce the spread of the novel coronavirus, some people have expressed their concerns.
"I personally can only wear one for about 45 minutes before it induces an asthma attack," said Eliza Boyd, a 21-year-old employee at an Ottawa cannabis retailer.
"I think it's super great and important for everyone who can wear a mask to wear one, but… I'm super stressed and anxious about what that means for my work because it's indoors and I won't be able to do a full shift with it," Boyd explained.
According to Ontario's Ministry of Health website, there are three categories of individuals who will be exempt from wearing face coverings: infants under two years of age, anyone who has trouble breathing, and anyone who is unconscious, incapacitated or otherwise unable to place a mask or remove it from their face.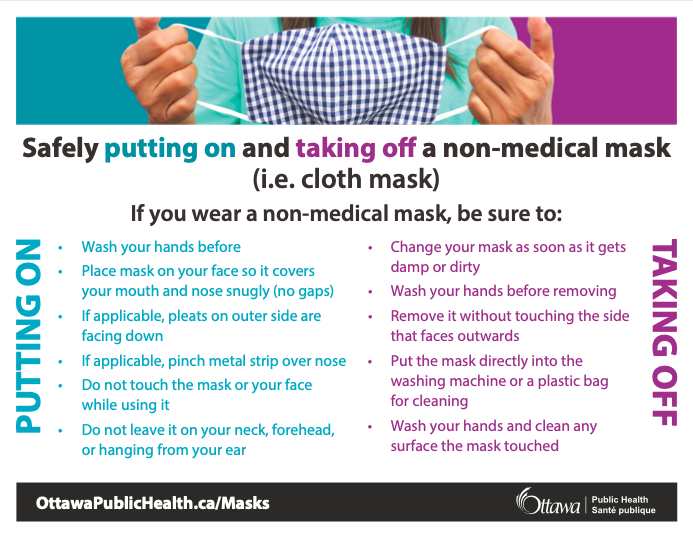 A survey conducted by OPH showed that 90 per cent of respondents would willingly wear a cloth mask to be allowed access to services. 
OPH has released various public service videos to showcase the benefits of wearing a mask with the tag line: "My cloth mask protects you, and your cloth masks protects me."
Ottawa City Council will meet on July 15 to discuss a bylaw ensuring that residents wear a cloth mask that covers their nose, mouth and chin, without any gaps.
"The overarching message is this," Etches said in the statement. "Along with other public health recommendations such as physical distancing, washing your hands often and staying home when you are sick, wearing a mask when in an enclosed public space will help reduce the spread of COVID-19."
The City of Ottawa and the three adjacent regional health units — the Eastern Ontario Health Unit, the Leeds, Grenville and Lanark District Health Unit and Renfrew County and District Health — are not the only parts of Ontario making mask-wearing obligatory in enclosed public spaces.
Other municipalities in Ontario with orders or bylaws for mandatory mask use include Toronto, Kingston, Frontenac, Lennox and Addington Public Health, Middlesex-London Health Unit, Guelph, Wellington County and Dufferin County,Windsor-Essex County Health Unit, and Public Health Sudbury & Districts. The city of Montreal is planning to issue a face mask order July 27.
According to last week's statement from Watson and Egli, wearing a mask is an important measure that could allow the city to move forward in Ontario's three-step reopening plan.

"We strongly believe that the benefits of wide-spread cloth mask use will set us up for a better transition into Stage 3," read their statement.
"We understand that this is a change for many. Be patient. Be kind with yourself and others. Wearing a cloth mask in indoor public spaces is new to many of us and will be an adjustment," they stated. "We are all in this together. Let's continue to protect the people who live in our city because wearing a cloth mask is a small sacrifice if it means saving lives and reducing the spread of COVID-19 in Ottawa."