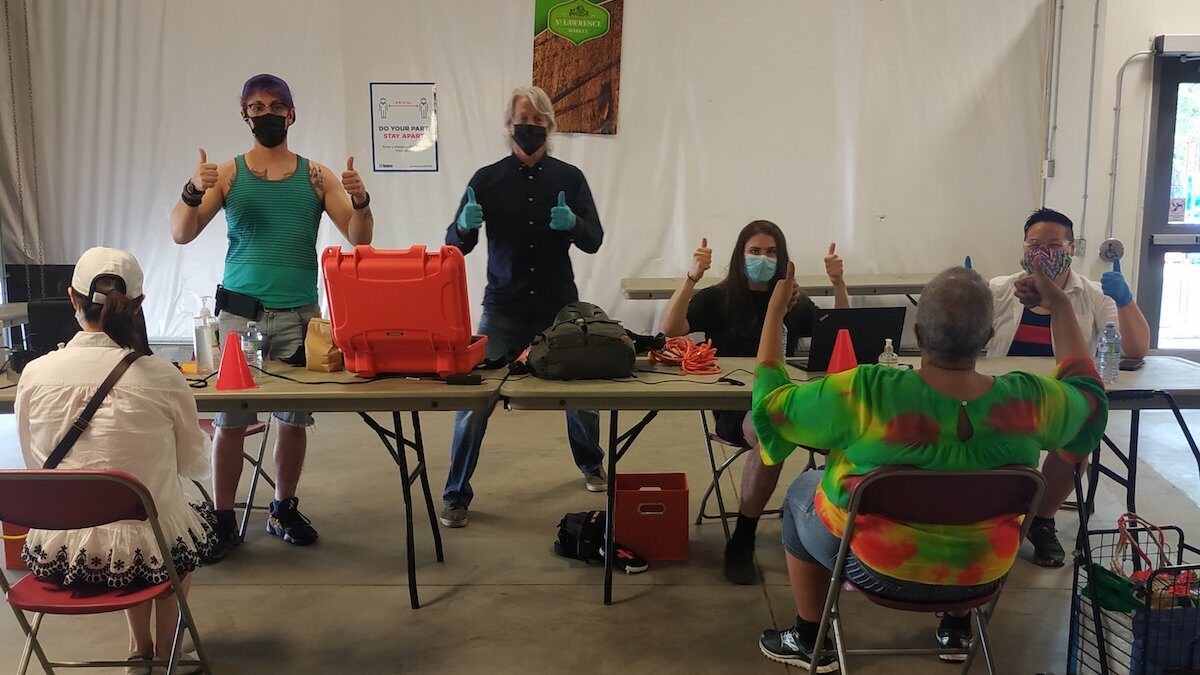 TORONTO — Amanda Smith whooped 'Hallelujah' when a volunteer at Spadina-Fort York Community Care Program's vaccine registration clinic successfully bumped up her appointment for a second shot of the COVID-19 vaccine.
Smith had been trying to book an earlier date from her original appointment in mid-July, since Ontario opened second dose bookings for people aged 80 and up May 31.
"I went on right away and there was a whole list of dates and every single one of them said 97 per cent full. And I couldn't get anything," said Smith.
What the 80-year-old could not achieve after a week of trying was resolved within five minutes at the registration booth on Saturday afternoon at the St. Lawrence Market in Toronto.
"Once I have the double shots, I can go to a patio; I can consider travel in the future," she said cheerfully.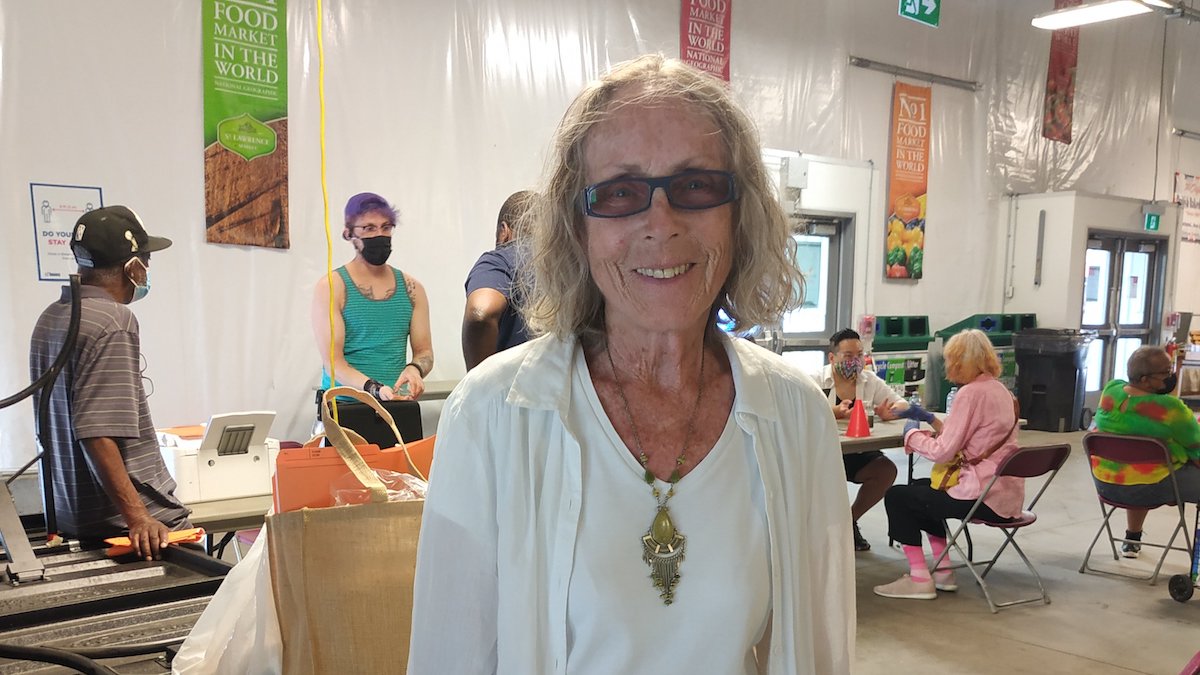 Since March, Spadina-Fort York Community Care Program, a charity run by volunteers, has helped more than 6,000 people book vaccine appointments in Toronto.
The organization, founded in March 2020, initially operated food programs for housebound seniors and people living in encampments.
When the province announced its vaccination rollout, the charity's volunteers heard their food bank clients talk about the difficulty navigating the provincial vaccine portal both by phone and the internet. So they stepped in to help.
"It's such a cumbersome system, and the cause of a lot of anxiety, certainly for seniors," said Shauna Harris, director and co-founder of Spadina-Fort York Community Care.
Today offers another example. After several weeks of vaccination bookings the provincial system is clogged by people aged 70 and up trying to book their second dose appointments. Ottawa Public Health is warning citizens of delays in their attempt to book appointments.
There are 22 websites in the Greater Toronto Area where one can register for a vaccine, but the sites' databases do not communicate with each other, Harris said.
She shared her own experience of trying to get her second shot as an Indigenous person.
Harris said she had to wait an hour and a half because the database of the location where she went for her second dose could not get information from the database of the location where she got her first.
"For me, I chose to wait, but I couldn't imagine how frustrating that would be for a senior who doesn't know how to navigate the system," she said.
Spadina- Fort York NDP MPP Chris Glover pointed to poor vaccine rollout planning by the provincial government.
He said even the phone system can take four to five hours to get through to someone, who often can't help because of a lack of proper training.
"We obviously needed services, multilingual services, and that was not done properly," said Glover, who co-founded Spadina-Fort York Community Care.
Recently, the charity joined the city of Toronto's VaxTO initiative, a campaign which includes reaching out to Toronto residents through grassroots organizations to provide vaccine information and appointments more easily.
While more than 70 per cent of adults in Toronto have received at least the first dose of COVID-19 vaccine, many are still left behind.
Aina-Nia Grant, director of community resources of the city's social development, finance and administration department, shed light on the issue.
She said there are groups of people who don't use the internet or speak or read English or don't have access to news. But they often have contact with community organizations, whom they trust.
"Our intention was to make sure that we reach the people, the residents of Toronto — every single one — in the way they responded to communication. And that's why we partnered with the grassroots organizations," said Grant.
Local ambassadors of these agencies can also help overcome vaccine hesitancy among different groups, she added.
Giovanna Luongo is one who was initially not keen on getting vaccinated.
"There was a lot of skepticism. People saying don't do this, don't do that," said the 59-year-old, who lives at Portland Place, a low-income housing for vulnerable individuals and family in downtown Toronto.
When volunteers of Spadina-Fort York Community Care held a vaccine registration event at her building, she signed up and later received her first COVID-19 vaccine shot.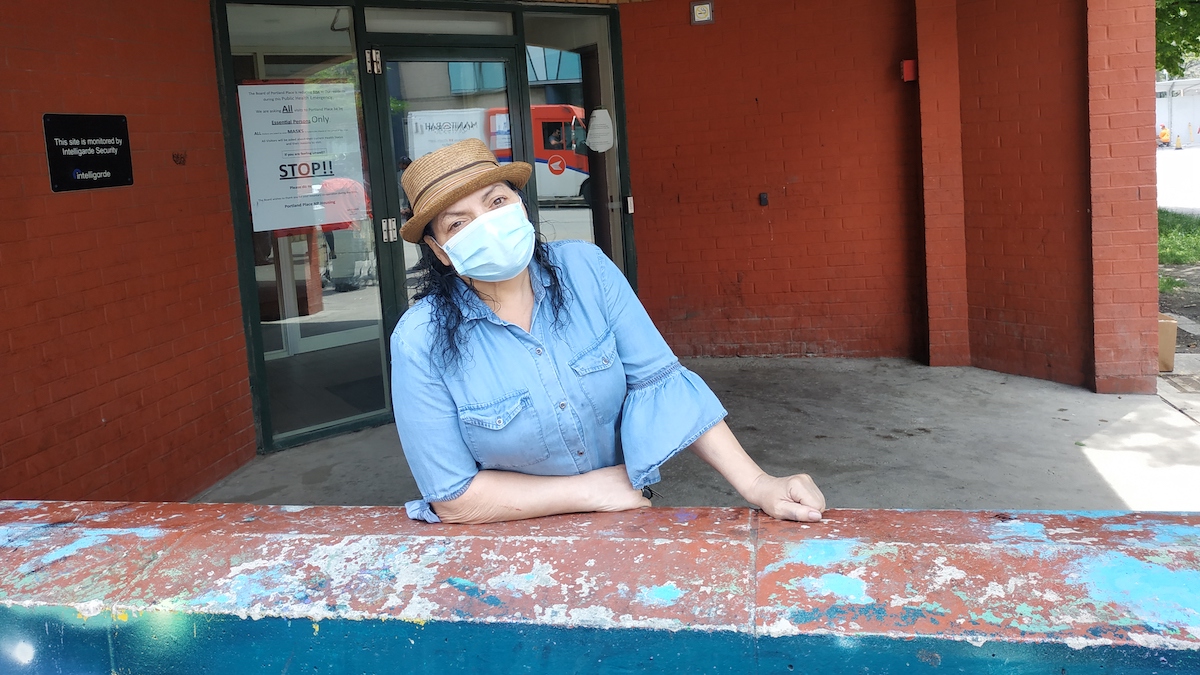 She was again expressing concern last Wednesday while talking about her experience in the front yard of Portland Place.
But a word of encouragement and assurance from Harris calmed her down. Luongo now looks forward to the second shot and being able to visit her 78-year-old mother.
---
More Stories