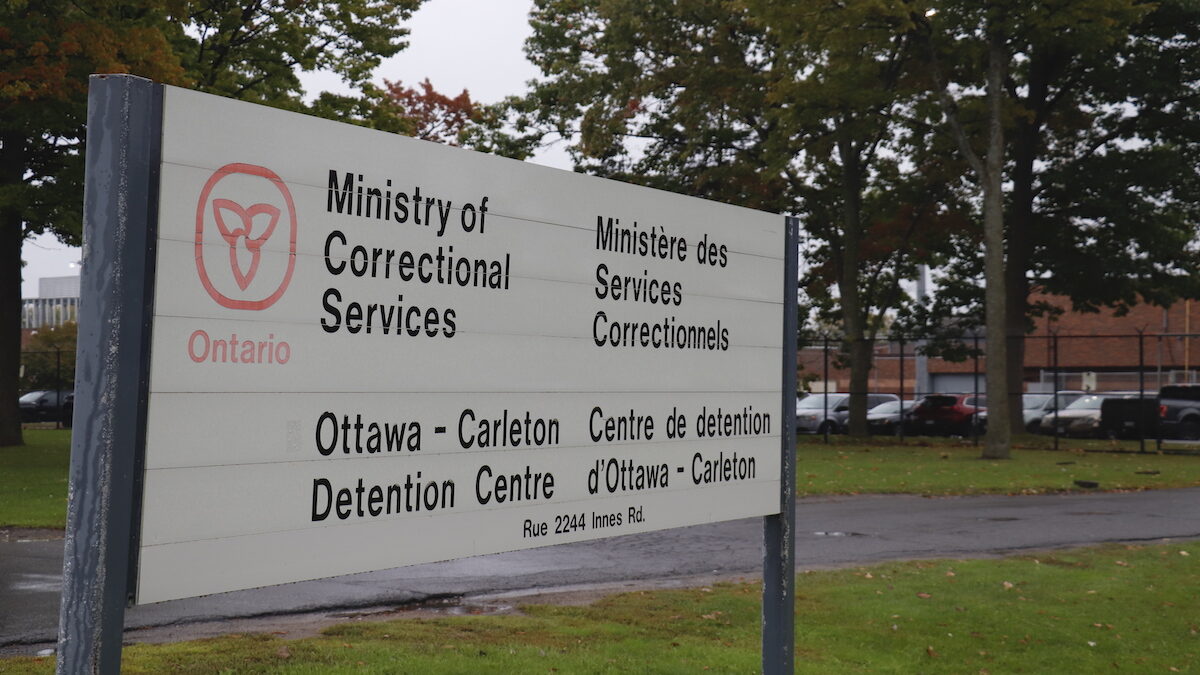 Phones are the only way for prisoners to contact the outside world but many factors, including high rates and limited accessibility, have made it more difficult to make a call. For some prisoners the inability to connect with loved ones has negatively affected their mental health and safe reintroduction into society.
Matthew Villeneuve is incarcerated at the Ottawa-Carleton Detention Centre (OCDC), potentially facing a long jail sentence. He says he feels increasingly cut off from the outside world after being imprisoned for three years.
"What if I start getting anxiety and then I can't control and manage myself? What if I'm in a really tough situation and I start to feel claustrophobic," Villeneuve told Capital Current. "It's good to have a connection with someone on the outside, to feel like you belong."
Villeneuve finds comfort in phone calls to his family and his girlfriend, but he says he often can't afford to pay for the calls.
Contacting a lawyer and getting legal advice for his upcoming scheduled court date is also more difficult for Villeneuve.
"I feel defeated. I feel like the justice system and the jail system has kind of sabotaged being able to have that right to speak to counsel," said Villeneuve.
The Criminalization Punishment and Education Project (CPEP), a prison rights advocacy group, highlights the many struggles imprisoned people face when making a phone call including high rates, privacy concerns and limited access to phones.
Bell provided the phone service in prisons up until their contract expired last year which saw Telmate, an American phone service provider, step in to the role.
Piché noted that some issues under Bell's service such as only being able to call landlines or high collect calling charges being sent to recipients have been resolved with the transition to Telmate.
However, many problems remain including being unable to leave messages and poor service quality. Concerns about privacy have also raised when it was made known that Telmate records and stores phone calls.
"[Imprisoned people] are concerned about their privacy, concerned about surveillance, not because they're doing something bad, but because they want their business to be their own business," said Piché.
Piché mentioned that high costs associated with making phone calls are enough to discourage some incarcerated people from using the phones.
Incarcerated people can put money, which can take up to two weeks to be processed and added, on a prison card and make prepaid calls at a flat rate of $0.64 a minute for local calls and $1.55 for long distance.
If the prepaid cards are depleted, local collect calls are $0.70 plus tax for the recipient, and long distance collect calls are $0.08 a minute.
Limiting access to phones has a tremendous impact on mental health and as a result the ability re-enter society, said Michael Spratt, a criminal lawyer and partner at Abergel Goldstein & Partners LLP. This tension has been exacerbated by the restriction of in person visits during the pandemic.
"When you're in custody, you need to rely on some sort of outside support to make sure that you have a job, don't lose your house and you're able to have someone access and take care of finances for you," said Spratt.
Spratt said there are few options for prisoners if they want to contact someone or arrange their lives for when they are released.
"You can write a letter in jail. But you can't get an email. You can't log on to your online banking. You can't pay your bills," said Spratt. "You can't even log onto the internet to do research about your case or connect to outside assistance."
In an email, the Ontario Ministry of the Solicitor General listed lower international phone rates and the ability to call cell phones as improvements when asked about the concerns of prisoners. The statement also outlined two key objectives of the phone system, which are: "to protect victims of crime, witnesses and other members of the public from harassment and intimidation by inmates in correctional facilities; and, to restrict the ability of inmates to conduct criminal activity while in custody."
Although there are many issues facing incarcerated people who simply want to call family or legal counsel, activists say there are simple steps that can be taken to ensure that imprisoned people can still feel a sense of belonging.
"The province really needs to work to find ways (to) keep people connected in ways that are more affordable, ideally free, so that folks are actually better positioned to keep their loved ones and families together and safely re-enter society, which is a benefit to us all," said Piché.
Although the incarcerated bear the brunt of phone restrictions, their families are often left wondering how often they can speak to their loved one or whether they can afford it.
"My mom works, but she's got bills to pay, so she can't financially support me. So I feel like I can't communicate with my family. I had friends that I was talking to on a daily basis, and I cannot afford to talk to them anymore," said Villeneuve. "It takes a toll on your personal life."
---
More Stories