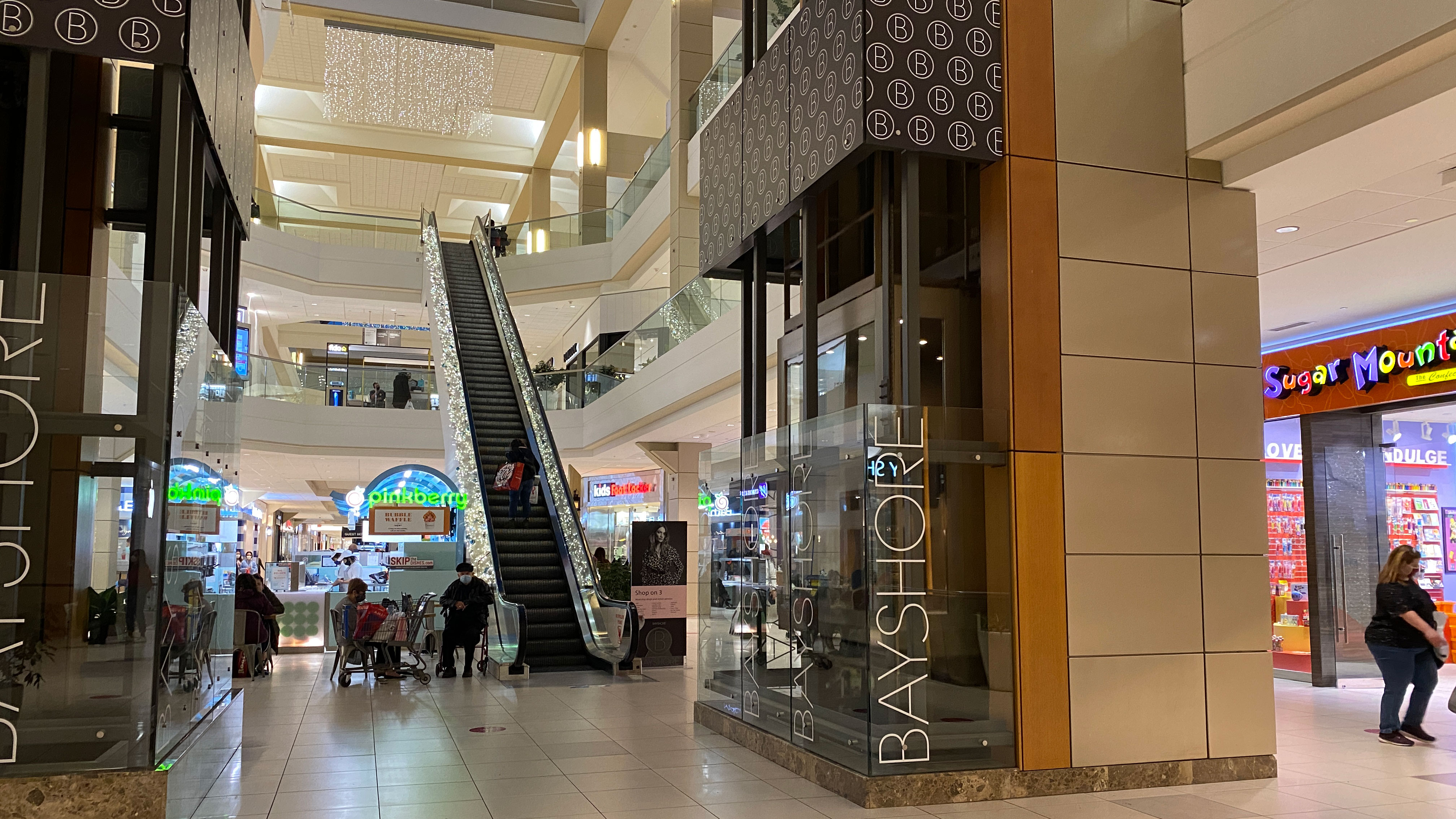 Holiday shopping in Canada's capital will look different this year, as pandemic precautions lead to potentially long lineups at the malls and consumers navigate new shopping apps.
While area malls will be decorated for the festive season, retail officials say they expect less hustle and bustle than in previous years.
Bayshore Shopping Centre and the Rideau Centre both expect fewer holiday shoppers to show up in person. They also expect consumers to do less window-shopping and make more targeted visits. 
The 2019 Canadian Holiday Outlook, published by PwC Canada, reported that planned holiday spending was up 1.9 per cent, to an average of $1,593 per person in 2019 over the previous year. This year, total holiday planned spending is expected to be $1,104 per person, down nearly 30.7 per cent from 2019, though most of the anticipated decline appears to be in travel spending.
In fact, Bayshore actually expects shoppers to purchase more, Sara Macdonald, the shopping centre's marketing manager, says. "We're also expecting shoppers to likely do more holiday shopping in one visit."
Bayshore is implementing a virtual line-up management system that all retail tenants can use free of charge. It will allow shoppers to book a time to buy before they arrive to minimize waiting in lines. "In an effort to provide the safest possible shopping environment and to optimize that holiday experience the virtual line-up management system will allow shoppers to pre-book a shopping time," Macdonald said.
"Shoppers (still) have the options to show up and line up but the virtual line will allow for more convenience and a better planned shopping experience."
Mall employees expected the holiday rush to begin Black Friday, Nov. 27. "We already have a lot of precautionary steps in place so I'm not worried about my safety when the rush begins, but I'm worried about the spread," Rhee Glasius, a Bayshore retail employee, said.
"We know based on Public Health guidelines that spreading the virus is higher inside with more people around, and shopping is just that."
COVID-19 may prompt more consumers to shop online but the number of online shoppers has been rising for years. "I'll probably do the majority of my holiday shopping online," Tyla Ahluwalie, an avid Ottawa holiday shopper, said. "I feel like I did a lot of [holiday shopping] online anyways but now with the pandemic it makes even more sense." 
Ottawa Public Health is reminding retailers about their role in helping lower the spread of COVID-19. "As we head into the holiday shopping season, we encourage business owners to review their current practices and make any necessary changes to ensure they are creating a safer shopping experience," Ottawa Public Health said in an unsigned email.
Santa adapts to pandemic reality
Bayshore Shopping Mall, Place d'Orleans, Rideau Centre and St. Laurent Shopping centre have all announced that St. Nick won't make an appearance in person this year.
The Rideau Centre's North Pole is going online. Children can have a private chat with Santa and join a story time over Facebook Live.
St. Nick will be spotted at one mall, however. Hazeldean Mall, in Kanata, says it is going to have a live Santa. Children can sit on the couch beside Santa, with plexiglass separating them. Other Public Health guidelines, including temperature checks, hand sanitization stations and masks, will be in place to limit the spread of COVID-19.
Frank Fenn, the photographer who supervises the "Santa pop-up portrait shop" at Hazeldean Mall, said in an interview with CBC, "It's about delivering the magic of Christmas."
Ottawa Public Health suggests consumers limit close contact and exposure as much as they can in malls. "Wearing a mask provides an extra layer of protection but does not replace the need to maintain physical distances of two metres," it said in an unattributed email.
This means virtual North Pole visits and online shopping may be the safest options this holiday season.
---
More Stories