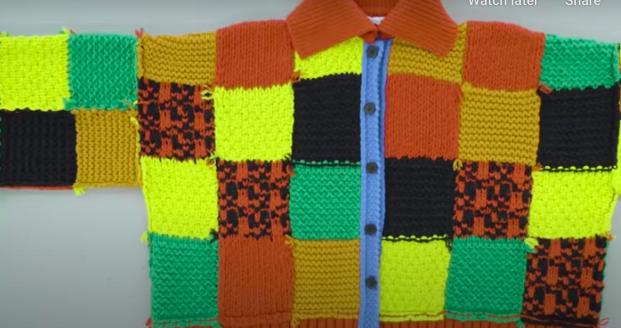 When British singer Harry Styles wore a colourful patchwork sweater during rehearsals for his Feb. 26 mini-concert on the Today Show, I don't think he knew the impact that cardigan would have on the hobby world.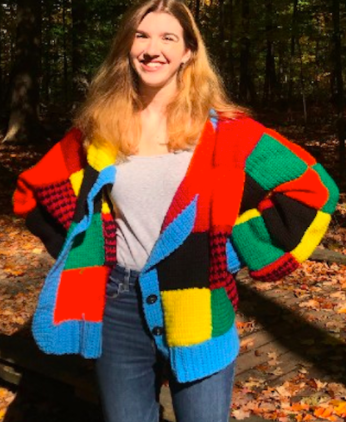 Styles is known for his eccentric fashion sense, something his fans love to emulate — whether the iconic Gucci suits or his signature pearl necklace. The COVID-19 pandemic inspired a lot of people to get in touch with their creative side, giving Styles' fans the perfect opportunity to create their own version of his designer sweater.
The multi-coloured cardigan went viral on social media platforms such as Twitter and TikTok as Styles' fans raced to recreate the £1,250 sweater created by British designer Jonathan Anderson for his label's 2020 Spring/Summer collection.
Many fans learned how to crochet or knit to create the sweater, flaunting their skills on social media at #HarryStylesCardigan, which has amassed more than 40 million views on TikTok.
The cardigan is not just inspiring people to recreate their own cardigans; there are hats, bracelets, stickers, bags and more being reproduced with the same pattern. Fans are selling their creations on craft-marketing sites such as Etsy and Redbubble.
Anderson was so impressed by this display of creativity that he released the official cardigan pattern online for download, saying: "I am so impressed and incredibly humbled by this trend and everyone knitting the cardigan. I really wanted to show our appreciation, so we are sharing the pattern with everyone. Keep it up!"
The brand also released a video on YouTube showing how to recreate the cardigan step-by-step.
As a big fan of Styles, I first saw the trend taking shape in the early summer, but it wasn't until I came across a video posted by @rile.s about her experience that I thought I should try recreating the sweater myself. I was a crochet beginner, having only created a too-short scarf at the beginning of lockdown with my mom's help.
When I saw how relatively easy it looked to make the cardigan, I bought about $40 worth of yarn from the craft store Michael's and religiously watched in-depth YouTube tutorials. I didn't follow one specific way of recreating the pattern; I combined different techniques and made the cardigan my own by changing the trim colour and the shape.
The sweater has 72 patches and it took me more than a month of almost daily crocheting to complete them all. It was very slow going at first; I messed up stitches and my room was covered in yarn pieces. But the more I worked at it, the more fun I had.
It felt so rewarding watching the sweater come together and seeing how impressed my friends and family were that I was actually able to finish it.
When I started crocheting in April, I never would have thought that a few months later I'd have completed my first sweater — inspired by my favourite singer, no less. I almost quit in the first 20 minutes because I couldn't properly tie a slip knot.
Now I find myself wanting to recreate more iconic knitwear and I don't think that would've happened if it weren't for the Harry Styles Cardigan Challenge.
The cardigan has had such an impact on the crafting community during the COVID-19 pandemic that the Victoria & Albert Museum in London has requested the original sweater from JW Anderson so the world-famous heritage centre can add the artifact to its permanent collection.
My new goal — once the pandemic is over — is to go visit the cardigan that inspired me to embrace my inner crafter and turn a stressful time into an artistic, colourful moment in my life.
---
More Stories