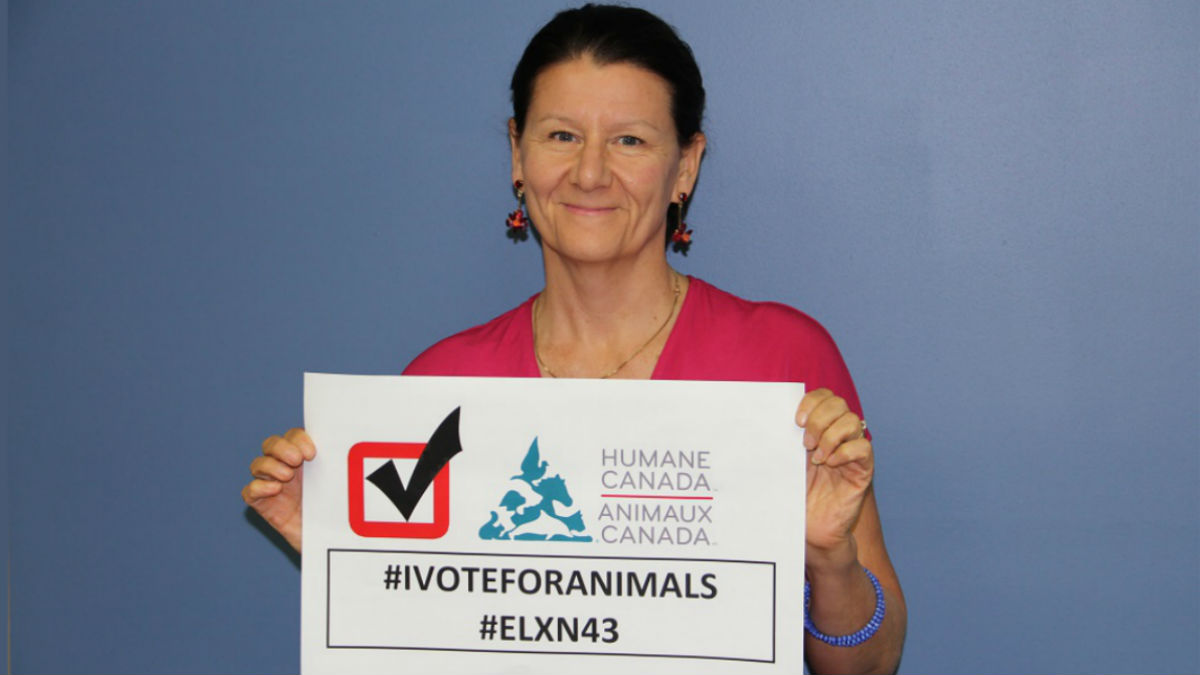 Canada's largest not-for-profit animal welfare organization is urging the federal parties to create a federal department to protect animals — or at least an interdepartmental body devoted to animal welfare — if they are elected on Monday.
Humane Canada, formerly known as the Canadian Federation of Humane Societies, oversees animal shelters and SPCAs within Canada. Its mission is to be a voice against animal cruelty and support the welfare of all of domesticated and wild animals in the country, including farm animals.
Founded in 1957, Humane Canada advocates for the strengthening of animal cruelty legislation and to promote humane treatment. During the federal election, the organization's website has prominently featured its wish-list of changes to be implemented by the new government. The organization is asking: "If elected, what will your party do to create a humane Canada for all animals?"
Humane Canada urges the next federal government to "create a ministry or interdepartmental group (that could include the Departments of Agriculture, Justice, Public Safety, Science) as the central hub of animal welfare in federal government."
"I believe it necessary for Canada to create an animal welfare ministry," says Humane Canada chief executive Barbara Cartwright, "because animal welfare has no home within the government."
She adds: "The gaps in our legal framework fail all animals. These issues need to be addressed to ensure better protection for animals in Canada."
There are offences in the Criminal Code that prohibit mistreatment of animals, including migratory birds. But as it stands, animal welfare is carried out by the provinces under the SPCA (Society for the Prevention of Cruelty to Animals).
"Canada does not have a dedicated federal animal welfare act … Our laws regarding animals are piecemeal and spread throughout the many other acts," says Cartwright.
Rob Laidlaw, executive director of Zoocheck, a Canadian wildlife protection charity, said he has been working with the Ontario SPCA to improve conditions for animals in zoos and zoo-type displays — but with great difficulty.
"The Ontario SPCA is something that is really designed (to deal) with individual instances of animal abuse and neglect," says Laidlaw. "It is not designed to deal with institutional abuses."
He says that over the years, he and others have seen significant shortfalls in the enforcement of basic "slam-dunk provisions" in provincial law, such as the requirement that all animals have shelter.
"We couldn't get things like that enforced and that was a problem," says Laidlaw.
In May 2019, Zoocheck and Animal Alliance Canada put forward a Blueprint for Change, a report calling for the creation of a provincial animal welfare act. This came after the OSPCA announced that it was no longer going to be able to carry out the enforcement of animal cruelty laws in addition to its rescue, shelter and other activity.
"There has to be a commitment (to animal welfare) embedded in our laws and constitution, that's the only way to protect animals," says Liz White, the leader of the Animal Protection Party of Canada.
The APPC has been working towards the welfare of Canada's animals since the party's formation in 1990. Its 2019 election platform is also calling for a ministry for animals.
"There are . . . many good reasons for a national act, for expanding the animal-focused provisions in the Criminal Code, and for a dedicated ministry," says Kendra Coulter, Chancellor's Chair for Research Excellence at Brock University and a fellow of the U.K.-based Oxford Centre for Animal Ethics.
"The increased and expanded role the federal government could play in helping to protect the animals with whom we share our homes and communities is an important and overdue conversation," says Coulter.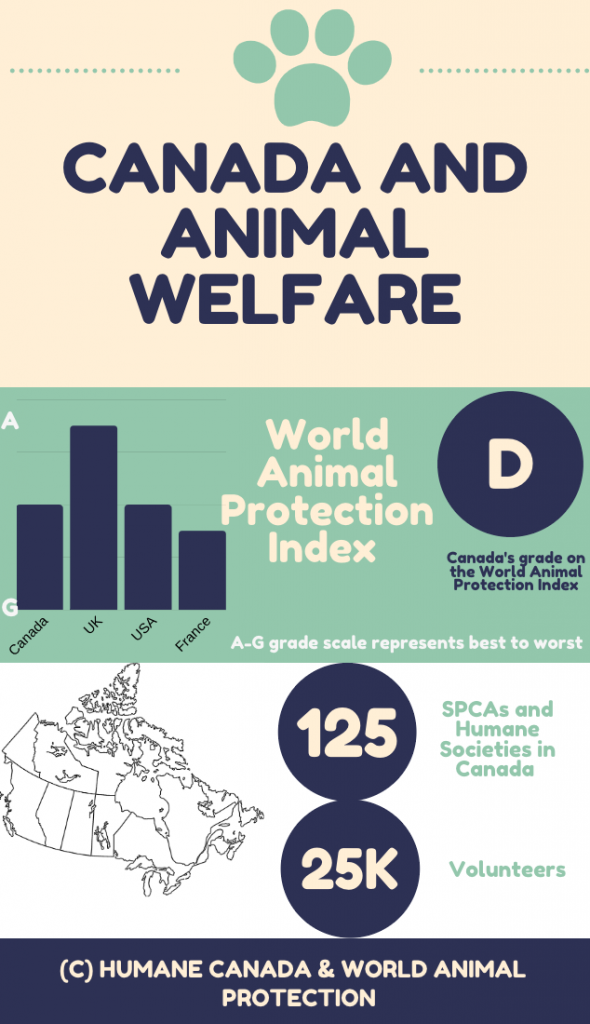 In 2014, Canada was given a grade of D on an A-to-G letter scale on World Animal Protection's Animal Protection Index, putting this country well behind the majority of European nations on the issue. Some of the API indicators include laws against animal suffering, government accountability and protection of animals in different areas of society.
Cartwright says Europe, including Britain, has impressive policies that Canada could look to when strengthening animal welfare legislation in this country, but there is "no specific ministry" elsewhere in the world that Humane Canada can point to as a precedent for its proposed federal department.
"The main goal of the animal welfare ministry would be to have a dedicated place for animal welfare issues to be addressed," says Cartwright.
"We have a huge fight on our hands," says White. "The fight has to be political. Without being engaged in politics we're not going to get anywhere."
"The direction for the ministry for animals would be to set up something like a royal commission that would look at the way in which animals are being used in society," says White. We would ultimately begin to reduce and then finally eliminate the use of animals for these purposes."
Cartwright says Canada's legal framework regarding animal welfare is also the main concern for Humane Canada right now.
Laidlaw says animals in agriculture specifically need more attention when it comes to animal welfare legislation and enforcement.
"There are literally millions of animals who need help," he says, "and we should be doing a much better job to help them."
---
More Stories