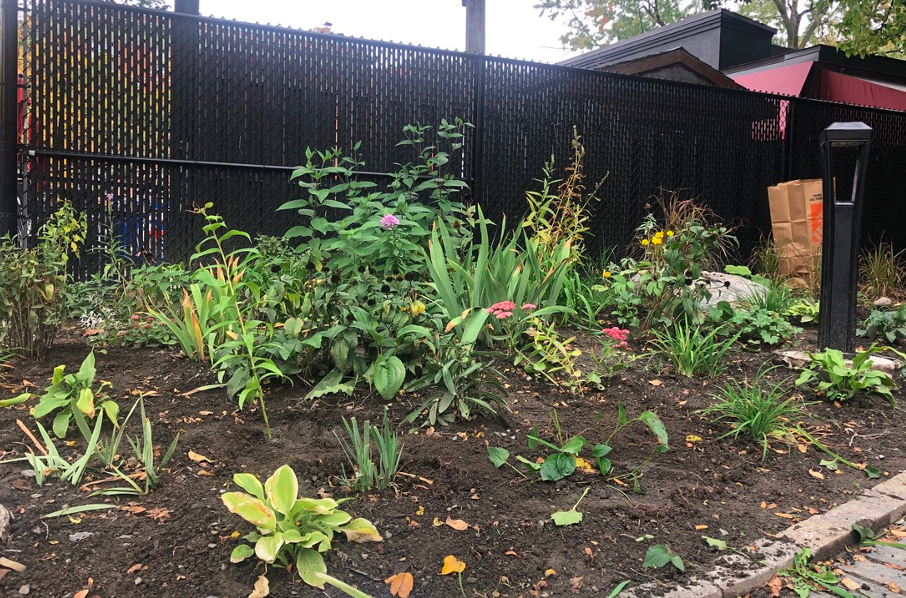 Sarah Lozowski smiles through her floral-patterned face mask as she explains what she's planting. Today it's tiger lilies, which she has donated more than once from her garden at home to begin filling the bare plots in tiny St. Luke's Park, tucked away just off Ottawa's busy Elgin Street strip of bars and restaurants.
"They tend to spread everywhere!" Lozowski says.
She's one of a handful of volunteers working to revive the flower beds along the park's edges. The bare plots of the park are a reminder of the recent construction caused by the renewal of Elgin Street that had disturbed the once teeming gardens.
The beds were overturned during the seemingly interminable road work on Elgin that began in early 2019. While the roadway renewal and reconstruction of the street's underground water system were much-needed improvements — the watermains and sewers dated back as far as 1874 — the construction left the park's gardens in disarray.
At the busy intersection in downtown Ottawa, a steady stream of traffic flows with the languorous pace of a Saturday morning. The bright light of the day is diffuse, filtered through thick cloud cover. A young woman crosses the street, her dog far enough ahead that its leash is pulled taut as it strains to locate a mysterious scent.
They pass a family, dressed up and on foot, perhaps headed to a nearby restaurant for weekend brunch. Other pedestrians, many wearing masks because of the pandemic, pass by the small park.
St. Luke's Park has a path of interlocking bricks that leads to the gated entrance of a playground. The path curves around a few patches of grass, a handful of resolute trees, and small plots of soil from which a spray of greenery and flowers grow.
The park is the scene of a makeover. Beth Ayres leads the volunteer group that cares for the flowerbeds, now revived from their damaged state. She and three other gardeners from the Centretown Community Association have met almost every Saturday morning since May this year to restore the park's gardens to their former glory — perhaps even beyond.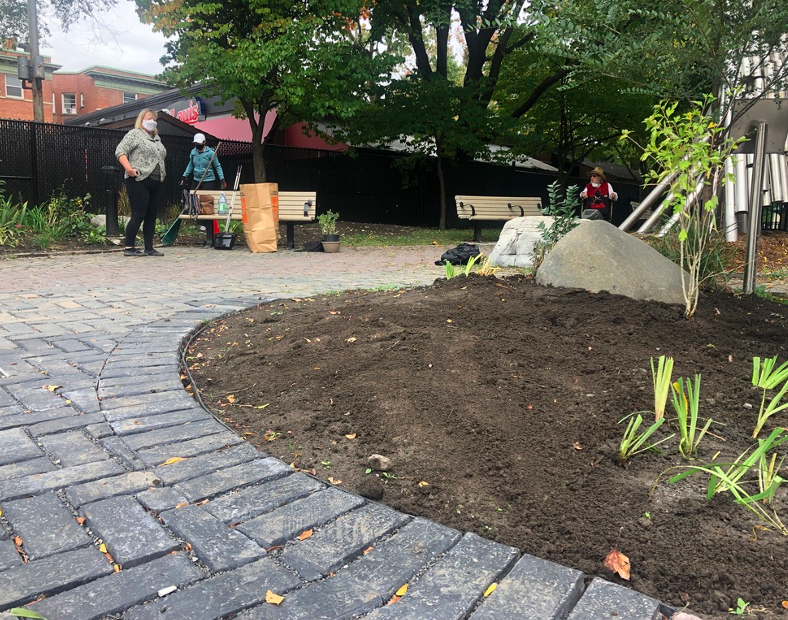 Ayres and Marnee Manson are the first to arrive. They greet another volunteer, Michelle Kirkman, as she lifts her bicycle onto the sidewalk from the street. From one of her handlebars she takes a white plastic bag bursting with reedy, leafy fronds and carries it over.
"We're emptying out our (home) gardens," Kirkman jokes. Ayres' pale blue eyes peer over her black face mask, taking in the largest garden bed, which is about two metres wide and not quite that deep.
She appraises the patchwork of plants and flowers as if studying a draft seating plan for a wedding, strategizing which of their newest guests should be grouped together, and which apart. "Here, we already have purple, purple, purple, so something different here would be nice," Ayres says.
Some volunteers have brought plants they have donated as spillover from their home gardens. "We have some rose of Sharon, and some brown-eyed Susans," Ayres says, pointing them out in the beds. They recently received a $300 grant from Somerset Coun. Catherine McKenney, funds that helped the group buy more plants and compost.
But given the late-season timing of the grant, Ayres and the others say they will likely save that money for warmer weather in the spring.
The group's gardening efforts began during the time of year when new daily cases of COVID-19 were finally levelling off and then declining in the city. Lozowski explained that the project gave her a reason to get out of the house.
"I get to be outdoors, around people," she says. For Ayres, the work allows her to do what she is unable to do from home. "I live in an apartment, and I don't have a garden. So it's nice to be able to actually garden."
Kirkman sees the work as a political act, referring to what they do as "guerilla gardening."
"The city doesn't invest in flowers in municipal parks," she says, contrasting it to the abundance of flowers planted by the National Capital Commission on federal properties, such as the Tulip Festival grounds near Dow's Lake.
Kirkman credits Bonnie Maybee with inspiring city residents to beautify their urban environment themselves. Maybee previously chaired the community association's trees and greenspace committee.
"She saw these empty beds, and took matters into her own hands," said Kirkman. According to Kirkman, Maybee opted to ask for forgiveness instead of permission by planting in city garden beds without seeking approval through formal channels.
Eventually the committee received the city's blessing, but had in the meantime created little pockets of garden arrangements at various spots in the downtown core. Kirkman wished Maybee could come to see how they have taken on her mission, but the risks of COVID-19 make an in-person visit impossible.
After an hour, the weeds have been pulled, flowers planted, garbage collected. The group's work is done. An elderly man wearing a wicker cowboy hat pushes his walker from the sidewalk into the park.
"You ladies are doing a lovely job," he says after setting himself down on a nearby bench.
The women exchange goodbyes, collect their tools and go their separate ways, leaving the small corner park a little prettier than when they'd arrived.
---
More Stories